♨️ ROPC 2021: SMILE, YOUR ANSWER IS HERE!🤗👏♨️ https://rhapsodytv.live/ropc/rpn It's 24 hours of miracles @ the ROPC! ♨️TAKE ACTION:👉 👉 👉 lingual.rhapsodyofrealities.org *CHECKLIST: ✅* 👉 Click to register: https://rhapsodytv.live/ropc/rpn 👉 Create And Share Your Personalized Avatars: https://rhapsodytv.live/avatar 👉 Share, Invite Everyone To Do Same And Participate Live. ♨️ Don't miss this 24-hour prayer program, ROPC LINGUAL and RHAPATHON all in one! 🗓️⏰ DATE: 26th @ 6 pm GMT +1 - 27th Feb 2021. Showing LIVE on the Rhapsody TV: https://rhapsodytv.live/ropc/tv and On all Rhapsody platforms.👌 Prepare to end the first quarter with new records‼️🏆🎖🏅 GOD BLESS YOU ❤️😊 #ROPC2021 #rhapsody #pastorchris #rhapsodyofrealities #loveworld #ROPCFEB21 #ROPC21FEB https://rhapsodytv.live/ropc/rpn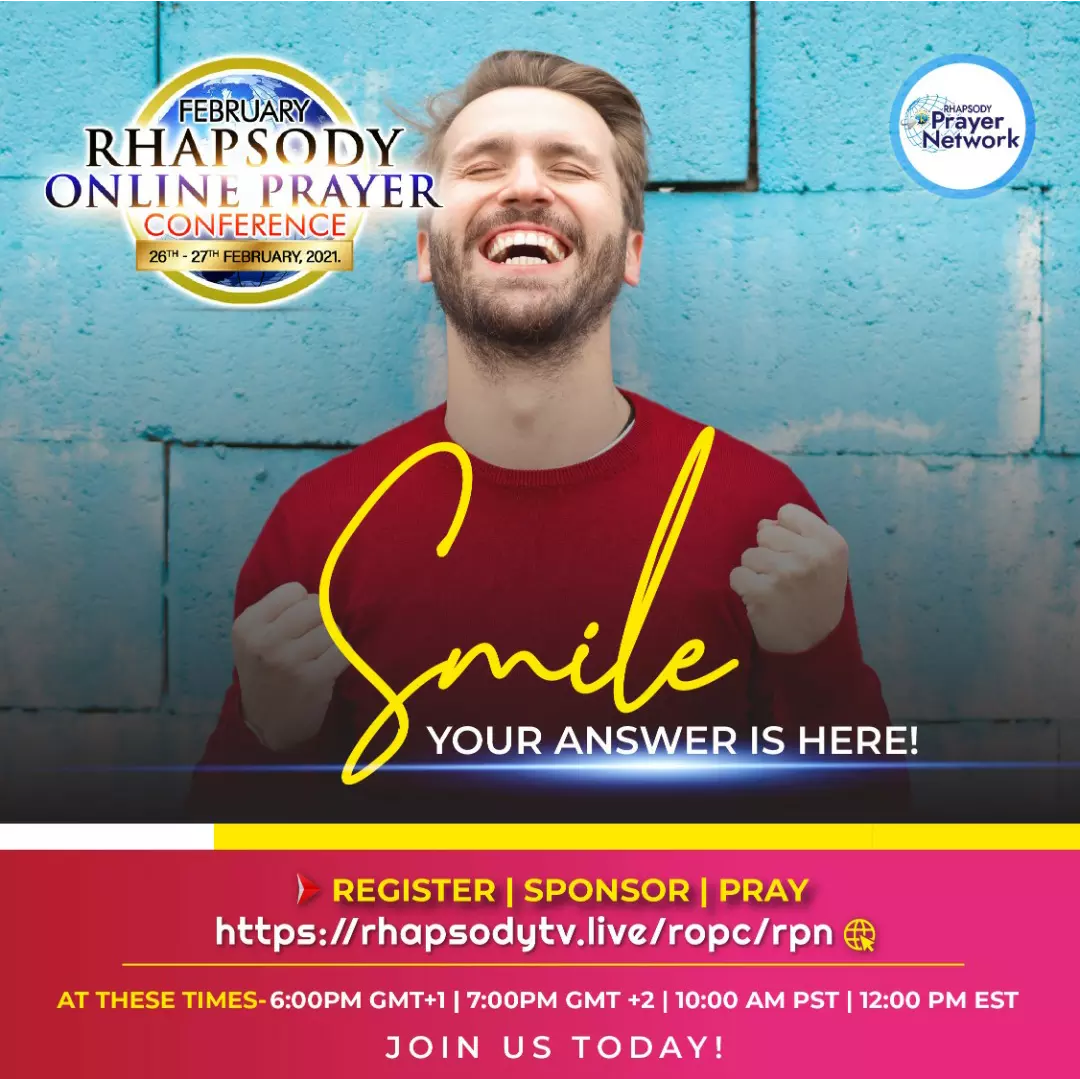 Pastor Elise
commented:
promo...promo...promo... cryptochin...fx trading..Why sleeping why others are making billions of dollars💴💵💶? This is an online investment which help us to earn more profit in a given period of time. by investing amount of money or bitcoin, to be traded on in the international market with the use of Auxiliary computers and software, using strategy to win profits. With the minimum investment of $300 you can get profits of about $3,000+ with my fast and trusted platform ... $300 to get $3,000 weekly. $400 to get $4,000 weekly. $500 to get $5,000 weekly. $600 to get $6,000 weekly. $800 to get $8,000 weekly. $900 to get $9,000 weekly. $1000 to get $10,000 weekly. DM me on WhatsAp.... +1(231) 335-1054 +1(231) 335-1054 for more info if you are interested.
Freely we have recieved, Feely we give... We are ready for February Global Cell Ministry Outreach Day from new Zealand to Alaska onsite and online! Be vitally involved in soulwinning and souldevelopment #Globalcellministryoutreachweek #cellministry #asouladay #5Bmandate
#wordalive FEBRUARY 25Th I have the mind of Christ; therefore, the perfection of the Spirit works in me, for He's called me to glory and excellence! I'm perfect and flawless, lacking nothing, because as He is, so am I in this world. I'm unblameable, unreproveable and complete in Christ. My life is an expression of His perfections and glory, to the praise and glory of His Name. I'm the God-kind of man, because I have the life and nature of God in my spirit. I've ceased to be human, for I've been brought, not only into a knowledge of Christ but, also into a union with Him that has made me an associate of the heavenly pantheon. I know who I am! Therefore, I rule and reign in this life, prevailing gloriously by the power of the Holy Ghost. Thank you for the privilege it is to be a member of His body, of His flesh and of His bones! Christ in me, the hope of glory! I've been granted the grace and ability in Christ to reign and rule over all circumstances! I can do all things through Christ who strengthens me. Christ in me is my assurance of a life of continuous victory and unending success. Blessed be God!
♨️ ROPC 2021: REGISTER, SPONSOR, PRAY!♨️ https://rhapsodytv.live/ropc/rpn It's 24 hours of miracles @ the ROPC! ♨️TAKE ACTION:👉 👉 👉 lingual.rhapsodyofrealities.org *CHECKLIST: ✅* 👉 Click to register: https://rhapsodytv.live/ropc/rpn 👉 Create And Share Your Personalized Avatars: https://rhapsodytv.live/avatar 👉 Share, Invite Everyone To Do Same And Participate Live. ♨️ Don't miss this 24-hour prayer program, ROPC LINGUAL and RHAPATHON all in one! 🗓️⏰ DATE: 26th @ 6 pm GMT +1 - 27th Feb 2021. Showing LIVE on the Rhapsody TV: https://rhapsodytv.live/ropc/tv and On all Rhapsody platforms.👌 Prepare to end the first quarter with new records‼️🏆🎖🏅 GOD BLESS YOU ❤️😊 #ROPC2021 #rhapsody #pastorchris #rhapsodyofrealities #loveworld #ROPCFEB21 #ROPC21FEB https://rhapsodytv.live/ropc/rpn
#EWCAZ5 MEGA CELL OUTREACHES #HAPPENINGNOW This is the day the Lord has made, we will rejoice and be glad as we haul in souls into the kingdom, #febglobaloutreach ##100koutreaches#cellministry #5bsoulsinfocus
#EWCAZ5 MEGA CELL OUTREACHES #HAPPENINGNOW We are hauling souls into the kingdom, #febglobaloutreach #100koutreaches#cellministry #5bsoulsinfocus
🤔 LIFE IS SPIRITUAL ... 🤔 https://pastorchrisdigitallibrary.org/worddrive/lwsazonec #WordDrive #Blwcampusministryrocks™️ #Pcdl #blwsazonec
#CountUp #PF0403 #PstFreedom0403 #CESAZone1
#UKZ1DSP #ROR1MCOPIESUKZ1DSP #RHAPATHONUKZ1DSP #BREAKINGLIMITSUKZ1DSP