CE BAYELSA NATION: Today is Friday and as on KingsChat Web
Today is Friday and as our manner is every Friday, it's our corporate Prayer and Fasting day across all our churches in Bayelsa. Kindly find below the points for prayer for today. Remember to attend the prayer service in your church at 5pm this evening. #TLB 🌠PRAYER POINTS FRIDAY 1ST FEBRUARY 2018 1. SALVATION OF SOULS Pray for the salvation of souls. Declare that signs and wonders will be a common phenomenon wherever our Gospel is preached, that every resistance to the gospel is broken, and as we go forth preaching the gospel everywhere, God's righteousness prevails in this nation and the souls of men are translated from darkness to light. PSALMS 2:8 "Ask of me, and I shall give thee the heathen for thine inheritance, and the uttermost parts of the earth for thy possession." 2. VIOLENCE AND HOSTILITY AGAINST CHRISTIANS  Pray for the Church. We come against every calculated attempt by men of evil intent to cause violence and hostility against Christians and the church of Jesus Christ.  As God's voice we declare their offices vacant; they are speedily removed and replaced by men of peace who favour the church and seek her good. As was the case with Haman, who hated the Jews without cause, so shall their end be, unless they repent and accept Jesus as Lord.  Psalms  2:2 "The kings of the earth set themselves, and the rulers take counsel together, against the LORD, and against his anointed, saying,  2:3 Let us break their bands asunder, and cast away their cords from us.  2:4 He that sitteth in the heavens shall laugh: the LORD shall have them in derision." Numbers 26:10 "And the earth opened her mouth, and swallowed them up together with Korah, when that company died, that time the fire devoured two hundred and fifty men: and they became a sign." 3. RECURRENT STRIKES BY TEACHERS IN OUR UNIVERSITIES IN NIGERIA Pray against recurrent strikes and the unpleasant consequences it brings to our children and youths, particularly in the educational sector. Pray that these will be a thing of the past, as all parties would put the interest of the nation first in all their dealings, and honour their commitments without coercion.  *PROVERBS 22:6 - "Train up a child in the way he should go: and when he is old, he will not depart from it." 4. CRIME AND PROBLEMS OF PUBLIC SAFETY  Pray  against crime and terrorism in our nation. We stand against shootings and homicides causing loss of innocent lives, illegal drug trade, kidnapping and piracy.  We put an end to these evil and arrest every contrary spirit of darknes responsible for these actions. Psalms 147:14  "He maketh peace in thy borders, and filleth thee with the finest of the wheat." 5. PRAY AGAINST ELECTORAL VIOLENCE IN NIGERIA Pray concerning the upcoming elections; pray against violence, intimidation of voters and corruption in the process.  Declare that all elections will be free and fair, and the right persons will be elected into office. Also declare for peace to reign during this period ,and that everything will be done decently and in order. PSALMS 78:5 "And he led them on safely, so that they feared not: but the sea overwhelmed their enemies."  #TLB #cebayelsa #thelandofgrace #NSSVZONE1 #NSSR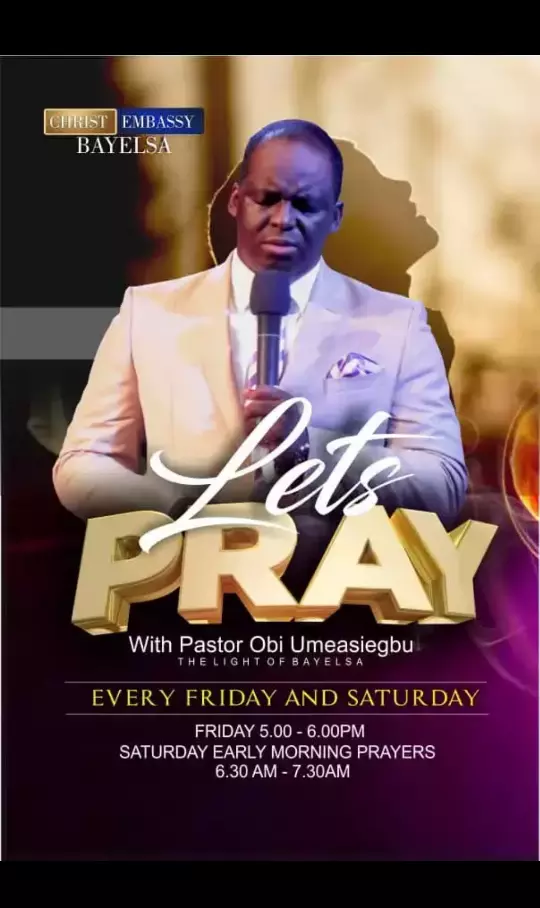 Vous êtes un homme si spécial, si bon, tellement rempli de l'amour. Vous êtes un homme de prière, un homme de foi, un homme de l'Esprit. Quels mots vais-je encore utiliser pour vous décrire? Jour j-4 #SOSHININGPJ502
Every attainment, everything that you do through the Word, is the one that has life, that is the one that gives you fulfillment & rest... - Pastor Chris Get enraptured by the Word as the Man of God, expounds on the importance of knowing the Word of God for yourself, in this excerpt! Watch Pastor Chris Teaching on Loveworld Plus shortly! Time: 10:00AM GMT+1 & 3:00PM GMT+1. www.loveworldplus.tv/watch Download Loveworld Plus Mobile App Today! Available on Google PlayStore, Apple Store and on the Windows Phone Store. #loveworldplusshines #pastorchristeaching #pastorchris
Come and be a part of this life changing service, and be lightened up. You will forever be the LIGHT set on hill that cannot be hid. #yearoflight #supersunday #cenorthgate #cesazone1
Yesterday at the outreach, Bright street off sokoh Estate road. Over 16 people gave their hearts to Jesus. Awesome
Happy Wedding Anniversary Ma. From glory to glory shining brighter!
👉RHAPSODY OF REALITIES! 👉Friday, 1st of February 2019! 👉Click here to Download February Edition http://bit.ly/e-ror *SEE AND LIVE FROM YOUR HEART* When you live from your heart, that is, from the inside out, you wouldn't be bothered about the happenings outside; your experiences wouldn't determine your response to situations. The economy of the world or of the country where you live may be in shambles, but you're unmoved, because you've learnt how to enjoy your prosperity and turn it on from within you.  LEARN MORE IN TODAY'S RHAPSODY OF REALITIES  #CEAMC
Sunday Special with our Regional Pastor, 9 Days to go, it's going to be exciting, there is excitement in the air, the lord await you.....
#lwsouthampton #dayofbliss #firstfruits #communionservice #youknowwheretofindme...