Marie Patience Biyo: Every unsaved person who comes on KingsChat Web
Every unsaved person who comes for the Douala Miracle Crusade receives salvation. Allelluiaaa !!!#prayingnow #DMC2020 #Iamapriestinoffice #myyearofperfection #mymonthofKnowledge #ewcaz4 #cameroon #doualagroup #cekm5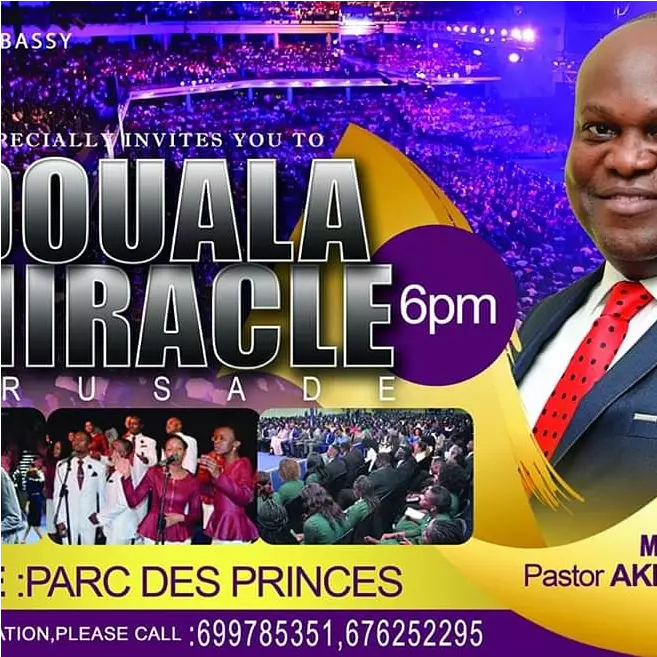 christiana Nagbons
commented:
Your page is lovely , I have a business proposition for you ! If you are interested 🤝do not just watch us do it join us and win with us 100% GUARANTEED. Let me teach you or trade for you and your life will be for the better hurry up and set up your trading account now and start earning
For the rest of 2020 we are witnesssing unprecedented growth in our churches as everyone becomes very committed. #prayingnow #DMC2020 #Imapriestinoffice #myyearofperfection #mymonthofKnowledge #ewcaz4 #cameroon #doualagroup #cekm5
CONGRATULATIONS TO OUR OWN PASTOR MICHELLE OGLE. WE'RE SO PROUD OF YOU , AND YOU'RE MOVING FROM GLORY TO GLORY HALLELUJAH.
Every sick person will have courage and hope to believe for a miracle plus faith to receive. Hallelujah!!! #prayingnow #DMC2020 #Imapriestinoffice #myyearofperfection #mymonthofKnowledge #ewcaz4 #cameroon #doualagroup #cekm5
New York City orders all entertainment venues to close from March 17 The city that never sleeps is about to be put into an induced coma due to COVID-19 https://www.digitaltrends.com/news/new-york-city-orders-all-entertainment-venues-to-close-from-march-17/
MY Daily Confessions Monday 16/3/20 #saythiswithme I'M A BUNDLE OF SUCCESS! I'm a bundle of success, and the prosperity of God is in my spirit. I'm rich in gold and in all precious things. I'm what God says I am; therefore, the world is mine. l refuse every judgement or opinion of men that are inconsistent with the revelation of my personality in Christ. l declare that everyday of my life is blessed! I walk in boldness and courage of the Holy Spirit. I refuse to let fear of the unknown rule my life, for Christ is my victory, so l have overcome the world. l will not have sleepless night over any matter, for I am the beloved of the Lord, He gives me sound sleep, l dwell in His rest. And He causes me to deal wisely in the affairs of life. I declare that my life is fruitful and productive. I'm prospering and excelling in everything because the Lord is my delight. Hallelujah! Download Cetunes mobile App on any of the links 👇below, use the word 'excellence' as reference code to enjoy unrestricted access to Pastor Chris Teaching daily. Downloadable here 👇 Android http://play.google.com/store/apps/details?id=org.lw iOS https://apps.apple.com/us/app/cetunes/id1470300487?ls=1
A new week A new message A new opportunity to acquire knowledge. Hit the follow button for an exciting study of the message of the week everyday of this week. https://tinyurl.com/y9sqaabd
Every unsaved who comes for the Douala miracle crusade will receive salvation. Glory to Jesus!! #prayingnow #DMC2020 #Imapriestinoffice #myyearofperfection #mymonthofKnowledge #ewcaz4 #cameroon #doualagroup #cekm5
DID YOU miss The Advantage Conference Ibadan? Dont feel bad 🙁🙁because there's Great news!!!😊😊😊 Get ready to attend THE ADVANTAGE CONFERENCE ABEOKUTA 💃💃 #TACABEOKUTA #LGNRULES