LoveWorld Cell Ministry : APRIL GLOBAL PRAYER AND PLANNING on KingsChat Web
APRIL GLOBAL PRAYER AND PLANNING WEEK Glory! It's our Month of Truth and it's our Prayer and Planning Meeting week in all our Cells globally. Get ready as we will take time to declare what we want this Month and cause Changes in the realm of the Spirit. Our focus is on our outreaches for the month of April in all kinds of our onsite cells and online cells. Our man of God Pastor Chris also told us how and what to pray about from now till Your Loveworld Special coming up from monday 12th April 2021 Cell leaders, executives and members can also organise prayer outreaches with as many people and as many places as possible both online and onsite. Set goals in numbers for everything you will do. We are praying with planning in all we do. lets go A-praying! This Month, we are spreading the truth of God's word everywhere #prayeroutreaches #prayerandplanning #cellministry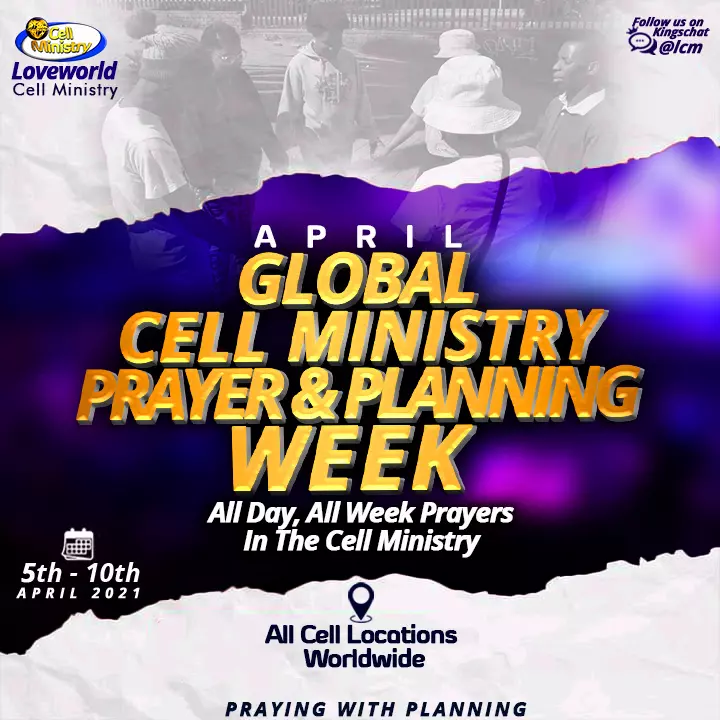 Congratulations To Our 1st Runnerup; Zone A1 For Their Attendance In The Haven Daily Global Prayers today. #TheHavenNation
#PL0604 Prayerful. Worded. Compassionate. Firm. Faithful Pastor. ________ Amazing. Goal-getter. Resourceful. Kind. Record-breaker Boss. _________ Happy birthday to you Highly Esteemed Pastor Linda Okocha. You are our coat of many colours in Christ Embassy Port Harcourt Zone 2. WE LOVE YOU UNWAVERINGLY!! _________ Like. Share. Comment one thing Pastor represents to you. Let the whole world know! #cephzone2
Congratulations To Our 2nd Runnerup; Zone E4 For Their Attendance In The Haven Daily Global Prayers today. #TheHavenNation
ABOUT EASTER IN CEPH ZONE 1 This Easter came like a spring board that launched us into a more glorious phase of unending opportunities and possibilities. We have moved in capacity, ability, function, grace and every wise by the Spirit of God, hallelujah! From GFMC 2021 into the Easter Sunday "Something To Shout About" and with a bang on the "Thronos 2" live production, its been from glory to glory. #cephzone1 #gfmc2021 #healingbalm  #eastersunday21 #peeayforever
CELEBRATING A MAVIN OF EXCELLENCE, HAPPY BIRTHDAY ESTEEMED PASTOR  LINDA OKOCHA. THANK YOU FOR CHANGING LIVES THROUGH YOUR GIVING. WE CELEBRATE YOU!!!
TEENS ADVANCE PARTNERS CAMPAIGN Celebrating our TAP AMBASSADOR Thank you esteemed DCNS SARAH SAM-TARILA for your Partnership with the Teens Ministry. We love you dearly #lwteensministry #TAP #cebayelsa #TLB #TLBSON
Happy Birthday Dearest Sis Joanna Okwor! You're beautiful inside out! Thank you for being a daughter of consolation & helper of war in God's Kingdom. Thank u for God's liquid love that flows effortlessly through u. The truth of God's word will endlessly prevail in your life.
Big Congratulations To Our Top Praying Zone ; Zone E2 For Their Attendance In The Haven Daily Global Prayers today. #TheHavenNation