FEW MINUTES TO GO - GLOBAL PRAYER HOUR WITH PASTOR CHRIS It's time to make tremendous power available...... Join the Man of God, Pastor Chris and saints around the world to pray for 1 hour by 12 pm to 1 pm GMT+1. #EndChildPovertyNow #EveryChildIsYourChild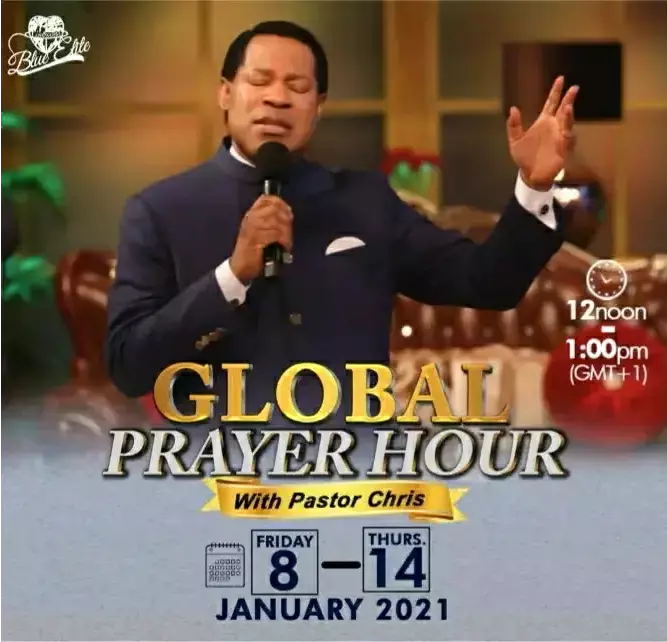 Edu Abbah
commented:
Praying now. Thank you Pastor Sir for the opportunity. I love you dearly
Pepple Donald T.M
commented:
#prayingnow  #prayathon2021 #iamapriestinoffice #PCLPrayathon2021 #CELA #CEPHZone2 #Nigeria
A Glorious time in God's presence at Sunday Service with the Esteemed Pastor Godfrey Wealth Eseigbe 📸 #yearofpreparation2021 #cecampgroundbenin #cebeninzone1
Wow, super highlights on today's service, the worship, praise, and the WORD #Ceugbowogroup #cemidwestzone #ugboworocks #yearof PREPERATION
Sunday service with pastor Eunice We prepare our minds to receive the word of God. #ceabakaliki #yearofpreparation #aswepray
Join us today at 1500hrs as we will be having the official BLW SA ZONE D NEW YEAR MESSAGE LAUNCH!! 2020 ~ YEAR OF PREPARATION #blwsaZoneD #blwcampusministryrocks #newyearmessagelauch #2021YearOfPreparation
#preparation #celebration #christlike
#preparation #celebration #christlike
Happy Prepared Birthday Highly Esteemed Pastor Sir, Thank you so much Sir for being a huge blessing to my life and making me relevant in ministry. Your teachings and your words of prophecies has uplifted me to a higher level. Thank you for being a wonde I love you dearly Sir.