Affirmation Train: YOUR REAL CITIZENSHIP! ~ PASTOR on KingsChat Web
YOUR REAL CITIZENSHIP! ~ PASTOR CHRIS OYAKHILOME. But there's far more to life for us. We're citizens of high heaven! We're waiting the arrival of the Saviour, the Master, Jesus Christ (Philippians 3:30 MSG). When you were born again, your citizenship changed instantly! Your real citizenship is not the one on your international passport, because having been born again, the Bible says "ye are no more strangers and foreigners, but fellow citizens with the saints, and of the household of God" (Ephesians 2:19). Your real citizenship is in heaven. The Message Translation puts it this way: "…You're no longer wandering exiles. This kingdom of faith is now your home country. You're no longer strangers or outsiders. You belong here, with as much right to the name Christian as anyone… (Ephesians 2:19). Hebrews 12:22-24 says, "you have come to Mount Zion, and unto the city of the living God, the heavenly Jerusalem…" Zion – the heavenly Jerusalem is your new country – your new land of nativity. How it pays to know that you're a citizen of the heavenly country! Jesus said to the Jews "Ye are from beneath; I am from above: ye are of this world; I am not of this world!" (John 8:23). He knew where He came from. Though He was physically in the earth, He was conscious of His real citizenship – Zion – the heavenly Jerusalem. This should be your thinking as well. Let it dawn on you that you're a citizen of Zion! Zion is the beautiful country of God's beloved people, and that's where you belong. There's no failure, recession, or poverty in that country! There's no sickness there; no wonder the Bible says those that dwell therein, shall not say "I am sick" (Isaiah 33:24). Refuse to be subject to the principles of this world's system. In this heavenly country where you now belong, what you have is divine health, prosperity, peace and success! Be conscious of this today and always. #globaldayofprayer #monthofpraise #perfection #affirmationtrain #Insight #alignment #blessed #talkingsession #praise #excellence #imcc2020 #ippc2020 #prayathon2020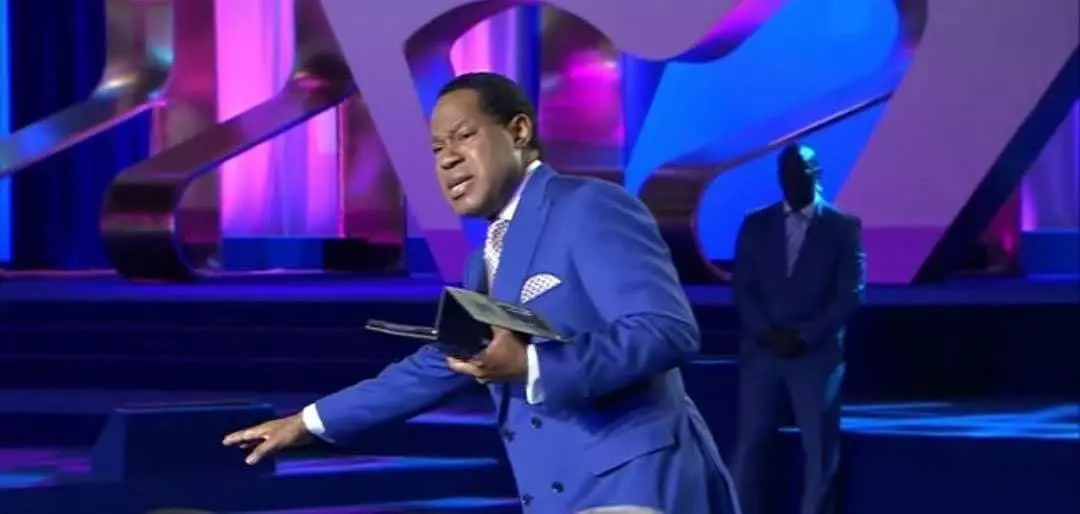 Happy happy happy birthday pastor Toks ma, i love you yayaciously #ptoks0212 #perfectmother #tlbcebayelsa #lighthouse #akenfa5ire
Pastor Ma you are so so Gentle and Strong I celebrate you today and always Happy Perfect Birthday Pastor Ma. I Love You Greatly
Happy perfect Birthday dear Sis Thank you for being a great blessing to us I wish you many more glorious years in Jesus name Amen. #cejos #goh #ncz1
#Gdop #cejos #goh #ceminna #cegombe #ncz1
GLOBAL DAY OF PRAYER WITH PASTOR CHRIS ✍️ https://prayer.enterthehealingschool.org Participating live from Norway! Join @ https://prayer.enterthehealingschool.org or on the all-new HS Mobile 2.0. God bless you! #GDOPwithPastorChris #healingtothenations
Come let's magnify the Lord For He is worthy to be praised. 2x Hallelujah! Blessed be the Lord Let the rock of my salvation be exalted. 2x Indeed, the month of November was the month of Praise and we have so many things to be grateful for. Glory be to God!
#iamprayingwithpastorchrislive #pclpraython2020 #praython2020 #iamapriestinoffice #ukzone1 #myyearofperfection #mymonthofpraise #stillpraying #globaldayofpraylivewithpastorchris #yourloveworldspecial day1
Happy Birthday to our Highly Esteemed Zonal Head of Operations, Pastor Toks Ma. Thank you for your examplary Leadership showing us how to follow our Esteemed Zonal Pastor (#TLB) I celebrate you pastor ma Congratulations Enjoy your day ma!
Happy perfect Birthday sir You are indeed a son of consolation, thank you for all you do in the kingdom. I love you sir and God bless you sir. #cejos #goh #ncz1
HIGHLiGHTS FROM THE ONGOING DECEMBER GLOBAL DAY OF PRAYER WITH PASTOR CHRIS - AIRING NOW ON PCDLTV📺, log on to👉 www.pcdl.tv to participate LIVE👨‍💻 💎 The impact the apostles made on the earth are the results of their habitual prayers. 💎 Through prayer, we superimpose the divine will on the affairs of men. 💎 We were raised ahead of time for these days. 💎 Our role is to bring the nations back to the will of the father with our prayers. 💎 In the church age, no nation is given global authority, and no nation has the power to lord it over the church. 💎 It will remain like that until the church is taken away. 💎 The church cannot stand by and watch as things degenerates from bad to worse, hoping that God is in control of all things, because if He is, He won't ask us to pray about them. 💎 We have the role to restore order with our words of prophecies. 💎 We are the examples that our God has not changed. 💎 No amount of politicking or mob protest can stop these blood thirsty evil men, but our prayers can. 💎 These men are inspired by Satan to sponsor wickedness in the world. 💎 Even though the things they are attempting to do, will surely happen, but it's not yet their time. 💎 We are resisting them from moving ahead of time, with our prayers. 💎 We must pray for leaders of nations, because sometimes they make decisions with all sincere intentions, not knowing they are being influenced by demons to take the wrong path. 💎 With our prayers, we will resist all attempts by these groups to assume control over the world. #GDOP #praywithpastorchris #prayingwithpastorchris #globaldayofprayer #pcdl #revangtv