Affirmation Train: #AFFIRMATIONTRAIN 9TH SEPTEMBER. I affirm on KingsChat Web
#AFFIRMATIONTRAIN 9TH SEPTEMBER. I affirm that I am the express image of the Father's person and the out-shining of His glory! I am a sharer of His life and nature of righteousness. I am God's perfection of beauty. The fullness of God, with the totality of His power, dwells in me, and I am complete in Him. Hallelujah. Daily, I am framing my world and building my life on the foundation of success, victory, and prosperity! The lines are fallen unto me in pleasant places; yea, I have a goodly heritage! My portion is the right one! I do not struggle for any good thing because God is my chosen and assigned portion; He has brought me to a good place and maintains my lot. I rejoice because God has given me eternal life, and granted me the power of attorney to live in, and by the Name of Jesus! I celebrate the life of peace, glory, progress, success, and victory He has brought me into. I can never be disadvantaged because God is the One at work in me both to will and to do of His good pleasure. Blessed be God. Hallelujah! SPEAK IN OTHER TONGUES NOW • Be bold to say the same things that God has said concerning you in His Word. That is what takes you beyond salvation, to enjoy the benefits of salvation ~ Pastor Chris Oyakhilome. You Can Now Reach Us On info@affirmation-train.org www.affirmation-train.org God Bless You. #Iflourish #uplifting #liftchallenge #vision400 #priest #affirmationtrain #Insight #wisdom #lordship #talkingsession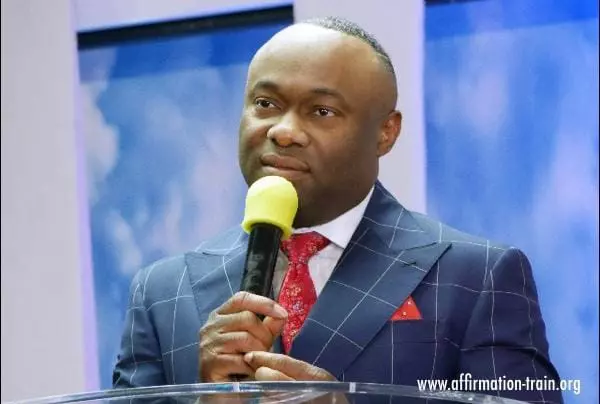 MUST YOU SPEAK IN TONGUES? Yes! Every born again Christian must speak in other tongues if we are going to live a victorious Christian life. Speaking in Tongues is a gift of the Holy spirit.
The word of God in your spirit and in your mouth will make you what it talks about .... Rev Chris. #upliftchallenge #monthofuplighting
Read more in today's Rhapsody of Realities Devotional Article for September 9, 2019.Visit www.rhapsodyofrealities.org #InspiredByROR #TheHavenMillennialsNetworks #TheHavenNation #Strength #EconomicPower #SpiritualWisdom #GlobalLeaders #LeadersByChoice #ForAges18to30 #JoinUsToday
#AFFIRMATIONTRAIN 9TH SEPTEMBER. I affirm that I am the express image of the Father's person and the out-shining of His glory! I am a sharer of His life and nature of righteousness. I am God's perfection of beauty. The fullness of God, with the totality of His power, dwells in me, and I am complete in Him. Hallelujah. Daily, I am framing my world and building my life on the foundation of success, victory, and prosperity! The lines are fallen unto me in pleasant places; yea, I have a goodly heritage! My portion is the right one! I do not struggle for any good thing because God is my chosen and assigned portion; He has brought me to a good place and maintains my lot. I rejoice because God has given me eternal life, and granted me the power of attorney to live in, and by the Name of Jesus! I celebrate the life of peace, glory, progress, success, and victory He has brought me into. I can never be disadvantaged because God is the One at work in me both to will and to do of His good pleasure. Blessed be God. Hallelujah! SPEAK IN OTHER TONGUES NOW • Be bold to say the same things that God has said concerning you in His Word. That is what takes you beyond salvation, to enjoy the benefits of salvation ~ Pastor Chris Oyakhilome. You Can Now Reach Us On info@affirmation-train.org www.affirmation-train.org God Bless You. #Iflourish #uplifting #liftchallenge #vision400 #priest #affirmationtrain #Insight #wisdom #lordship #talkingsession
Super Sunday @ CE Enugu 1. Pictures from Christ Embassy 9th Mile #ceenugu1 #nsez1
A Man Sent From God. Birthday Loading 💃💃💃💃 #psttee50 #nekutindiMwari #2409
MUST YOU SPEAK IN TONGUES? Therefore for you to speak in other tongues-you must accept Jesus Christ as your Lord and saviour because He is the one who gives the Holy Ghost.