Sis Yvonne gweshe.: Updated her profile photo on KingsChat Web
Updated her profile photo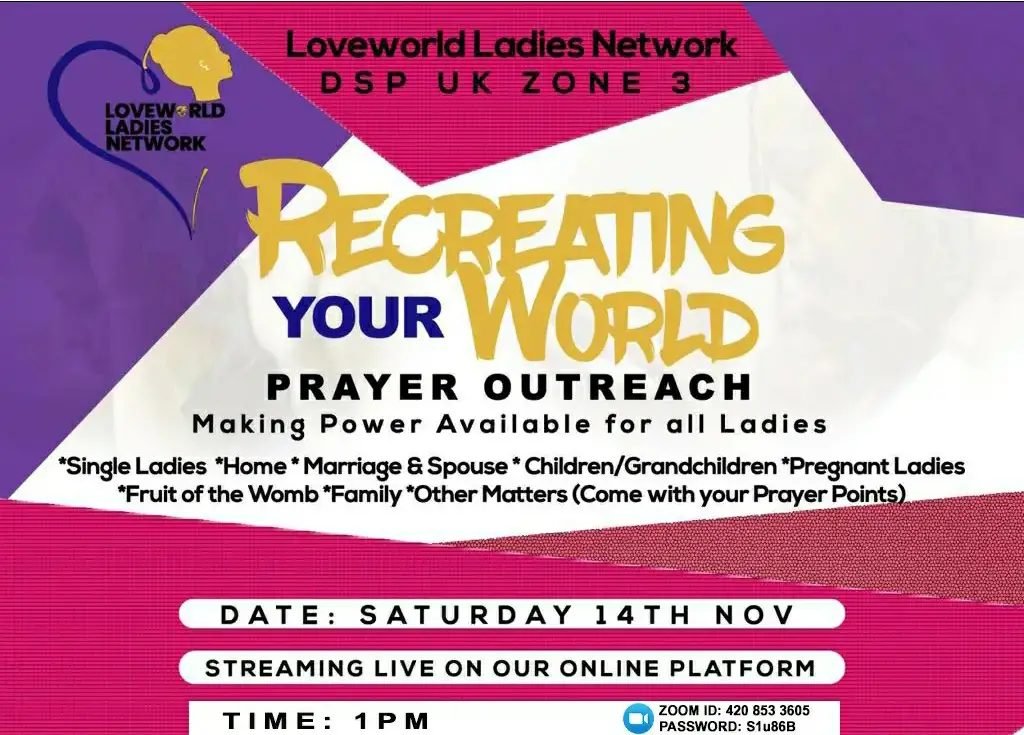 Christiana Nagbons
commented:
Hello 👋😊 If you've ever experience any loss before now in trading binary options online investment good new you can still make more profits and have a good compensation for that loss my company is reliable and guarantee it is weekly and daily investment plan we have you're not sending your funds to anyone , you will register and trade with my company platform directly and fund your trading account by yourself, I will teach you and guide you through the process my company commission is %10 of your profits at the end of your trading. If you're interested Kindly inbox me 👏
3 DAYS to REON GLOBAL RHAPSODY OUTREACH _ REON G. R. O 🌍🌏🌎 The REON Global Rhapsody Outreach is here!!! REON G.R.O!!! It's just got Bigger and Better!! Glory to God!! Register today on: www.reoninternational.org/onlineglobaloutreach #reon2020 #worldevangelism #globalrhapsodyoutreach #rhapsodyofrealities
What a miracle it is to know that Jesus is Alive. I'm alive to God. Hallelujah!
CELEBRATING PERFECTION !!! HAPPY BIRTHDAY DEAR ESTEEMED PASTOR GEACE JOUSHA THANK YOU SO MUCH FOR YOUR UNWAVERING COMMITMENT AND DEDICATION TO PARTNERSHIP WE LOVE YOU DEARLY #celagoszone2 #partnershipdepartment
UK REGION 1 AND 2 PRAYER - PRAYER POINT FOR TUESDAY 10TH NOVEMBER 2020 ● Matthew 18:18 "Verily I say unto you, Whatsoever ye shall bind on earth shall be bound in heaven: and whatsoever ye shall loose on earth shall be loosed in heaven." - We pray against powers, rulers, policy makers whose intentions are inherently evil, whose decisions affect destinies of many in nations of the world through their political, economical, social or spiritual influence; by the power of God vested upon us as the ground and pillar of truth, we render docile, inoperative such forces and we ground to a halt such influences in the name of our Lord Jesus Christ. ■ Isaiah 10:1 AMPC "Woe to those [judges] who issue unrighteous decrees, and to the magistrates who keep causing unjust and oppressive decisions to be recorded, To turn aside the needy from justice and to make plunder of the rightful claims of the poor of My people, that widows may be their spoil, and that they may make the fatherless their prey!"   ■ Genesis 11:6 "And the Lord said, Behold, the people is one, and they have all one language; and this they begin to do: and now nothing will be restrained from them, which they have imagined to do." - We are praying for the advancement of our ministry, supernatural and consistent growth of our churches in the United Kingdom. The brethren are of one mind, keeping the unity of the spirit with boldness. They have become ministry and publicity materials. In spite of opposition, the church is getting richer, stronger, better and greater in Jesus name. More souls are won and truly, our harvest is plenteous. ■ Phil 1:27-28 "Only let your conversation be as it becometh the gospel of Christ: that whether I come and see you, or else be absent, I may hear of your affairs, that ye stand fast in one spirit, with one mind striving together for the faith of the gospel; And in nothing terrified by your adversaries: which is to them an evident token of perdition, but to you of salvation, and that of God" #ukzone2 #OuryearofPerfection
...Looking forward to a glorious IPPC.