CLEANING YOUR EAR The purpose of earwax is to protect your ears. It has both antifungal and antibacterial properties to help prevent infection. Over-cleaning can remove that protection. Sticking objects in your ear canal to clean it (or to scratch an itch) often makes matters worse. You'll likely just push the wax farther in. And that can lead to earwax buildup. Itchiness is often a symptom of wax buildup. Most do not need to clean the ears at all. Earwax generally comes out of the ear canal on its own. Often washed off when we bathe. What to do: Use ear drops to break up the wax, but don't try to clean out the ear canal with anything else. See an ENT (Ear, Nose and throat) doctor if the drops aren't effective.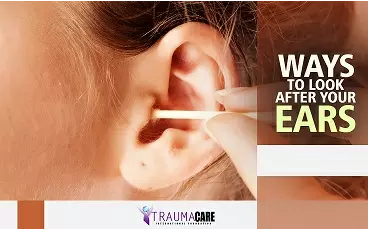 REACH OUT SOUTH AFRICA ANNUAL LECTURE 2018 A number of well-renowned speakers will be presenting during this lecture. One of the Speakers is Dr Basil Gold Speaker Profile: The World's Greatest Health Advocate. The Man Who Tells it Like it Is. Basil Gold, DNM, L.H.P. was the host of the national American television show, "Awareness", and has been a TV host for thirteen years. He advocates and teaches the general public to make changes in their lifestyles to overcome chronic and degenerative diseases. He has notable successes on treating chronic and degenerative diseases of hundreds of ailments, using high energy foods and supplements. He is a Two Time Crystal Awards Winner: 2000 "CRYSTAL AWARD OF EXCELLENCE" medical programming (seven countries) 2001-2002 Mr. Gold was elected into the prestigious national registers Who's Who of America and Canada and Library of Congress for his achievements and position among executives and professionals.  Basil Gold is the author of one of America's hottest books ' The Cure' Basil Gold confers and advises many doctors and authors on the latest technology available in today's alternative market and is known as the Ralph Nader of the alternative health industry, policing product and services efficacy and the worthiness of claims made. His on-going dedication to inform the nation of our toxic bathing and drinking water has been responded to by The White House and President Clinton personally.  At 70 years old, Dr Gold looks 45, he practices what he preaches. Dr Basil Gold, The Doctors Doctor. #cesazone1 #ROSA2018 #ReachOutSouthAfrica
Rom1:11 For I long to see you, that I may impart unto you some spiritual gift, to the end ye may be established; #LPCSA2018 #SAZONE1 #CEEL
Today, I join the host of Heaven to celebrate you Sir. May all of God's Plans for your life and family be established in your lifetime. U will be slapped on every side with his love. Your days shall be filled with the Supernatural. Full of testimony of God's great power. HBD Sir
#Lpcghana2018 #Ceaccraghanazone #Cemadina
Thank you for allowing your family to embrace me and my family as family. We are truly grateful Sir. Happy Birthday Sir. We Love You Sir.
The Grace of God is working for me mightly