C E Abuja Zone: ANNOUNCING🗣🗣🗣🗣 RHAPSODY CONGRESS WITH PASTOR on KingsChat Web
ANNOUNCING🗣🗣🗣🗣 RHAPSODY CONGRESS WITH PASTOR DIPO FISHO. JOIN THE MOVEMENT.... RHAPSODY EVERWHERE.... IN THE LANGUAGE ANYONE BEST UNDERSTAND.. TO PARTICIPATE, LOG ON TO: https://www.ceabujazone.org TO PARTICIPATE VIA KINGSCHAT, KINDLY FOLLOW THIS SUPERUSER Tap on the Christ Embassy Abuja Virtual Zone LIVE TV on the top left of your KC Timeline. CALL LINE: +2349075343353 +2348120182918 +2349029193669 celebrating the impact of ROR #rhapsodycongress #rhapsodychallenge #congress #ror #rhapsody #rhapathon #abujaforchrist #nigeriaforchrist #takingtheworldforchrist #adoptalanguage #Rhapsodylanguages #RORlanguages #adoptanationforchrist #globalevangelism #sponsorthegospel #abujazone #ceaz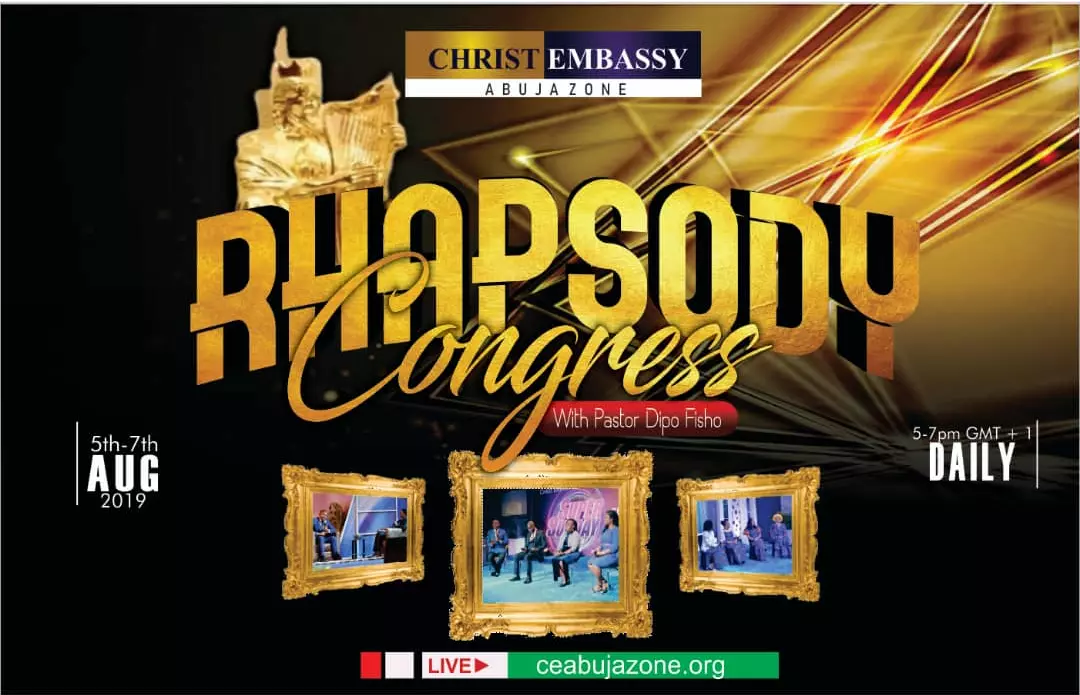 Count up to August 27 Thank you for teaching me God's word the way you do #TLB@50 #TLB2708 #TLBGOLDENJUBILEE #LaLumiereEstCinquante #Cebayelsa #Nssz1
When things change inside you, things are bound to change around you. Be at the World Evangelism Conference this Friday 9th - Sunday 11th August to hear divine words of BEAUTY that will NOT only be for a time or a season but for a lifetime #CEBarkingUKZ4 #WordsOfLight #WECUK2019
Celebrating our paragons of beauty. #STDL #TheBlueElites
Count up to August 27 My pastor my cover #TLB@50 #TLB2708 #TLBGOLDENJUBILEE #LaLumiereEstCinquante #Cebayelsa #Nssz1
Celebrating our paragons of beauty. #STDL #TheBlueElites
MY MONTH OF BEAUTY! I am the express image of God s glory! Its an honour to be loved by you! there is a melody in my heart just for you! am soaring 2x on eagles wings!!!! watch this space.....
My name is SIS. PEACE O. CHIBUISI.I am contestant (5) in the 2019 face of camp CEph zone 3. Please I need your votes to scale to success. All you need to do is the click the link below https://www.kingsch.at/p/QUw1SlR and comment '5' on the post and share. #testimony #cephzone3
#PrayingwithPastorchrislive #Prayingnow #CERome 1 #TheHavenNation ZE1 I #VMC Academy Rome Italy I thank you God for beautifying my life as a queen and as your special daughter, thank you God for everything, you're Awesome and a Beautiful God Amen!
Peeyuu,Ralph Daniel and sister Peju charged up the atmosphere in LoveWorld Central church as they led the congregation in music of praises and worship. Watch this and be blessed. #ukzone2
Count up to August 27 #TLB@50 #TLB2708 #TLBGOLDENJUBILEE #LaLumiereEstCinquante #Cebayelsa #Nssz1