ABUJA MINISTRY CENTRE : #CEMCABUJA DAILY PRAYER AND FASTING on KingsChat Web
#CEMCABUJA DAILY PRAYER AND FASTING IN PREPARATION FOR HEALING STREAMS LIVE WITH PASTOR CHRIS - TUES. 9TH MARCH To register, click 👉 https://healingstreams.tv/zone/ABMC  FASTING TILL 6:00PM DAILY (MONDAY 8TH - THURSDAY 11TH MARCH) PRAYER TIMES: 6:00-6:30AM, 12:00-12:15PM, 3:00PM-3:15PM, 6:00PM(IN CHURCH) PRAYER POINT 1 🔵 Thank the Lord specially for the Word of power that He has given to us, declaring March to be our Month of CHANGE, with absolute grace available to effect desired and God-ordained changes in every area of our lives, together with massive changes and significant occurrences in the world, in line with His divine order. Declare that you take full advantage of the prophetic Word, being ushered by it into a purer and higher walk with God, and things are shifting all around you, in your favour. 📖 ISAIAH 43:15-19(NLT) - I am the Lord, your Holy One, Israel's Creator and King. I am the Lord, who opened a way through the waters, making a dry path through the sea. I called forth the mighty army of Egypt with all its chariots and horses. I drew them beneath the waves, and they drowned, their lives snuffed out like a smoldering candlewick. "But forget all that— it is nothing compared to what I am going to do. For I am about to do something new. See, I have already begun! Do you not see it? I will make a pathway through the wilderness. I will create rivers in the dry wasteland. PRAYER POINT 2 - HEALING STREAMS PRAYER GUIDE FOR TODAY (PRAY CONCERNING THE PRODUCTION & SET UP FOR THE LIVE HEALING SERVICES) 📖 EXODUS 25:9, - "According to all that I shew thee, after the pattern of the tabernacle, and the pattern of all the instruments thereof, even so shall ye make it."  🔵 Pray for the production and equipment set-up for the program. Declare that all the equipment required for the program are functioning at optimal quality. Declare that there are no hitches in the use of the equipment. Pray also that our equipment for the main live stream functions optimally. 📖 PHILIPPIANS 4:19, "But my God shall supply all your need according to his riches in glory by Chris Jesus." 🔵 Thank God for supernatural supply of all the resources required for the excellent organization of the program. Declare that we have in abundance all that we require. Pray for every worker and service provider; declare that they deliver excellent and prompt services to the glory of God. Declare also that all things are ready for the program in Jesus name. PRAYER POINT 3 - SPECIAL PRAYER FOCUS FROM OUR MAN OF GOD 🔵 Pray concerning mercenaries, young people who are being paid, armed and sent out as bandits, terrorists etc., by men of evil intentions in different parts of the world, to destabilise cities, nations and regions. Pray for salvation to break forth in their camps as we dispatch angels in their midst; declare that miraculously, the love of Christ is made real to them, the power of satan over their minds is broken, and there is a great harvest of souls from amongst them, and their hearts are turned away completely from the evil they were conscripted to perpetrate. 📖 ACTS 26:18 - To open their eyes, and to turn them from darkness to light, and from the power of Satan unto God, that they may receive forgiveness of sins, and inheritance among them which are sanctified by faith that is in me. 📖JOB 5:12 - He disappointeth the devices of the crafty, so that their hands cannot perform their enterprise. #CEMCABUJA #HSLHS  #livehealingserviceswithpastorchris  #healingstreams  #healingstreamstv  #healingtothenations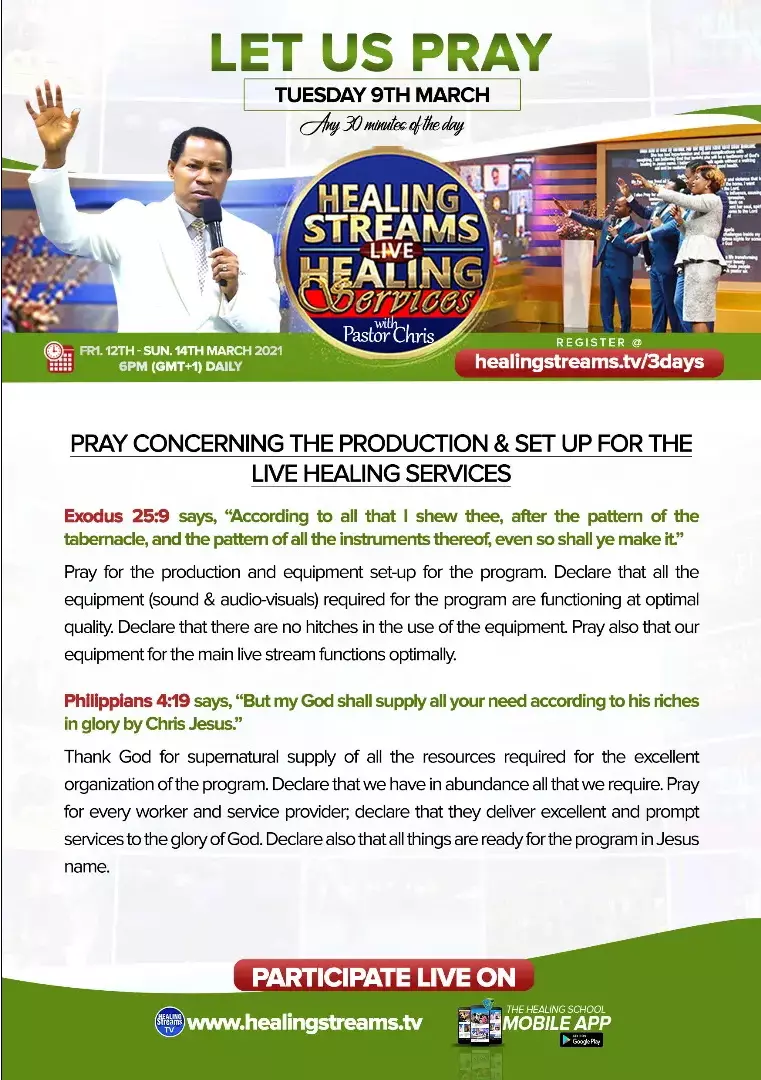 Philippians 3:8-9 Yea doubtless, and I count all things but loss for the excellency of the knowledge of Christ Jesus my Lord: for whom I have suffered the loss of all things, and do count them but dung, that I may win Christ, And be found in him, not having mine own righteousness, which is of the law, but that which is through the faith of Christ, the righteousness which is of God by faith.
Global Evangelism week #HUIOS CELL #CE BAHRAIN #MESEA
LIVE HEALING SERVICES PRAYER GUIDE 🙇‍♂️🙇‍♀️ PRAY CONCERNING THE PRODUCTION & SET UP FOR THE LIVE HEALING SERVICES (TUESDAY 9TH MARCH) 📖 Exodus 25:9, "According to all that I shew thee, after the pattern of the tabernacle, and the pattern of all the instruments thereof, even so shall ye make it."  ☑️ Pray for the production and equipment set-up for the program. Declare that all the equipment (sound & audio-visuals) required for the program are functioning at optimal quality. Declare that there are no hitches in the use of the equipment. Pray also that our equipment for the main live stream functions optimally. 📖 Philippians 4:19, "But my God shall supply all your need according to his riches in glory by Chris Jesus." ☑️ Thank God for supernatural supply of all the resources required for the excellent organization of the program. Declare that we have in abundance all that we require. Pray for every worker and service provider; declare that they deliver excellent and prompt services to the glory of God. Declare also that all things are ready for the program in Jesus name. God bless you. #livehealingserviceswithpastorchris #healingstreams #healingstreamstv #healingtothenations #hscyberchurch
🙏🙏🙏 PRAYER POINTS FOR TODAY TUESDAY MARCH 9, 2021 PRAYER TIMES - 5.00AM, 12.15PM AND 10.15PM PRAYER POINT 1:  🙏WE ARE PRAYING FOR SAFETY ALL OVER THE NATIONS OF THE WORLD And the Lord shall help them and deliver them; he shall deliver them from the wicked and save them because they trust in him. Psalm 37:40. Declare safety in every city and town in every nation. We dispatch angels on the streets in every nation, frustrating and overwhelming the evil works of darkness and exposing all men of violence. Declare that people will live their lives and conduct their affairs in peace and safety without fear. Psalm 55:16-17.   PRAYER POINT 2:  🙏WE ARE PRAYING FOR OUR UPCOMING HEALING STREAMS LIVE WITH PASTOR CHRIS – FOR THE PUBLICITY OF THE PROGRAM - 3 DAYS TO GO!!!!! A little one shall become a thousand, and a small one a strong nation; I the Lord will hasten it in his time. Isaiah 60:22. Thank God for our publicity this week, pray for a mighty harvest of souls into the kingdom through this program. Pray for everyone that has accepted our invitation and those we will invite for the program; declare that daily, their expectation for the program heightens and as they attend the program they receive all that God has for them. PRAYER POINT 3:  🙏WE ARE PRAYING FOR OUR BRETHREN IN THIS MONTH OF CHANGE From whom the whole body, joined and knit together by what every joint supplies, according to the effective working by which every part does its share, causes growth of the body for the edifying of itself in love. Ephesians 4:16 (NKJV) Pray concerning all our brethren, declare that their hearts and minds are continually focused on the things above, they are committed to the ministry of the gospel, they fulfill their ministry with joy, without reproach, as we get ready for the soon return of the Lord.  #CELAGOSZONE2 #2021THEYEAROFPREPARATION
Welcome to "Your Daily Family Prayer" FAMILY ANNOUNCEMENTS & REMINDERS  WELCOME TO THE MONTH OF CHANGE 1. BREAKING NEWS - HEALING STREAMS 12th -14th MARCH - Tell all your invitees to watch the healing streams testimony program on Loveworld Networks from today Monday - Thursday from 4pm - 6pm to inspire their faith.  This is going to be the BIGGEST healing service ever. Make History as we hit greater heights. MAKE A COMMITMENT OF REGISTERING AT LEAST 100 PEOPLE BEFORE THE PROGRAM  Tell your family, friends, colleagues, neighbors and networks about the 3 days Healing Stream Services with our man of God Pastor Chris holding THIS WEEK 12th - 14th of March.  You can register Register via:  https://healingstreams.tv/zone/LWCH 2. BREAKING NEWS - GLOBAL DAY OF PRAYER 26TH - 27TH OF MARCH - FOLLOW THE 21 DAY PRAYER CALENDAR LEADING UP TO THE GLOBAL DAY OF PRAYER ON THE MINISTRY PROGRAM SUPER USER OR CHECK FOR THE SCREEN SHOTS ON THIS SUPER USER 3. THE POWER OF YOUR MIND BOOK REVIEW HAS KICKED OFF. WATCH DAILY REVIEW VIDEOS, GET A FRESH COPY OF TPOYM FOR YOURSELF IF YOU CAN'T FIND YOUR COPY & SEND 1-15 COPIES OUT DURING OUR 15 DAYS OF REVIEW / STUDY 4. Tell your family, friends, colleagues, neighbors and networks about the THIS SUPER USER "YOUR DAILY FAMILY PRAYER" and the need to start Family Prayer actively and follow this super user.  5. Send on this platform or to my chat testimonies born out of the daily family prayers. Testimony can be in form of written text or video. You may also send pictures of your daily family prayer to me FAMILY PRAYER TIME OUTLINE GUIDE TUESDAY 9TH MARCH 2021 1. Praise / Worship  - 5mins Song/Hymn Title: BE MAGNIFIED  Be magnified o Lord  You are highly exalted  And there is  nothing you can't do O Lord, my eyes are on you  Be magnified  Oh Lord  Be magnified  2. Prayer Time - 5 mins 1. PRAY CONCERNING THE PUBLICITY FOR THE HEALING STREAMS LIVE HEALING SERVICES WITH PASTOR CHRIS  Matthew 5.6 "Blessed are they which do hunger and thirst after righteousness: for they shall be filled. " Thank God for all our mobilization and publicity strategies. Pray that our brethren and invitees will attend the program hungry and expectant. Pray they will be met at the point of their needs, receive answers to their questions and solutions to their challenges. Declare that indeed the expectations of our brethren and invitees shall not be cut off. Thank God for the manifestation of the supernatural during this program. 3. BOOK REVIEW - "THE POWER OF YOUR MIND" CHAPTER 2 - 10mins CHAPTER 2 - UNDERSTANDING THE MIND * The mind is an intangible, spiritual entity and only God's word can shed the best light on it  * The mind is the faculty of man's reasoning and thoughts. It holds the power of the imagination, recognition and appreciation  and is responsible for processing feelings and emotions, resulting in attitudes and actions.  * Your mind is the connector of your Spirit to your body * Only through God's word can the inward man be discovered and educated * Hebrews 4:12 For the word of God is quick, and powerful, and sharper than any twoedged sword, piercing even to the dividing asunder of soul and spirit, and of the joints and marrow, and is a discerner of the thoughts and intents of the heart. * The word goes into the very core of our nature to distinguish and separate between the soul and the spirit * Discover much more and you peruse and meditate on your own and watch video below. The full version of video is available in your church 4. RHAPSODY OF REALITIES - 6 minutes  RHAPSODY OF REALITIES TUESDAY, 9TH MARCH 2021 PASTOR CHRIS OYAKHILOME STAND IN HIS RIGHTEOUSNESS  CLICK ON FULL ARTICLE BELOW 👇👇👇 https://christembassy.org/rhapsody-of-realities-tuesday-9th-5/ FURTHER STUDY: Romans 6:4-5 Therefore we are buried with him by baptism into death: that like as Christ was raised up from the dead by the glory of the Father, even so we also should walk in newness of life. For if we have been planted together in the likeness of his death, we shall be also in the likeness of his resurrection:  1 Corinthians 1:30 But of him are ye in Christ Jesus, who of God is made unto us wisdom, and righteousness, and sanctification, and redemption:  Philippians 3:8-9 Yea doubtless, and I count all things but loss for the excellency of the knowledge of Christ Jesus my Lord: for whom I have suffered the loss of all things, and do count them  but dung, that I may win Christ, And be found in him, not having mine own righteousness, which is of the law, but that which is through the faith of Christ, the righteousness which is of God by faith:  1-YEAR BIBLE READING PLAN Mark 14:1-26 & Numbers 24-26 2-YEAR BIBLE READING PLAN Matthew 21:18-32 & Exodus 18 4. #AFFIRMATIONTRAIN  / #TALKINGSESSION / RHEMA FOR TODAY (Anyone of these is ok) - 3mins  #TALKINGSESSION 9TH MARCH 2021 KINDLY SAY THESE WORDS OUT LOUD. Dear Heavenly Father, I thank you for the presence of Your Holy Spirit in my life. I thank you Lord for You've increased my capacity. Your grace is evident and manifest in my life; I'm blessed and highly favoured in all things.  Your peace that surpasses all understanding guards my heart. I have power over crisis and I'm at peace in prosperity! I'm on top, in charge and in control of circumstances, because Christ is in me, and He's my peace. Hallelujah! By Your instructions through the Word, and ministry of the Holy Spirit, I am living an exceptionally great life here on earth, dominating circumstances and living the transcendent life You prepared for me. I thank you for granting me supernatural insight, wisdom, and knowledge; I deal and speak wisely always. I speak truth, and Your Word is truth. Your Word is in my heart and in my mouth today, producing righteousness in and through me. I am filled with the fullness of God, I have insight into mysteries; I dissolve doubts and unravel hard sentences. Hallelujah! Today, I declare that I am running the race You've set before me with patience, eschewing and laying aside pride, jealousy and every encumbrance, trait or character that could limit me from attaining to my God-given potentials and destiny in God! My body is the temple of the Holy Ghost, therefore, no sickness, disease or infirmity can lodge in it. I cut out any disease-germ or growth that tries to attach itself to my body, in the Name of Jesus, and I continually glorify God in my spirit and my body as I walk in divine health and absolute control over the elements of this world, in Jesus' Name. Amen. • Keep saying it, publish it everywhere; noise it abroad! In Christ, we've got something to shout about. Let's flood the airwaves, internet and print media with the reality of Christ. Speak in other tongues now. ~ Pastor Chris Oyakhilome. 5. Closing prayer - 1mins 6. Love everyone - 1min 7. Off you go. Done! and do it daily ***If you love this, follow this Super User on your top right*** 👌 👌  Secondly, Send link to at least 10 people prompting them to join WATCH FULL VIDEO IN YOUR CHURCH
Master Rep in the Lord, the Don, the Capo, the Nnai, the Grandpapa.I love you Sir.
My Righteousness is the Righteousness of the Lord Jesus Christ;..The Precious Blood of the Lord Jesus gave me access and Eternal Life... I stand justified forever, with complete dominion over Satan, circumstances and the cohorts of darkness. Blessed be God forevermore, Amen!