At the beginning of this month, after declaring it The Month OF BLESSINGS IN THANKSGIVING, our man of God instructed us to lavishly and openly express gratitude to God for the glorious year of LIGHTS. He asked that we post our testimonies on kingschat and other platforms using #monthofblessingsinthanksgiving #countingmyblessings #givingthankstotheLord. This is a great time to share your testimonies od you haven't done so already. Visit the Pastor Chris Digital Library App to listen to the message GIVING THANKS to further understand the importance of THANKSGIVING and why we must do it. #loveworldmediavideos #PCDL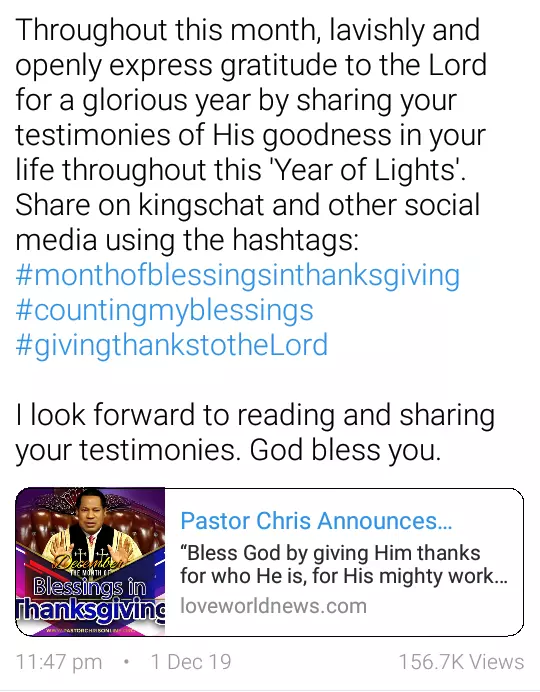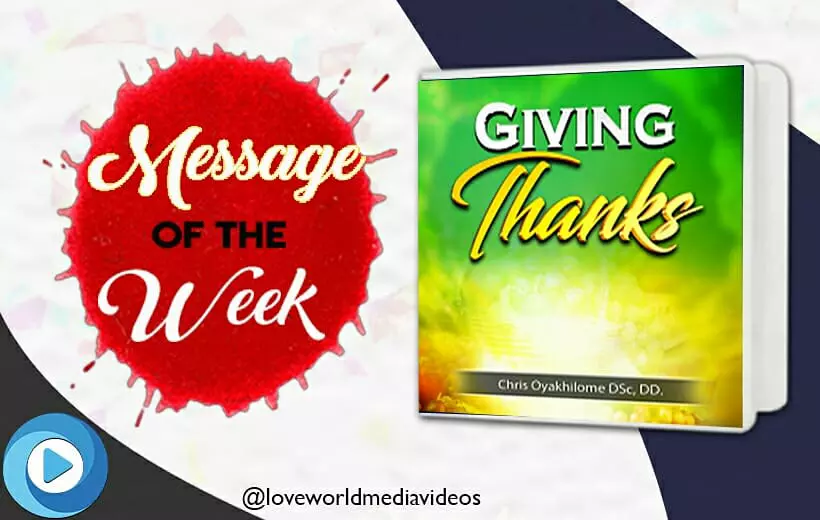 If you sow as a seed something you do not need you will reap a harvest of something you cannot use. Mind what you sow.
Congratulations to Sis Jessica Onubogu on your graduation. We are so proud of you and we love you.
I Am Light✨#Lighting up beauties@hoshworld🌍
LW International Day of Service!! Pastor Sir, We love you! We donated blood ..healed the sick etc in commemoration of our dear man of God
PROVOKE TO PERMEATE YOUR CITY!!!!! Sign up to Sponsor the December 31st Global Service Transmission Check Flyer for details #cetunes #newyeareve #31stEveService #ltm #lwr #loveworldtelevision #loveworldradio #SignupToSponsor
Congratulations Sis Tolu Alabi on your Masters degree in Literature and culture. We are so proud of you. God Bless you.
Oh Lord! How I cherish your word above everything else!🙌 Thank you for your Word Lord, and for giving me an understanding heart and mind. #givingthankstotheLord
We are dispensers and carriers of divine verities.. #LW International Day of Service