Wonne Afronelly: Hello there❗ Join Pastor Chris on KingsChat Web
Hello there❗ Join Pastor Chris & Pastor Benny for Global Day of Prayer! Let's make tremendous power available! Fri 27th March 2020 Kindly us Link below, create your Avatar https://prayer.rhapsodyofrealities.org/phz1 #cephzone1 #NoneOfTheseDiseases #IamVerdant👑 #IAmPERFECTION💜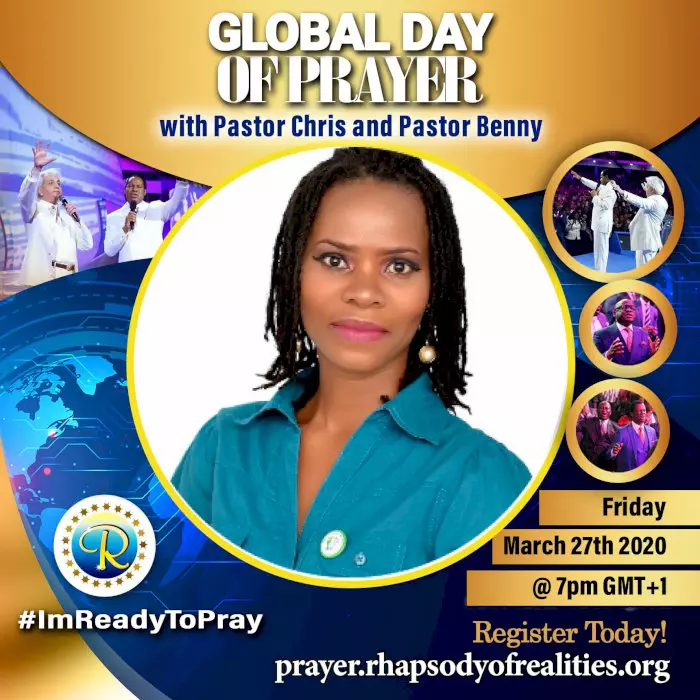 WE ARE THE SOLDIERS OF JESUS CHRIST WE ARE MAKING THE POWER AVAILABLE FOR WE ARE THE ARMIES OF THE LORD JESUS CHRIST
Ready to make power available.,..
We're READY!!! #Loveworldsat #globaldayofprayer For LoveWorldSAT Avatar 👉🏾👉🏾👉🏾http://www.loveworldsat.org/globaldayofprayer.php
Je prends position avec le pasteur Chris et le pasteur Benny Hinn pour apporter la guérison aux nations. Rejoignez-nous demain vendredi 27 mars 2020 à 19h GMT + 1 pour la Journée mondiale de prière. AMEN🖐 #globaldayofprayer #healingtothenations #AmbassadorsNetwork #dspukzone3
I AM READY TO MAKE DEPOSITS IN ETERNITY. GLORY TO GOD! #GDOP #PastorChrisandPastirBenny
#globalprayerwithPastorChris&pastorBennyand I'll be watching live with loveworldsat
Wow! Few hours to go for the church to make tremendous power available. When we pray supernatural miracles is sure happen....Glorrry!