BLW Teens Ministry: CELEBRATING OUR TOP 36 PARTICIPATING on KingsChat Web
CELEBRATING OUR TOP 36 PARTICIPATING ZONES IN THE TEENS PORTAL - TEENS GROW FOR THE MONTH OF MARCH 2020 - WEEK 1 URL: teens.loveworldims.org *Thank You For Aligning To Perfection!* #lwteensministry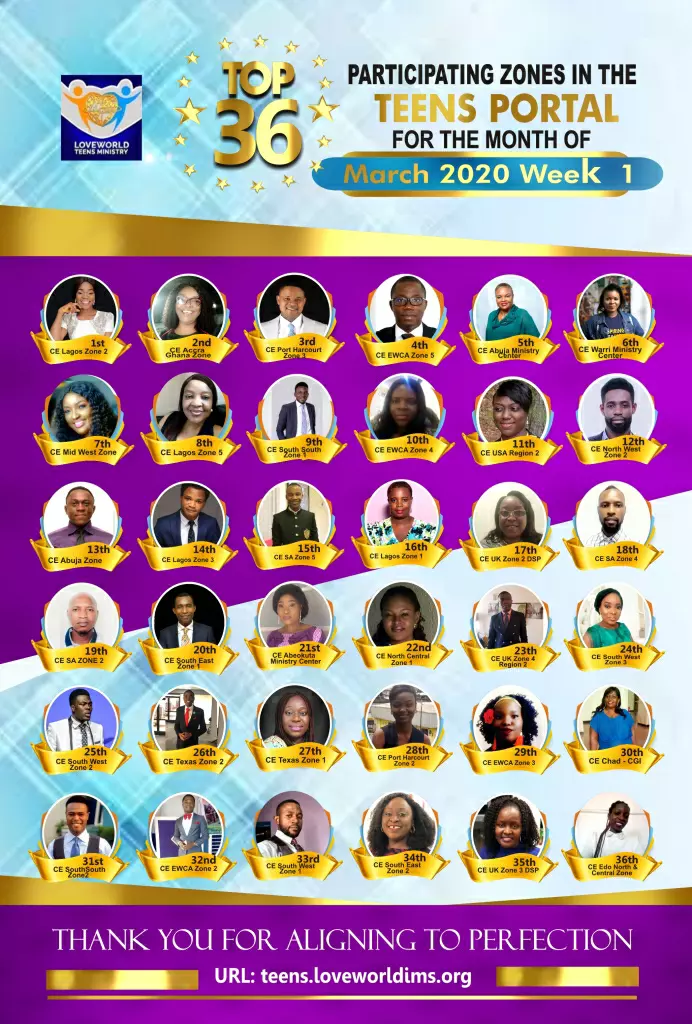 CHARIS TEENS AND YOUTH CHURCH OUR MID WEEK SERVICES IS IN A NEW DIMENSION GLORY TO GOD #LWTEENSMINISTRY #CEWARRIMINISTRYCENTR #CEUDUGROUP
It's sonething to shout about, the Bonny Miracle Crusade holds on friday 20th of march 2020. Don't miss it #BMC #PHZ2
#praglngnow #oslo Norway cE# proy-A-Thon# 2020
A Very Special Happy Birthday to my Beautiful Pastor Charis Ma Thank you for loving me the way you do. I love you so dear Pastor Ma. Congratulations Ma!
HAPPY BIRTHDAY SIR!! To you Our Highly Esteemed Regional Pastor, we say a big big Happy Birthday to you. You have been a great blessing to all of us; your words are filled with wisdom and counsel. Your passion and strength for the gospel is obvious and contagious. This is to many more years of glory, splendour, strength, increase and impact. We love you so dearly Sir. #PZA #PJ311 #CE_UROMI #ENEC
#prayingnow #DMC #cedouala #cameroon
JUST GRATEFUL! SO GRATEFUL,!!! SUPER GRATEFUL!!!! A blissful birthday to you Sweetheart. I love you more than words can express!!!