GLORY TO GOD!!! YOUR LOVEWORLD SPECIALS SEASON 2, PHASE 5 begins today!!! Get ready for an awesome exposé on God's word!!! 🗓 : Tuesday September 8th - Saturday 12th September, 2020 🕖 : 7pm GMT+1 Airing live on all the Loveworld Networks, the LIVE TV App, the Ceflix App and other Social Media platforms! Spread the word!!!!  #yourloveworld #eneczone #seregion #perfection #Nigeria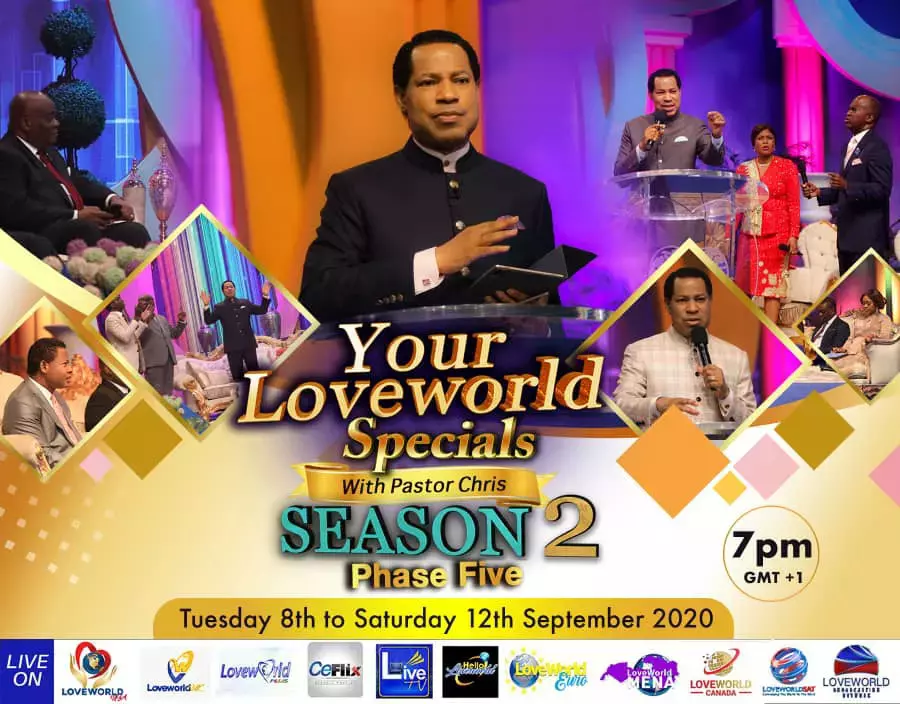 Joy
commented:
Another inspiring moment in God's presence
THIS FRIDAY: 4PM GMT+1 SATURDAY(morning session): 8AM GMT+1 SATURDAY (evening session): 4:30PM GMT+1 #LGGC #GlobalConnect #LGNRules #NetworkingSuccess #LNGZambiaCenter www.lwgraduatenetwork.com
WHY ASIA AT THIS TIME? Asia has the largest number of idol worshippers. With over 2.4 billion men and women bowing to lifeless gods and spirits with so much commitment. Asia is in urgent need of salvation, and we must set up Loveworld Asia to change this narrative! Join us today!
And in the 5TH POSITION, Top 10 outstanding ZONES/MINISTRY CENTERS with the highest sponsorship and distribution of the TeeVo Bible in the month of August 2020. Give it up for CHRIST EMBASSY LAGOS VIRTUAL ZONE!!! Thank you Esteemed Pastor Yemisi Kudehinbu and the members of Christ Embassy Lagos Virtual Zone for your outstanding sponsorship and distribution of the TeeVo Bible. We love you dearly Ma. #teevolution #everyteenagerateevobible
Beauty, Divinity and supernatural intellect. #LLN #llninauguralmeeting #ceoguola #silukomodelgrp #cemidwestzone
#LLN #LLNInuaguralMeeting #LoveworldLadiesNetwork #TheNextBigThing #Cesazone2 #Southgroup #Cebenoni
FRIDAY: 4:00PM SATURDAY (Morning session): 8:00AM SATURDAY (Evening session): 4:30PM 3 explosive sessions at Loveworld Graduate Global Connectwith PASTOR CHRIS BE THERE!!!
THIS FRIDAY: 4PM GMT+1 SATURDAY(morning session): 8AM GMT+1 SATURDAY (evening session): 4:30PM GMT+1 #LGGC #GlobalConnect #LGNRules #NetworkingSuccess #LNGZambiaCenter www.lwgraduatenetwork.com