CE BAYELSA NATION: 📍📍DAY 2: OUR 3 DAYS on KingsChat Web
📍📍DAY 2: OUR 3 DAYS GLOBAL FASTING & PRAYER WITH PASTOR CHRIS. 👇👇👇 Here is Today's Prayer point from PastorChrisLive for DAY 2 - Sunday 2nd May, 2021. Let's make power available and cause tremendous changes. #PastorChris #PCL #TLB #CEBAYELSA #thelandofgrace #NSSZONE1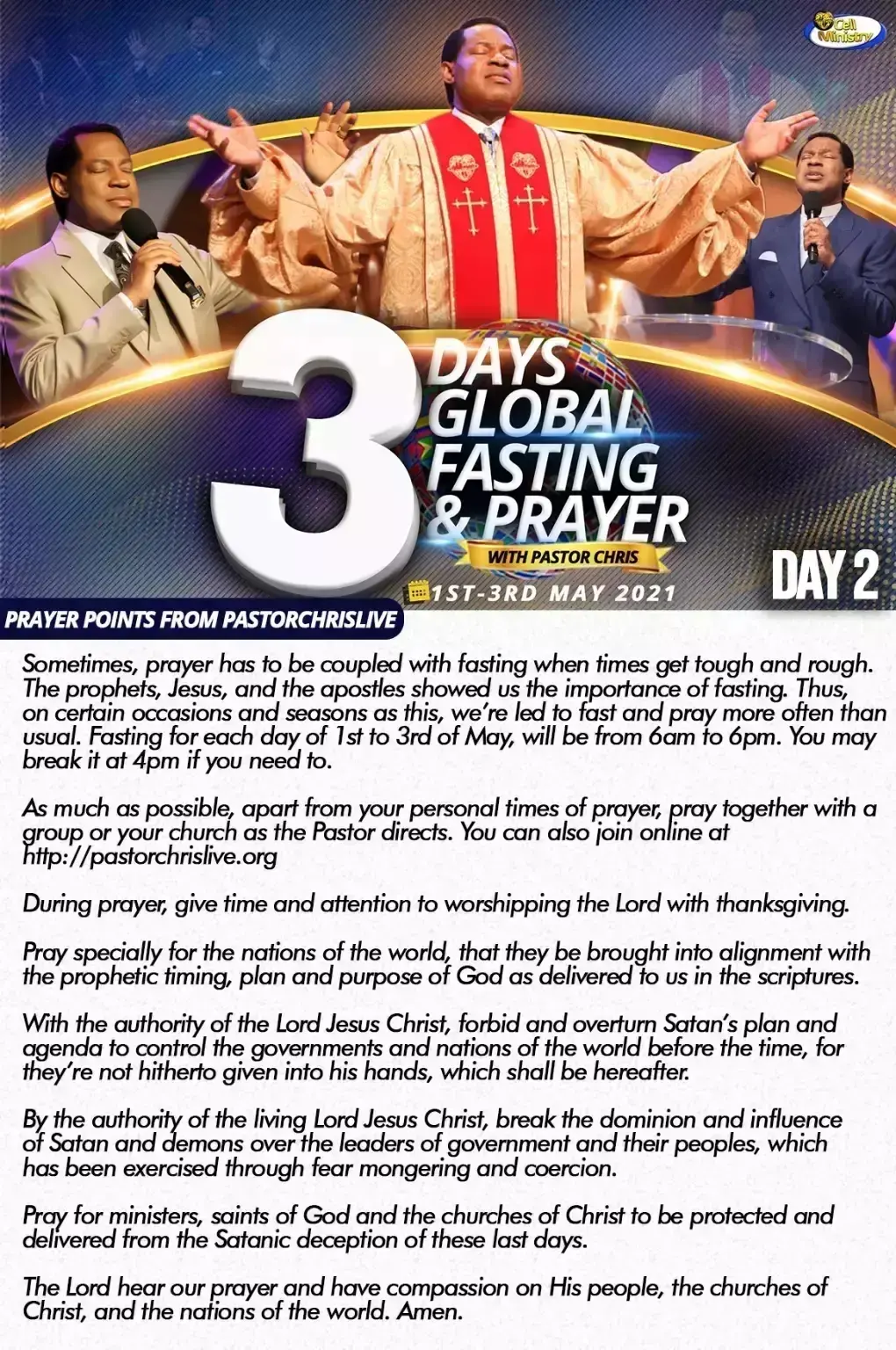 #RecordbreakingPYK #PYKthechampionmaker #Championmaker #GracedandfavouredPYK #Ladyofgrace #TnicelebratiesPyk
CELEBRATING the Award Winning 🥇Bro Segun Smart!!! Happy birthday to you, Thank you for blazing trails, for exceptional Global impact in Cell Ministry by Setting the pace and breaking records! We love you so much... Happy Birthday 🎂 🎊 🎉 #ministrycentrewarri
#HAPPENINGNOW !!!! #GRANDFINALE THE ZONAL RHAPATHON LIVE FROM DURBAN GROUP : DAY 4 WE DON'T WANT THIS TO END! #RhapathonLiveFromDurban #SAZone2Rhapathon #1millionCopiesBy15thMay #CEDurbanGroup #CESAzone2 🇿🇦🇿🇦🇿🇦🇿🇦🇿🇦🇿🇦🇿🇦🇿🇦🇿🇦🇿🇦🇿🇦🇿🇦🇿🇦🇿🇦🇿🇦
*GIVING WINGS TO THE GOSPEL TO FLY*. "...And this gospel of the kingdom shall be preached in all the world for a witness unto all nations; and then shall the end come" (MT.24:14) #ewcaZone2 #rhapsodyofrealities #onemillionoutreaches #1millionoutreaches #shinningwithlanguages
💥 VITAL SIGNS - 2 2 Cor 11:5 (msg) 👉Test yourself 👉 Give yourself regular checkups 1. A sign of a functional relationship is a steady communication between couples. 2. Prayer is not when we want things from God... It should be a response of love towards God.
#Cebeninzone1 ✍️You think about God, the way you think about yourself.
It always gives great joy to celebrate your loving, excellent personality, my dearest Pastor! *A Unicorn* - beautiful, graceful, gracious, full of wisdom, insight & positively impacting all her associations! Many record-breaking returns! I 💝 & appreciate you very dearly, ma!!