LIVE HEALING SERVICES PRAYER GUIDE 🙇‍♂️🙇‍♀️ GREATER SPREAD, PENETRATION & ACTIVE USEAGE OF OUR MATERIALS AS A RESULT OF THE PROGRAM (WEDNESDAY 10TH MARCH) 📖 Matthew 24:14, "And this gospel of the kingdom shall be preached in all the world for a witness unto all nations; and then shall the end come." 📖 2 Corinthians 4:15, "For all things are for your sakes, that the abundant grace might through the thanksgiving of many redound to the glory of God."  ✅ Pray and thank the Lord for the greater spread, penetration and active usage of our materials in all the nations of the world. Declare that, through this program, the ministry's work to the nations advances, causing men everywhere to glorify the Lord.  📖 Habakkuk 2:14, "For the earth shall be filled with the knowledge of the glory of the LORD, as the waters cover the sea."  ✅ Declare that as a result of the Healing Streams Live Healing Services with Pastor Chris, there is an unusual speed in the spread of our materials all over the world. Declare that billions around the world receive salvation and become active users of our materials. God bless you. #livehealingserviceswithpastorchris #healingstreams #healingstreamstv #healingtothenations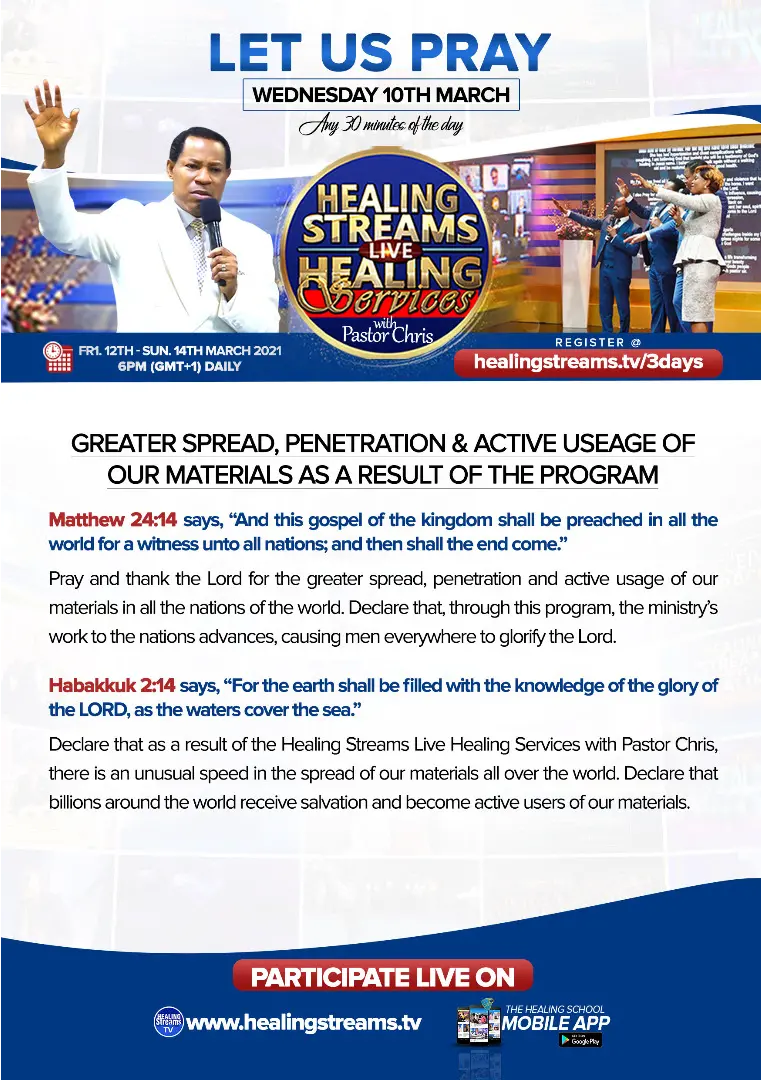 The Word of God contained in the Rhapsody of Realities is changing lives and nations all around the world and we are blessed to be the first partakers of this grace. Remember that through the Rhapsody, there is a Rhema-Word for each day. Study Your Rhapsody Today with your cell members! https://rhapsodyofrealities/read-devotional #cellministry #rhapsodyofrealities #rhapsody
Glorryyyy, glorryyyy, glorryyyy healing around the world. I am ready
ITS WORD DRIVE DAY 24 #WordDrive #pcdlwordrive #a30daystudyonpcdl #blw2ndtierzone #campusministryrocks
Happy Perfect Birthday to u dearest Sis Seun. Big Thanks for all u do in Ministry & for me. Increased Wisdom, Grace, Ability, Speed n Fortunes are all yours .The Lord perfects all that concerns u & grants u the desires of ur heart. Shine on dear Sis. I love u 🥳🤗🎂💝😃👍.
📢📢 Only 2 days left to the most Anticipated Healing Streams Online Healing Services with Pastor Chris.🥳 Registration Is Still Open via our unique Link: 👇 http://healingstreams.tv/zone/LWSAZC #livehealingserviceswithpastorchris #healingstreams #healingtothenations #blwsazonec
Happy birthday Esteemed pastor,I appreciate you for all you do in ministry..