Nkem Udeagha: Updated her profile photo on KingsChat Web
Updated her profile photo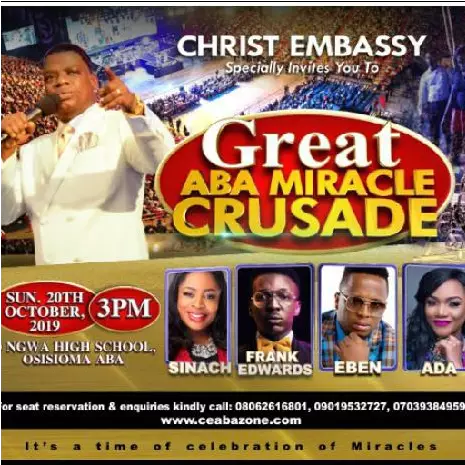 Nkem Udeagha
commented:
It is going to wow! on the 20th of October at Ngwa high school Aba. Come from everywhere and witness the miraculous.
Great Aba Miracle Crusade ooo Miracles everywhere ooo
In 18 days, CE Largo holds our special "Day of Bliss with Pastor Aloy." God has great plans for all who will be in attendance - you and your guests.Glory! Where will you rather be? There's no place you would rather be. DONT MISS OUT!
I am Readdddyyyyyy🙌 Great Aba Miracle Crusade!!! Miracles everywhere💃💃💃💃💃💃💃
Chai....It is sweeting me ooooo! #GAMC2019 #CEABAZONE
Men of ojodu church is at it again.
See you at ngwa high school come 20th October 2019...
Psalm16:6TPT Your pleasant path leads me to pleasant places. I'm overwhelmed by the privilege that come with following you, for you have given me the best! #liftchallenge #monthofuplifting