Thank you Sir, for your exemplary followership of our Man of God. We are honoured to join the host of heaven to celebrate a wonderful and caring personalty like you. Happy Birthday Sir.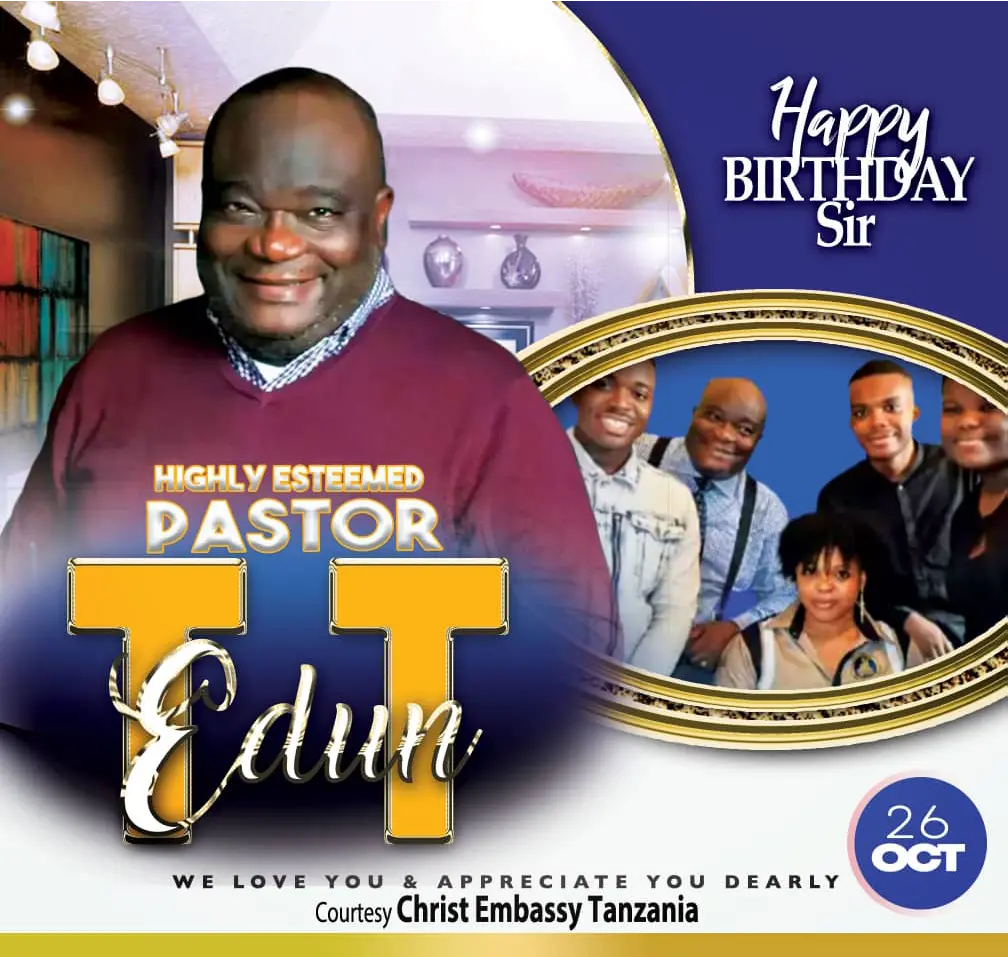 Pastor Elona Igini #CETanzania
commented:
Happy Birthday Highly Esteemed Pastor Sir, thank you for the undiluted Word & the love you so lavishly share. We dearly love and appreciate you Sir.
Happy Birthday dear Sis Rebertha. Celebrating God's grace and favour in your life. Thank you for all you do in service to the Lord.You are a winner. I love you dearly ma. #CeCanada #CeBramptonWest
Happy birthday to God's amazing general leading the strike force with the special mission to depopulate hell and populate heaven. No retreat no surrender but extravagantvictory parade.
DIVINE HEALTH CONFESSIONS 27TH OCTOBER I'm a sharer and participator in the divine experience. I live in triumph over all circumstances, in total fulfillment, joy, glory and dominion! I reign and rule by the Word, irrespective of what I feel, see, or hear, in Jesus' Name. I'm making progress, prospering and waxing stronger in my body! I am bigger, greater, and superior to insecurity, sickness, disease, and the devil. Hallelujah! SPEAK IN OTHER TONGUES NOW #DailyConfessions #DivineHealth #KeepSayingIt #Health #Confessions #HealthyLiving
*EXTRACTS FROM TODAY'S ROR* *_...The Gospel of Christ makes sinners righteous. It catapults the poor from obscurity, penury and misery to a life of prosperity, glory and excellence..._* #MyYearOfPerfection #FatherThankYou #LordJesusIWorshipYou #HolySpiritILoveYou
Happy birthday Pastor sir, thank you loving us, inspiring in the gospel and teaching us success in life and Ministry. We love you and celebrate you today and always. #CEGOMBE #CEMINNA #NNCZ1
Celebrating you is such fun PIS Thank you for all that you bring to the table You are sooooooo blessed this year by every step and every leap of your faith on the Word Truly this is an amazing year for you. We celebrate you.....this beautiful year. Love you loads