Sister Mzikazi Galo: We are celebrating our Esteemed on KingsChat Web
We are celebrating our Esteemed Zonal Pastor, Pastor Freedom Wealth Eriya. Pastor Sir thank you for teaching us the word of God. #birthdayloading #pf4 #pastorfreedom #sazone1 #CESAZONE1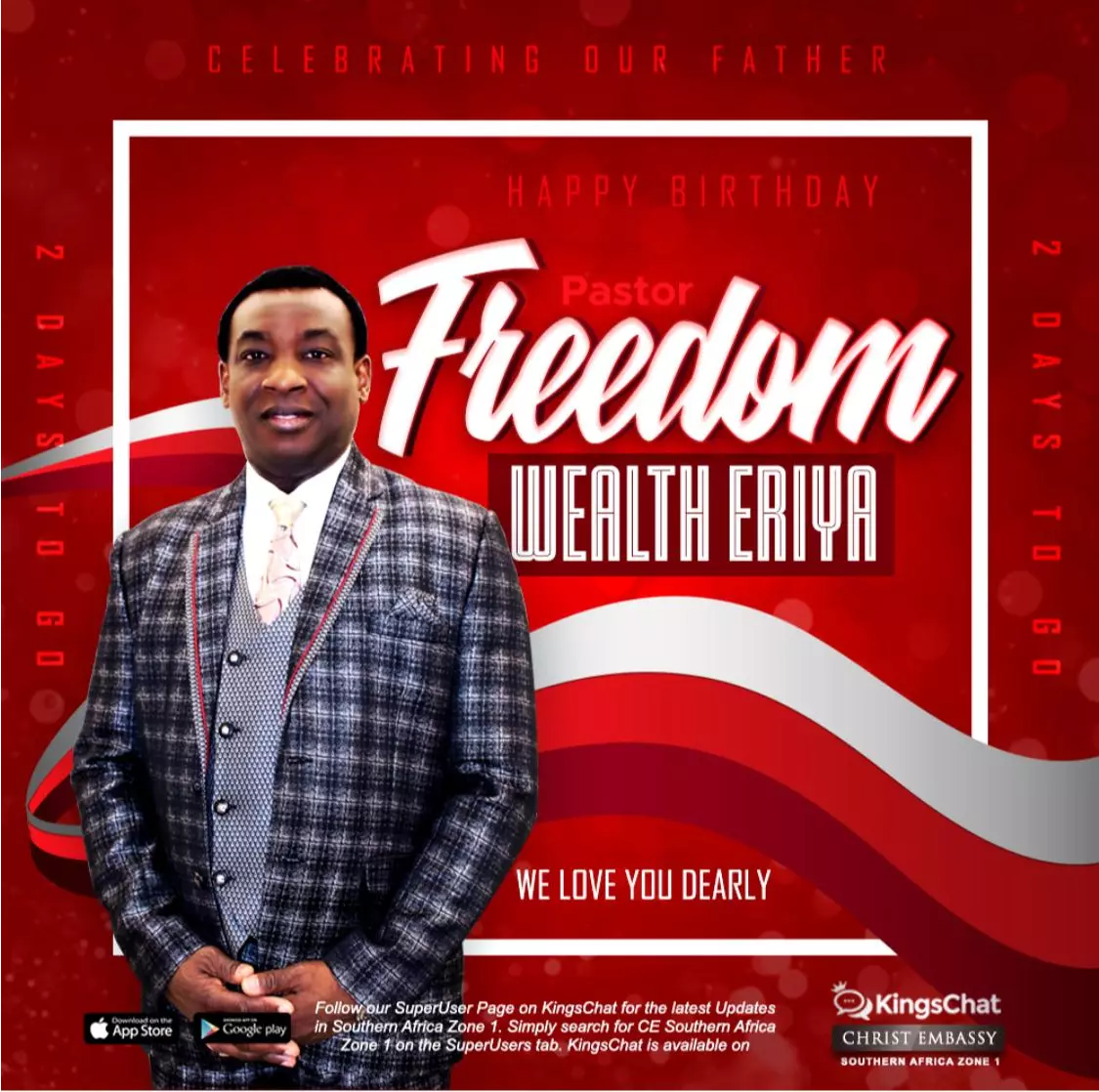 Caroline Gora
commented:
Happy Birthday Pastor Sir. We thank you for being a blessing to us. I love you dearly Sir.
Akhona
commented:
We celebrating love personified, 💃💃💃💃💃💃💃
Wow Thank you Pastor Sir for the opportunity to pray with Benin Virtual Zone in Nigeria. I have moved.. #prayingnow #prayathon2020 #Nigeria #CEAsabaSEZ2 #PCLprayathon2020 #IamApriestInOffice #perfectoDcnsViv
Have you come to that point in your life where you know that nothing is impossible unto you? You can do all things because Christ, the anointed One and His anointing, lives in you. -Ps Chris
Celebrating The Highly Esteemed #Birthdayloading #04march #PastorFreedom #cesazone1
🇺🇸 12 days to go! Counting up to our most anticipated DMV area outreach; Perfect Note with Pastor Aloy and Peeyuu! 🎼 🎶 🎵 #PerfectNote #CEBALTIMORE #LoveWorld #USAZ1 #USAREGION1
MY DAILY CONFESSIONS Monday 2/3/2020 #saythiswithme I walk in divine excellence and manifest the fruits and works of righteousness. I walk and live in the Spirit, fulfilling God'spurpose for my life. All things are working together for my good. There's uplifting in my finances, job, business, family and everything that concerns me. I'm blossomingin divine health. Blessed be God, who has made me more than a conqueror. I live triumphantly always, fulfilling God's dream and bringing glory to His Name. Hallelujah!
Never confess inability. Never see yourself as weak, because Christ, the anointed One and His anointing lives in you. -Ps Chris
Happy birthday Dcns ma Thank you ma for your leadership and encouragement, thank you for all that you do in Haven Nation, is a new level ma Love you ma. #Den23 #Deaconessebere #thehavenNation #Havenza4
#NightOfBlissApo #NOBA #AbujaMinstryCenter #GarkiGroup
I've been granted the power of attorney to use the Name of Jesus! Therefore, I disallow demonic activities in my life, environment, and in the lives of my loved ones. The dominion of Satan in anyone and anything around me is broken, even now, in the Name of Jesus. Amen.