SIMULTANEOUS BOOK REVIEW OF THE CLASSIC BESTSELLER; THE SEVEN SPIRITS OF GOD BY #PASTORCHRISWORLDSNO1AUTHOR THIS WORLD BOOK DAY! Book Title: The Seven Spirits Of God Discover the secrets to living the natural life …naturally! In yet another riveting masterpiece on the Holy Spirit, our man of God Pastor Chris Oyakhilome, DSc. D.D  brings to you new depths of the power and operations of the Holy Spirit in the life of a believer. "The Seven Spirits Of God – divine secrets to the miraculous" teaches you: ✔ What "The Seven Spirits of God" means ✔ Who "The Seven Spirits Of God" are ✔  Why you must have them ✔ How you can receive them ✔ What they'll accomplish in your life. You will receive revelation knowledge you require to experience the fullness of the Holy Spirit in your life and discover deeper dimensions of Spirit that will enable you to help you walk in the miraculous and supernatural consistently. The Seven Spirits is available in 4 other translations including Afrikaans, Arabic, French and Swahili PLACE YOUR ORDERS IN ANY OF THESE LANGUAGES TODAY!  Also available on the Rhapsody of Realities App or www.loveworldbooks.org Call: Nigeria: +2348086656497, +2348086656533,+2348086656547 Ghana: +233-0244211623, +233 548951736, +233 548951799, +233 548951800 South Africa: +27 113260971 United Kingdom: +44 1708 556 604, +44 (0) 8001310604 (Free phone) United States: +1 281759111, +1 2817596218 #fiestaoflights #pastorchrisworldsno1author #LWPM #WBD2019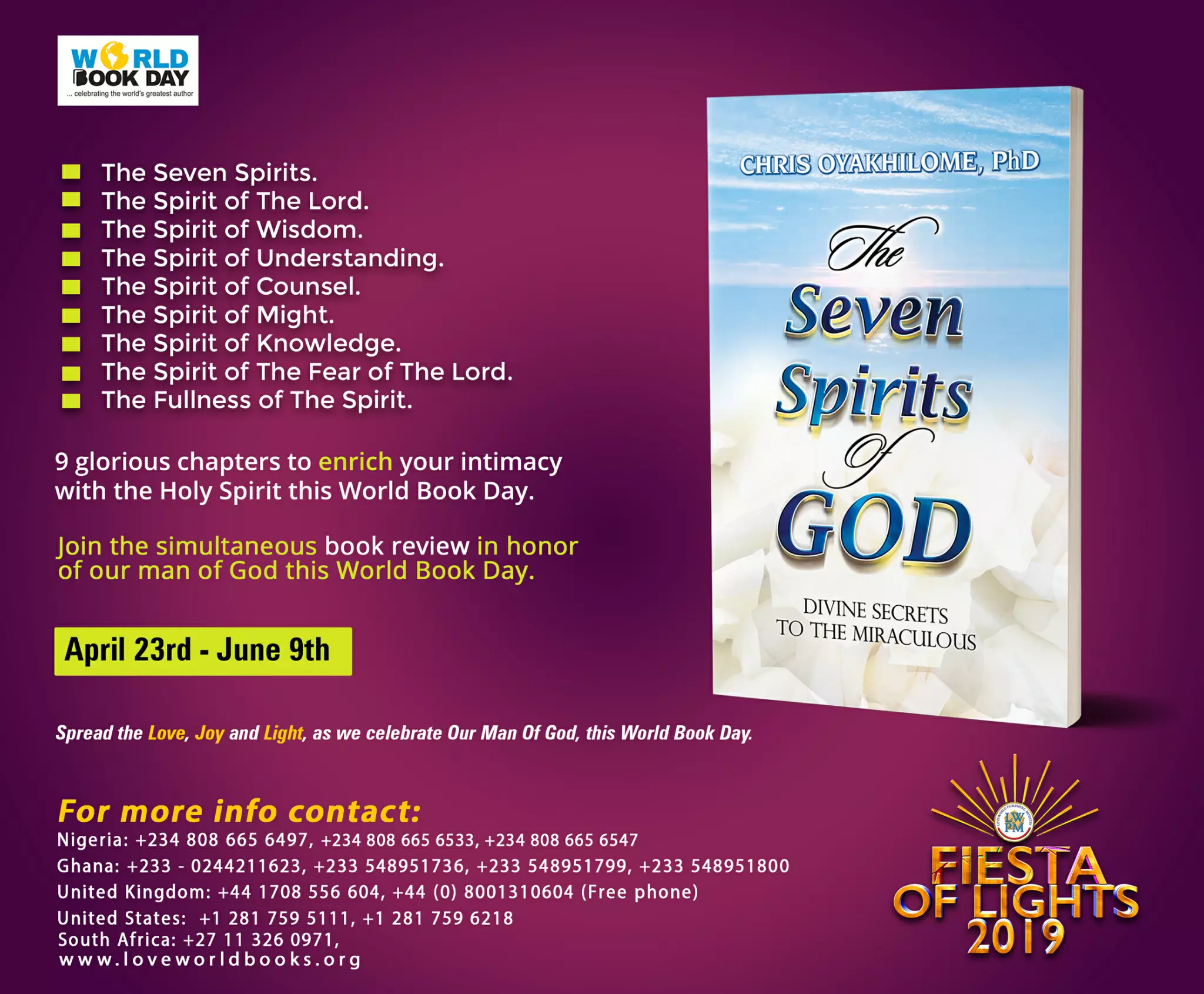 Happy Supernatural birthday Son. Keep shinning and winning everyday. Congratulations!
WEDNESDAY 24TH APRIL PRAYER GUIDE FOR CELL MINISTRY DAY OF BLISS #SouthEastRegion • Pray that through Christ Embassy Cell ministy, the message of our ministry will spread all around Imo State. Declare that as our esteemed Cell leaders ministers, the many sided wisdom of God will be revealed such that the divine influence and presence of God will be manifested and His presence will rub off on everyone in attendance resulting in diverse miracles and salvation. ( Romans 15:19) • Thank God for all our publicity strategies. Declare that in these few days, we increase in strength daily as we participate in evangelizing our catchment and inviting people for the outreach. Pray that through this program, the gospel will spread and flourish throughout our city. Declare that first timers are coming in their thousands by free course and they are retained in our cells and churches in Jesus name. (Ephesians 3:16) • Pray for the supply of God's spirit on every official in every cell(the choir ministers, dancers, counselors, ushers, marshals, etc) that being full of the Spirit, they carry out their functions with joy and excellence. Pray that by virtue of the work of our officials, everyone coming for the meeting will be inspired to receive from God. ( Ephesians 5:18) • Write down your personal expectations for the program a Cell Leader. Speak in tongues voraciously. Declare that all your expectations are met and surpassed. Thank God for the special blessings He has ready for you at the program, rejoice for all things are yours. Declare that you will be transported to the next and higher level of glory by the end of the outreach. (Pro 23:18)   • Using the eyes of your mind see all our venues on the 27th of April 2019, filled with thousands of people, see the people lifting up their hands in worship, hear the choir ministering under the anointing of the Spirit, hear the voice of our cell leaders ministering the Word with power and the people hearing clearly, see the long line of people waiting to testify of their miracles, feel the clement weather and rejoice. Shout Glory! (Joshua 6:2)  
Such a star ⭐️ you shine ever so brightly lighting up every one you encounter and bringing to them such season of joy , love , happiness , prosperity & health . We salute you ma. We love you 😍 Happy happy birthday 🎉 #celuton #ceukzone3 #2404
10 #ppn2404 #cegbagada Celebrating a Hero of Faith...
Pastor Sir Thank You For Changing My Life Through Your Inspiring Books. I Love You Sir! #CEDocklands #UKZ4R2 #Pastorchrisworldsno1author #Fiestaoflights #LMAMUK
*Proverbs 12:22-23 KJV* Lying lips are abomination to the Lord : but they that deal truly are his delight. [23] A prudent man concealeth knowledge: but the heart of fools proclaimeth foolishness. #CESAZONE1 #CERANDBURG #Wednesday
Still celebrating my Pastor💃💃💃 An amazing mother&wife Thank you for keeping the faith in Bedforshire &beyond💃💃 We love you ma #celuton #ceukzone3 #pdebs
https://www.kingsch.at/p/K3Z2UmN
#ppn2404 #cegbagada A millionaire is not someone who has a million in the bank accounts...... A millionaire is someone who has given God 1 million! Happy Birthday Pastor. Thank you for raising millionaires and counting....
IT IS WORLD BOOK DAY!!!! It is such an honour to Celebrate our Super Dad Rev. Dr. Chris Oyakhilome, the number 1 best author in the world. Thank you so much dear Dad for the impact of the word in our lives. We celebrate you in commemoration of the Worlds' book day. From Loveworld Publishing Ministry Ambassadors, Calabar Ministry Centre. #Fiestaoflights #pastorchrisworldno1author #CMC #CALMC #TeamCalabarRocks