The Haven Nation: Celebrating Our Dear Gov Uche on KingsChat Web
Celebrating Our Dear Gov Uche Nzeako Of The Haven Zone E3. Happy Birthday!! We love and appreciate you. From all of us in The Haven Nation. #HavenZoneE3 #TheHavenNation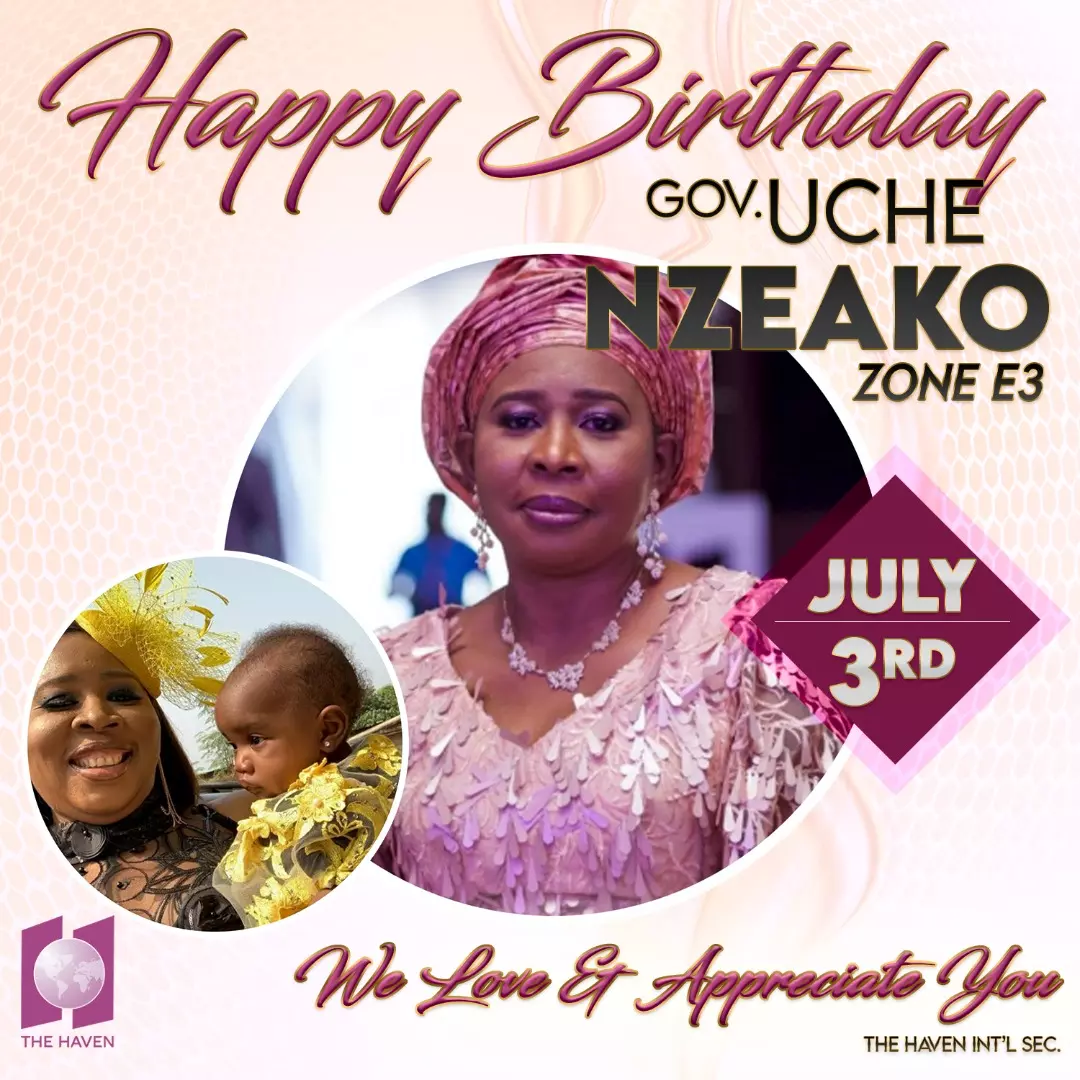 Golda Sherwood
commented:
Happy Birthday Dear Gov Uche, Thank you for all your lobor of love in the Father's house. Please enjoy your Birthday of Perfection in lights. We love you so much. HBD.
Gozie
commented:
Happy birthday my darling sis. You are blessed
Celebrating Our Dear Zonal Secretary Programs Of The Haven Zone E4 ;Dcns Sophie Phatswane. Happy Birthday!! We love and appreciate you. From all of us in The Haven Nation. #HavenZoneE4 #TheHavenNation
Happy Birthday my Subzonal Governor ZSP Dcns Sophie Ma. I love you so much🥰😘
PHOTO HIGHLIGHTS!!! STRATEGIC MEETING FOR "LADIES ADVANCE PROGRAM", WITH OUR HIGHLY ESTEEMED PASTOR MA, PASTOR AWELE ODU-THOMAS ON THURSDAY, 2ND JULY!! #LadiesAdvance #TheCompleteWoman #CalMC #TeamCalabarRocks
Its 4th July again.!!! Reachout USA !!! Glory to God. We are impacting this nation with the gospel of our Lord Jesus, through the Rhapsody of Realities. Hallelujah!!!
Happy and glorious birthday 🎂 to our Lovely sis Antonette!! Thank you for your passion and dedication for the Word of God and for his house. None of your steps shall slide and surely surely goodness and mercy are following you. Love you load !! ❤️❤️❤️🌺🌺🌺
The Haven Nation Celebrates Our Esteemed Pst Uche Onubogu On The Occasion Of His Birthday. Congratulations!! We love you dearly. From all of us in The Haven Nation #TheHavenNation
CALABAR MINISTRY CENTRE MEDIA CONNECTORS🤳...Set to spread📢🗣️🗣️🙏🙌 "The Spirit of Prayer", today July 3rd! The International Media Connectors Hosts MULTIPLE ONLINE PRAY-A-THON SESSIONS" Today for all Media Connectors' Network Team across the LoveWorld Nation. on Kingschat Conference Video Platform. PRAYER TIME SLOTS:- 9am - 11am GMT+1 12noon - 2pm GMT M+1 4pm - 6pm GMT+1 #mcnpraysliveonprayathononline #PastorChrisLivePrayathon #IamaPriestinoffice. #IamaPrayerinfluencer #CalMC #TeamCalabarRocks
CALABAR MINISTRY CENTRE MEDIA CONNECTORS🤳...Set to spread📢🗣️🗣️🙏🙌 "The Spirit of Prayer", today July 3rd! The International Media Connectors Hosts MULTIPLE ONLINE PRAY-A-THON SESSIONS" Today for all Media Connectors' Network Team across the LoveWorld Nation. on Kingschat Conference Video Platform. PRAYER TIME SLOTS:- 9am - 11am GMT+1 12noon - 2pm GMT M+1 4pm - 6pm GMT+1 #mcnpraysliveonprayathononline #PastorChrisLivePrayathon #IamaPriestinoffice. #IamaPrayerinfluencer #CalMC #TeamCalabarRocks
🎺 🎼 Because He lives I can face tomorrow... Bcoz he lives... ALL fear is gone. 🎺 🎼 Bcoz I know he holds My future... 🎺 🎼 My life is worth living bcoz he (Jesus Christ) Lives❗️I AM ALIVE forevermore. I💟You LORD #Raised-As-DKing