LoveWorld SAT: QUOTE OF THE DAY : on KingsChat Web
QUOTE OF THE DAY : PASTOR CHRIS OYAKHILOME DSC.DD 💡🌍🌟🌍💡 "If Christ Jesus forgave you, why should there be anything too much for you to forgive? The Bible says, "Put up with each other, and forgive anyone who does you wrong, just as Christ has forgiven you" (Colossians 3:13 CEV). Someone may say, "I'll never forgive so- and-so, because what he did was so terrible"; no! Not when you're born again. We have the nature of God to forgive. This is why forgiveness is imperative; it's not a piece of advice. You must always forgive, and quickly too. Let God's love in your heart flow through you lavishly." _ www.loveworldsat.org/live-tv _ #loveworldsat #loveworldnetworks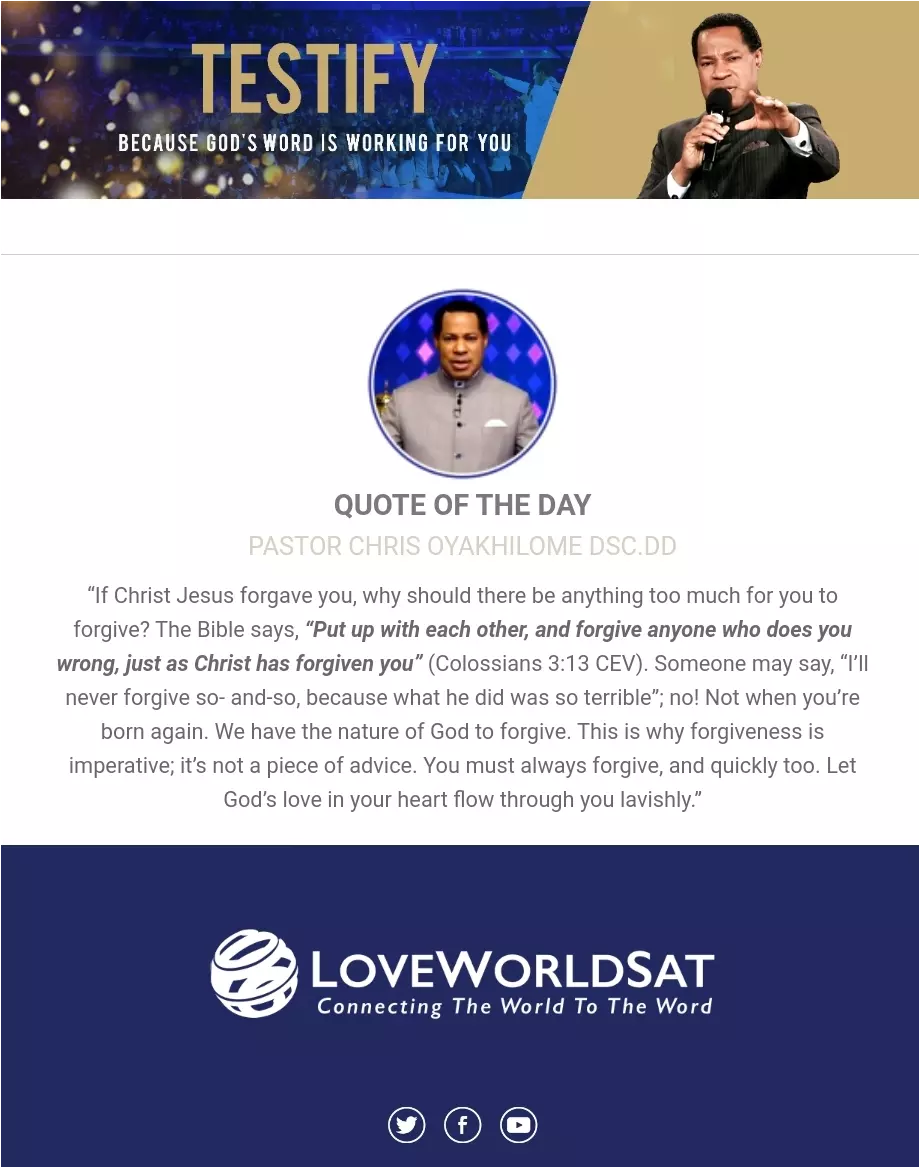 Ndife David
commented:
Hallelujah! Thank you Pastor Sir
Isaac Agyei
commented:
This is so refreshing Thank you Pastor sir
Celebrating a Superstar and champion.. Less than 24 hours away 😂🏃🏃🏃🎊🎊🎊...... #cebeninzone1 #blueEliteSoldier #cegiwaamu. @ewy #PEO2020
#Exposéonchristianliving #septembermonthofwisdom #WEZ4 #Germany #Offenbach
Happy Birthday Dearest Sister Mercy. The word causes you to make consistent progress. Your life is upward and forward and you walk in absolute and continual victory. You're blessed beyond measure. Enjoy your special day and Year of Perfection. God bless you mightily.
#StillPraying #Day267 (pt 2) #photospeaks - inspiring moments from prayer sessions led by groups from CE Kenya Zone; CE Lagos Virtual Zone, CE Lagos Zone 5 and CE Midwest Zone, in Nigeria! #prayingnow #prayathon2020 #PCLprayathon2020 #iamapriestinoffice
#sept29th SUPERSTAR NUMBER 1⃣ .. Less than 24 hours away 😂🏃🏃🏃🎊🎊🎊...... #cebeninzone1 #blueEliteSoldier #cegiwaamu. @ewy #PEO2020 @zogite
#sept29th SUPERSTAR NUMBER 1⃣ .. Less than 24 hours away 😂🏃🏃🏃🎊🎊🎊...... #cebeninzone1 #blueEliteSoldier #cegiwaamu. @ewy #PEO2020 @zogite