LoveWorld Radio: CELEBRATING EXCEPTIONALISM - HAPPY BIRTHDAY on KingsChat Web
CELEBRATING EXCEPTIONALISM - HAPPY BIRTHDAY HIGHLY ESTEEMED PASTOR AMBROSE ISESELE Today, Loveworld Radio joins the Loveworld nation and the hosts of heaven to celebrate a distinguished, amazing, exceptional and unique personality. Sir, thank you for your undeniable commitment to the spread of the gospel around the world through Radio We love and appreciate you dearly Sir.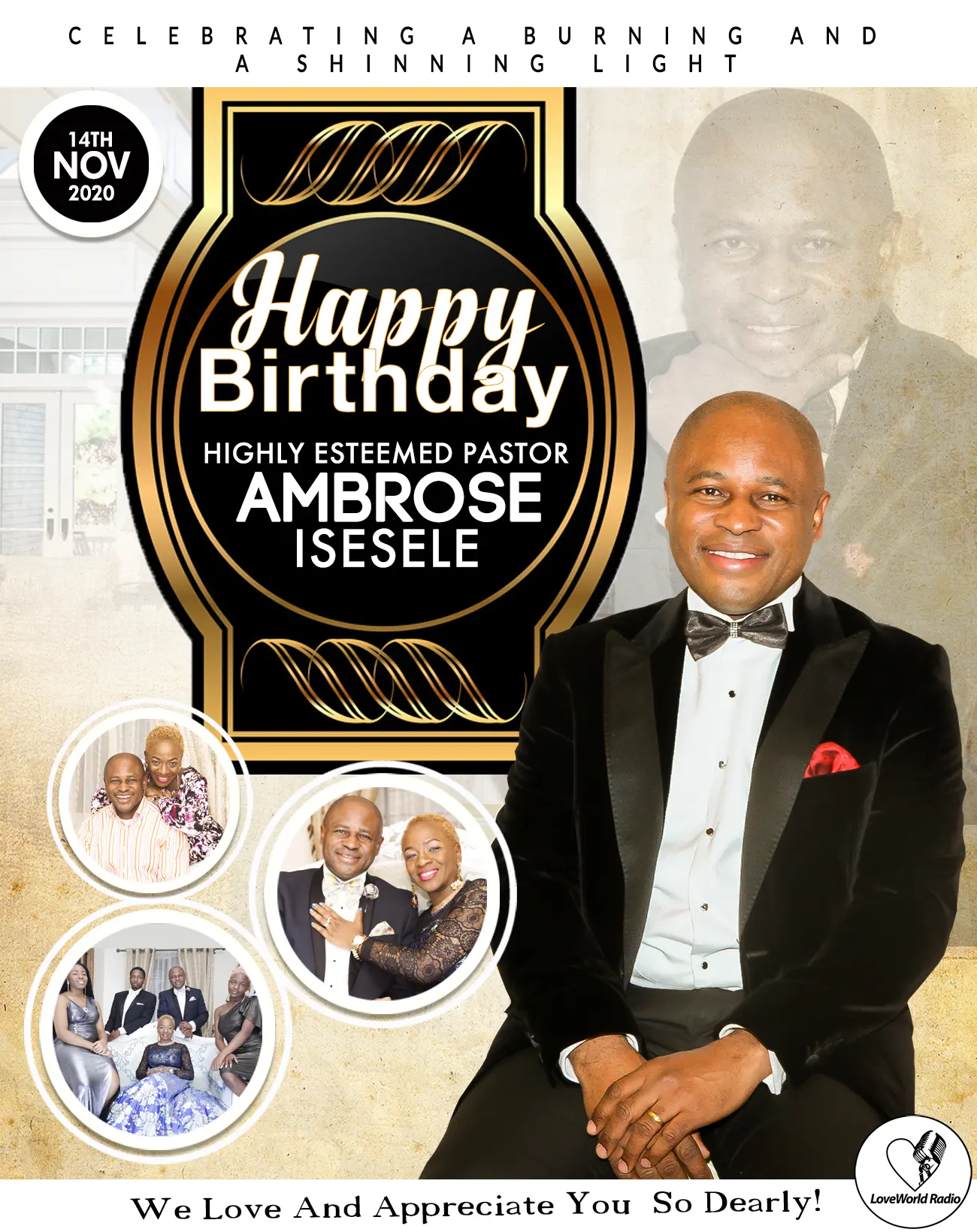 john Namukono
commented:
Happiest Birthday Highly Esteemed Pastor Ambrose Sir.
Kingspay Trade
commented:
Why sleeping why others are making billions of dollars💴💵💶? This is an online investment which help us to earn more profit in a given period of time. by investing amount of money or bitcoin, to be traded on in the international market with the use of Auxiliary computers and software, using strategy to win profits. With the minimum investment of $300 you can get profits of about $3,000+ with my fast and trusted platform ... $300 to get $3,000 weekly. $400 to get $4,000 weekly. $500 to get $5,000 weekly. $600 to get $6,000 weekly. $800 to get $8,000 weekly. $900 to get $9,000 weekly. $1000 to get $10,000 weekly. DM me on WhatsAp.... +12402307483 for more info if you are interested.
james s. juwle
commented:
Happy glorious birthday to you my father, mentor and esteemed Pastor Ambrose Isesele sir. We in Christ Embassy Liberia love you pastor sir.
Happy Birthday Highly Esteemed Pastor Sir. Thank you for instructing us in righteousness and bringing us up in the word. Thank you for imparting us with spiritual gifts. I love you Pastor Sir. #PerfectPA1 #cecentral #cesierraleone #ewcav5
Celebrating Mommy dearest... Celebrating Jesus love personified... "Many women have done excellently, but you surpass them all."Pr. 31:29 (ESV) You are the best of the very best.. est🙌🏻. I love you too much oo Pastor Ma💖💝 #POSE1115 #HBDPASTOR #Stalwartoffaith #CESAZONE3
Happy birthday Esteemed Pastor Sir. Thank you for your exceptional partnership with the LWPM Books Department over the years, we Love and appreciate you Sir! #gratitude
#iSpreadFaith #divinehealthconfessions #healingtothenations
Happy Birthday Sir. Tanzania salutes the General.
Rhapsodie-Impuls vom 14. November 2020.
Happy Birthday Sir. Thank you for leading us to follow our Man of God. We love you dearly. #PerfectPAI #CETanzania
HAPPY PERFECT BIRTHDAY 🎂 MA'AM,GOD BLESS YOUR NEW AGE AS YOU ADVANCE IN GRACE.
Happy birthday Sir. We love you. #celz3celebratespastorambrose #PerfectPAI #PAI1411
Happy birthday dear Esteemed Sister Rejoice Ochuko Thank you for being a blessing to our Man of God and the LoveWorld Nation #celokoja #TLK #NCZ2