Preg-A-Thon 2020 - Lun 12 ottobre Nella Rapsodia di questo lunedì, ci viene dato il monito di prendere il nostro posto come Re-Sacerdoti, spodestando gli spiriti malvagi responsabili dello sconvolgimento nel nostro mondo oggi, e rendendo esecutiva la volontà del Padre, attraverso la preghiera. Compite il vostro ministero sacerdotale oggi e ogni giorno. Colossesi 1: 9-12 dice: 'Per questo motivo anche noi, dal giorno in cui l'abbiamo udito, non cessiamo di pregare per voi e di desiderare che possiate essere riempiti della conoscenza della sua volontà in ogni saggezza e comprensione spirituale ; Affinché possiate camminare in modo degno del Signore a piacere a tutti, portando frutti in ogni opera buona e accrescendo la conoscenza di Dio; Rafforzato con tutte le forze, secondo il suo potere glorioso, con ogni pazienza e pazienza con gioia; Rendendo grazie al Padre, che ci ha fatti incontrare per essere partecipi dell'eredità dei santi nella luce ". Nei nostri orari di preghiera oggi, pregheremo fervidamente in lingue dello Spirito, cosi come in conformità con 1 Timoteo 2: 1-4, per tutti gli uomini e i capi delle nazioni; e, con i versetti della scrittura di cui sopra, specificamente per il popolo di Dio in tutte le nazioni. Ricordate di creare un po 'di tempo in più per intercedere con fervore per il nostro mondo; tanto dipende da noi. Potete unirvi a molti santi di Dio che pregano 24 ore al giorno sul Pray-A-Thon su http://pastorchrislive.org. Dio vi benedica.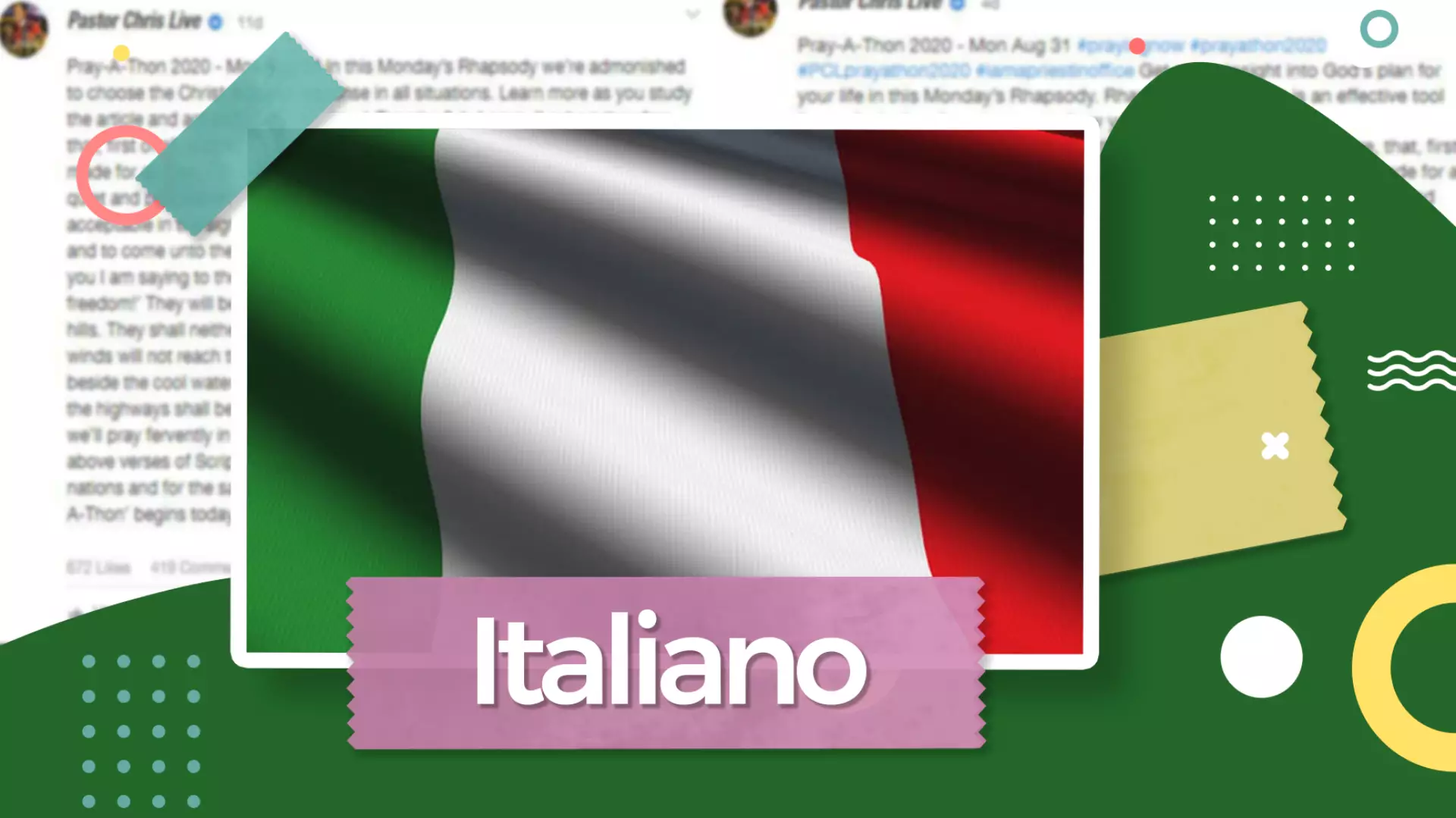 Happy Birthday 🎂🎂🎂🎂 To You The Best Mummy
Happy birthday Esteemed Pastor Seyi, thank you for your love for the Lord and your commitment and love for our Man of God. Enjoy your best year in perfection and excellence. I love you.
IT'S DAY 6 OF WORDFEST 2.0.!💃💃💃💃💃💃💃 Begin your study now with the MESSAGE OF THE DAY: THE YEAR OF PERFECTION Watch live on PCDL TV using this link👇👇 http://pcdl.link/wordfest2/cewarrimc Share your inspirations and proclamations from today's message on Kingschat timelines, using the hashtags: #wordfest2020 #Wordfest2 #Wordfest #WordatWork #warriministrycentre  Also, organise outreaches with today message and post them on kingschat with the hashtags above. God bless you!
Hurrah 🙌🙌🙌 🥳🥳🥳🥳 HAPPY PERFECT BIRTHDAY TO THE HIGHLY ESTEEMED PRINCE FREDERIK BAZUAYE. I CELEBRATE YOU TODAY DEARLY 🥳🥳🥳🥳
Best styled in African print and confidence. Cred: Nabzenab AfticanPrint#Styling#Simple#Edgy#Fashion#FashionSuperUser#KingsChatFashion
3 DAYS PRAYER & FASTING ACROSS ALL BLW CAMPUSES 🙌🏾🙏🏽 Happening from Monday the 12th-Wednesday the 14th Oct 2020, 6am till 6pm is the highly anticipated 3 days prayer and fasting. Make sure you don't miss it as we make power available dynamic in it's working, Gloryyyyyy to God!!! #CMPrayerandFasting #blwcampusministryrocks #blwsazonea
🌟 WORDFEST SEASON 2 🌟 📚 DAY 6: THE YEAR OF PERFECTION Watch and listen to this insightful teaching through our unique Zonal link: http://pcdl.link/wordfest2/ceukz3dsp #WordFest2 #Wordatwork #WatchonPCDL #DSPUKZone3