CE Lagos Zone 2: 🙏🙏🙏 PRAYER POINTS FOR TODAY on KingsChat Web
🙏🙏🙏 PRAYER POINTS FOR TODAY WEDNESDAY OCTOBER 21, 2020 PRAYER TIMES - 5.00AM, 12.15PM AND 10.15PM WE ARE PRAYING CONCERNING THE ONGOING ENDSARS PROTEST IN DIFFERENT STATES OF THE COUNTRY 🙏Pray and declare that the wisdom of God prevails in the ongoing protests and we cut off every plan of the adversary to cause anarchy and violence in any state in the country. All evil plans in connection with these protests are exposed and thwarted and the perpetrators brought to book. Job 5:12-14 KJV. WE ARE PRAYING FOR THE ONGOING REACHOUT NIGERIA ROR DISTRIBUTION & THE 20 TIMES MORE PARTNERSHIP PROJECT 🙏Pray and declare that more grace abounds toward all our brethren as they participate in the ongoing distribution. Declare that the message from the Rhapsody is transforming lives and producing the right mindset in the lives of the people in our catchment. Declare financial miracles and blessings for all our brethren as we give towards the 20 times more partnership project. 2 Corinthians 9:8, 1 Corinthians 9:16. WE ARE PRAYING FOR INCREASED IMPACT OF OUR CHURCHES IN ALL OUR CATCHMENT AREAS 🙏Pray for increased impact and influence of all our churches in their catchments, resulting in rapid growth. Declare that as our brethren arise and shine the light of the Gospel in their world, they increase in relevance and authority with all men, and people willingly follow them to church because of the glory of God in their lives. Matthew 5:16, Isaiah 60:1 #CELAGOSZONE2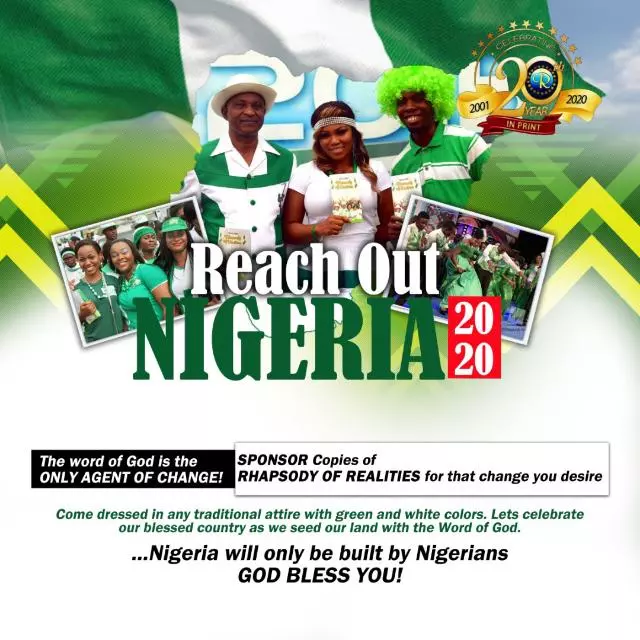 The Haven Nation Celebrates Our Esteemed Zonal Director Of The Haven Zone E1; Pst Euginia Lolomari On The Occasion Of Her Birthday. Congratulations!! We love you dearly Ma. From all of us in The Haven Nation. #HavenZoneE1 #TheHavenNation
⛳PRAYER GUIDE_Wednesday 21st October 2020. 🌍 KJV: 1 Corinthians 16:9 For a great door and effectual is opened unto me, and there are many adversaries. 🌎 Amplified Bible : 1 Corinthians 16:9 because a wide door for effective service has opened to me [in Ephesus, a very promising opportunity], and there are many adversaries. 🌏 The Message: 1 Corinthians 16:9 A huge door of opportunity for good work has opened up here. (There is also mushrooming opposition.) 🌈 We would thank the Lord for the opportunity to preach the gospel. 🌈 Declare favour and grace as every door is open unto us. 🌈 Cut off all hindrances or opposition. 🌈 Proclaim the name name of Jesus and His Lordship in all the earth. 🌈 Declare that we have the advantage. GLORY TO GOD !!!! #LLN #loveworldladiesnetwork2020 #loveworldladiesnetwork #recreatingyourworld #thenextbigthing
The Lord is too faithful to fail me
Celebrating Our Dear Deputy Zonal Secretary Admin; Gov Leo Nwaogu Of The Haven Zone A5. Happy Birthday!! We love and appreciate you. From all of us in The Haven Nation. #HavenZoneA5 #TheHavenNation
I display His perfections and unveil His multifaceted wisdom. I am filled with the Spirit of God, who refreshes my mind with this consciousness daily.
Happy Birthday Bro Enoch. What a time to celebrate you. Thank you for being consistent in ministry. You are blessing, we love you dearly #CeCanada #CeBramptonWest
REACH OUT KENYA WITH THE RHAPSODY OF REALITIES!!!! The BLW Kenya Zone Campus ministry celebrated the Mashujaa Day with Rhapsody of Realities steered by our Esteemed Zonal Secretary Pastor Famous Eineh, The elegant members and leaders of BLW Kenya zone were colourfully dressed to bombard their world with Rhapsody of Realities. It was a great feat to see the excitement of the recipients as they received the copies. Truly their day has been lifted. It was a day to reckon with and we are grateful to our dear Man God Rev. Dr. Chris Oyakhilome Dsc. DD for the opportunity to impact lives. #blwcampusministryrocks #blwkenyazone #reachoutwithrhapsodyofrealities #rhapsodyofrealities #mashujaaday
#ROKE2020 #cekenyazone #cemombasa #cemsa #MashujaaDay2020 #RhapsodyOfRealities #ReachOutKenya Gloorryy!!!! More than 15 souls gave their lives to Christ, adults & teens alike; many excited to come to church, to receive more rhapsody, to partner with us in rhapsody Hallelujah!!