Rhapsody of Realities: 20TH YEAR IN PRINT COMMEMORATIVE on KingsChat Web
20TH YEAR IN PRINT COMMEMORATIVE EDITION: ZONE ON THE MOVE!!! CE SOUTH EAST ZONE 1 IS ON THE MOVE TOWARDS THE ACHIEVEMENT OF THE SPONSORSHIP OF 1,000,000 COPIES OF RHAPSODY OF REALITIES FOR THE 20TH YEAR IN PRINT COMMEMORATIVE EDITION ...we're cheering you on as You Make History! #rhapsody www.rhapsodyofrealities.org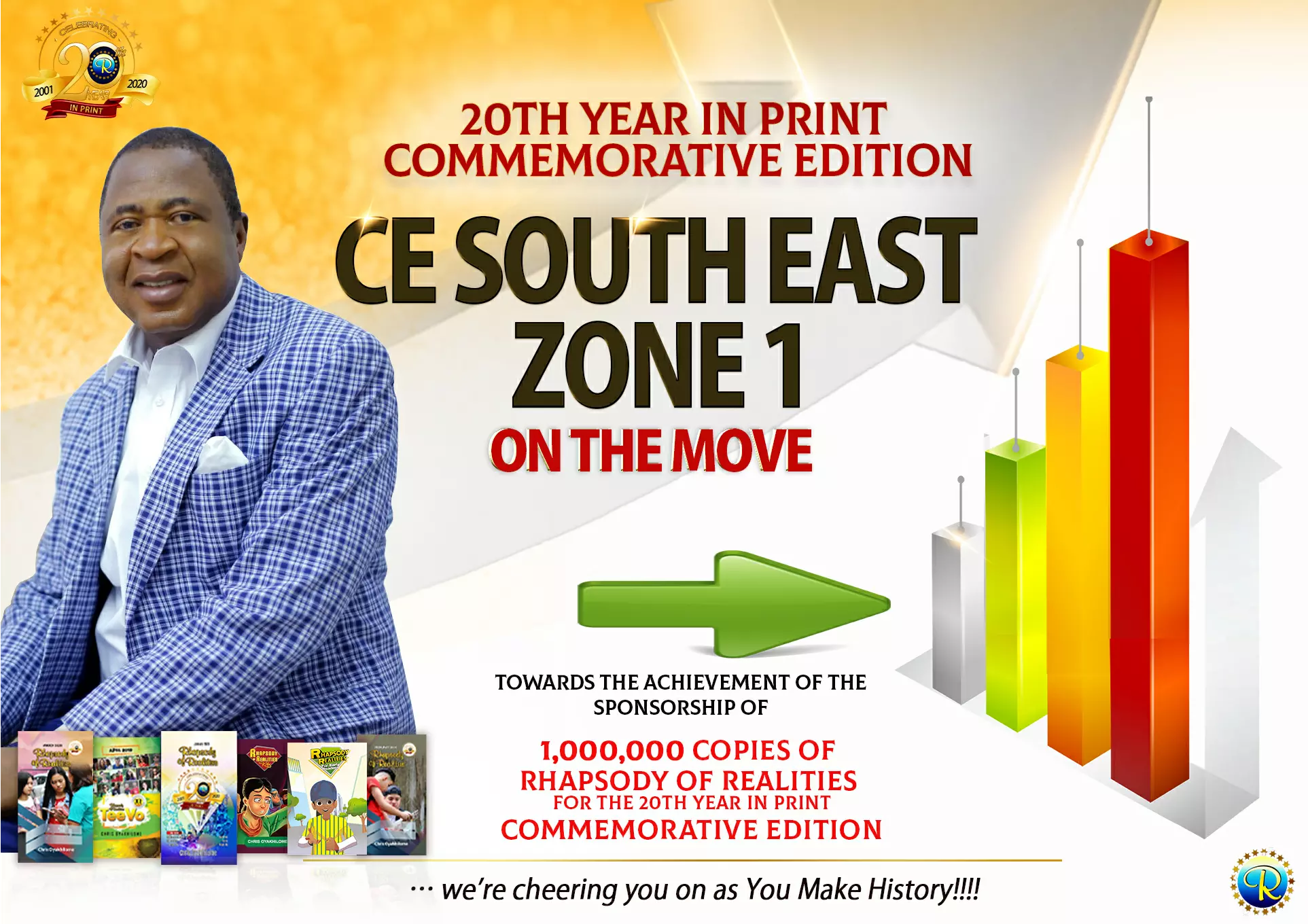 #NOBSL2020 #NOBSLWithPastorEmekaEze #27March2020 #TradeFairComplexLagos #8pmTillDawn #CeLagosZone2 #CeAjegunleGroup #CeAjegunle2
#NOBSL2020 #NOBSLWithPastorEmekaEze #27March2020 #TradeFairComplexLagos #8pmTillDawn #CeLagosZone2 #CeAjegunleGroup #CeAjegunle2
#NOBSL2020 #NOBSLWithPastorEmekaEze #27March2020 #TradeFairComplexLagos #8pmTillDawn #CeLagosZone2 #CeAjegunleGroup #CeAjegunle2
20TH YEAR IN PRINT COMMEMORATIVE EDITION: ZONE ON THE MOVE!!! CE PORT HARCOURT ZONE 3 IS ON THE MOVE TOWARDS THE ACHIEVEMENT OF THE SPONSORSHIP OF 1,000,000 COPIES OF RHAPSODY OF REALITIES FOR THE 20TH YEAR IN PRINT COMMEMORATIVE EDITION ...we're cheering you on as You Make History! #rhapsody www.rhapsodyofrealities.org
Still Celebrating Our Esteemed Pastor Freedom-Wealth Eriya Thank you for your involvement in keeping the Bible in its place as the Number one book in the world. We love you Dearly!
#NOBSL2020 #NOBSLWithPastorEmekaEze #27March2020 #TradeFairComplexLagos #8pmTillDawn #CeLagosZone2 #CeAjegunleGroup #CeAjegunle2
Wow the Healing school autumn session in South Africa is here. It is just 4 days to go. #healingtothenations #autumnsession2020
Minky straight available from 10" -30". Are you intrested? Follow us on Instagram and Facebook @hairbyejiro or chat us on whatapp on +2348053272035.
Lagos..... the big one is here !!!!! 27th March I s the date Night of Bliss Special. # NOBSL # Lagoszone2 # be there
#NOBSL2020 #NOBSLWithPastorEmekaEze #27March2020 #TradeFairComplexLagos #8pmTillDawn #CeLagosZone2 #CeAjegunleGroup #CeAjegunle2