LTM NETWORKS: It's 3 hours to the on KingsChat Web
It's 3 hours to the Special Easter Global Service with Pastor Chris. We are making this Easter special for every home. Join us in putting smiles in millions of homes around the world with your sponsorship of the broadcast. Let your SEED count! For information on how to participate, please call +2348123445790 or send an email to ltmpartnership@loveworld360.com #LTMPartnership #GCSonTV #Specialeasterservicewithpastorchris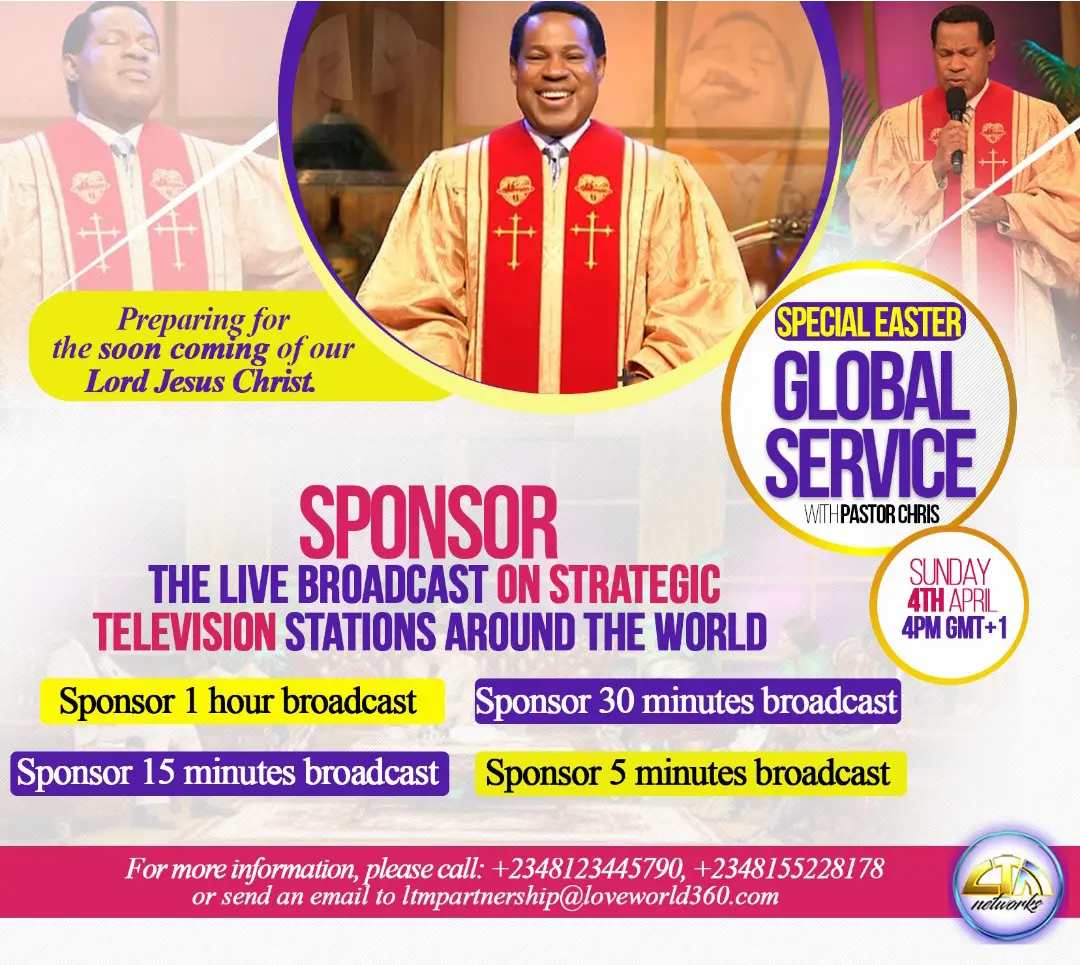 Pastor Benson Izola
commented:
cryptochain fx pro trading platform... it's an investment, that you invest on bitcoins and the sum of bitcoins you invest in, will been process and doubled in a multiple of days trade, after you cash out, then you can reinvested in the same account that you invested in again and again..you can invest with credible Asset traders and earn returns of...$300 to earn $3,000, $400 to earn $4,000, $500 to earn $5,000, $600 to earn $6,000, $700 to earn $7,000 $800 to earn $8,000. All in 7 days trade and 10% will be my company commission and no extra payment before withdrawals for more information please contact us on WhatsAp+1 (740) 651-1971
SPECIAL THANK YOU TO OUR DEAR ESTEEMED SISTER NIDA CASERVA CUDO OF CHRIST EMBASSY PHILIPPINES 🇵🇭, FOR TRANSLATING LIVE THE GLOBAL DAY OF PRAYER WITH OUR DEAR MAN OF GOD, PASTOR CHRIS IN THE BISAYA LANGUAGE. THANK YOU FOR WORKING TO MAKE THE 1000 LANGUAGES LIVE TRANSLATIONS POSSIBLE. GOD BLESS YOU OPENLY AND ABUNDANTLY. #GDOP #CEPhilippines #CEPHZONE3
🟣LIVE SERVICE UPDATES ‼️DAY OF BLISS ‼️EASTER SUNDAY 21 💯 Many receiving Salvation and the Holy Ghost. 🗣️🔥 Pastors, The Deaconry and All Esteemed Leaders helping the Zonal Pastor to minister the Holy Spirit by the laying on of hands. #ALTARCALL #DAYOFBLISS #DAYOFTHESUPERNATURAL #EASTERSUNDAY21 #CESAZONE1
CE SA Zone 5 - Abundant Streams of Glory with Pastor Ruth Musarurwa Highlights! More Day 3 Highlights from the Abundant Streams of Glory Easter program from Christ Embassy Belvedere! #EasterSunday21 #cesazone5 #zimbabwe
Christ is risen!! Day of Bliss @CEIkoyi Lagos Zone 5. Celebrating Christ in us.
🟣 LIVE SERVICE UPDATES ‼️DAY OF BLISS ‼️EASTER SUNDAY 21 💯 One day, many Jewish religious leaders known as Pharisees, along with many religious scholars, came from every village in Galilee, throughout Judea, and even from Jerusalem to hear Jesus teach. And the power of the Lord God surged through him to instantly heal the sick. Luke 5:17 TPT The Man of God full of the Spirit ministered healing and many testified of the power of God 🙌🏾. #HEALINGTIME #DAYOFBLISS #DAYOFTHESUPERNATURAL #EASTERSUNDAY21 #CESAZONE1
A soul stirring moment of worship. #TotalExperienceAtEaster #CELZ1Rocks #EasterSunday21