The Healing School : #DHCONFESSIONS 22ND NOVEMBER 2020 💯 on KingsChat Web
#DHCONFESSIONS 22ND NOVEMBER 2020 💯 Visit https://enterthehealingschool.org to listen to our daily divine health confession podcast. Psalms 23:1-3 (KJV), "The LORD is my shepherd; I shall not want. He maketh me to lie down in green pastures: he leadeth me beside the still waters. He restoreth my soul: he leadeth me in the paths of righteousness for his name's sake". Like, comment and share post. God bless you!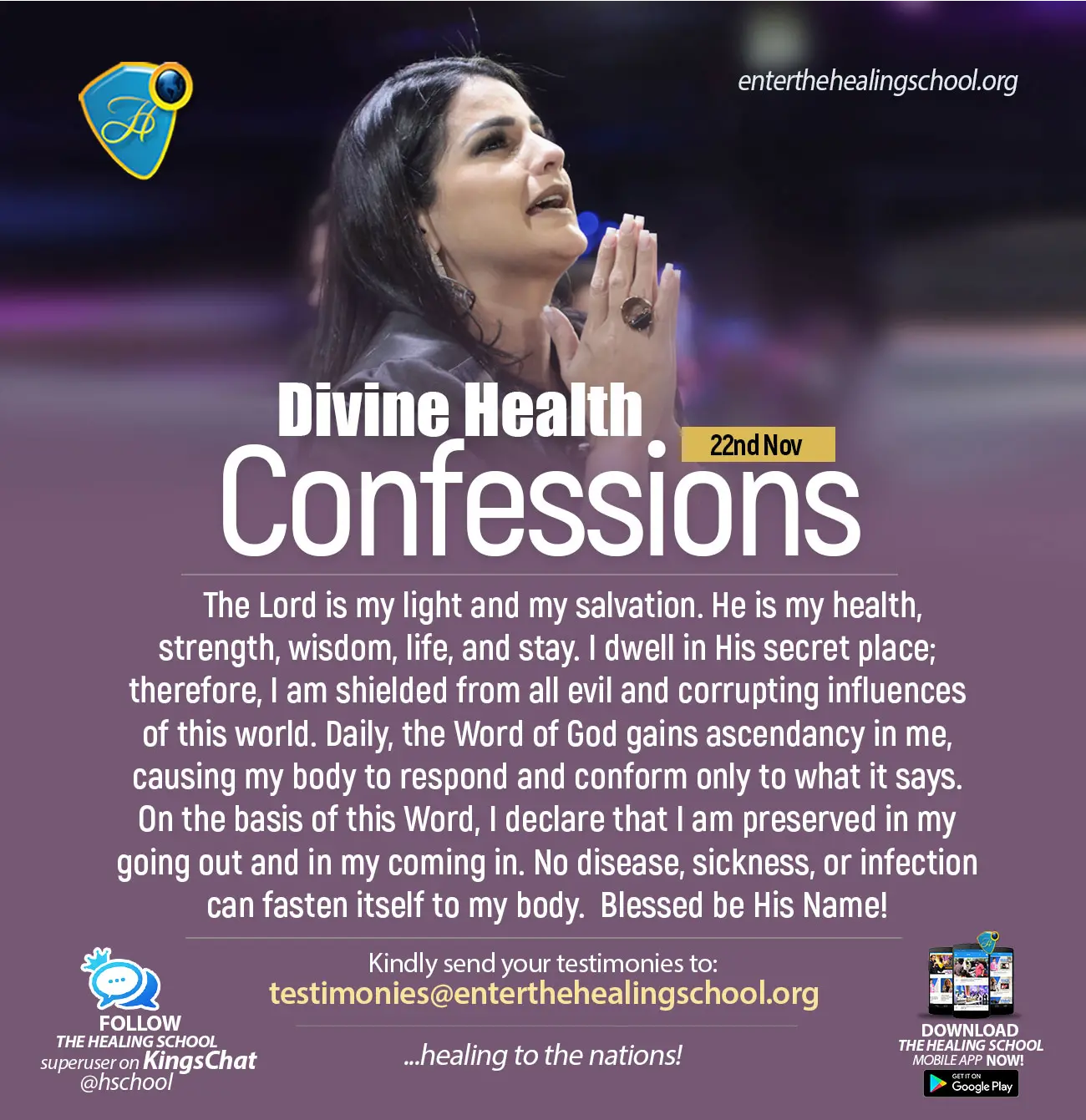 You: Happy birthday dearest Claire. Beautiful, industrious, full of the HolyGhost & wisdom. No dull moment with Claire; always fun to be with. God bless your new age, keep you and use you for His glory. This is your best year yet. I love you dear #cesapele #whereGodlives
✨☀️🌟 Celebration Time! 🌟☀️✨ ✨☀️🌟Happy birthday to our Highly Esteemed Regional Pastor! 💖💞💯 💖🎀💞 Celebrating Liquid Love! 🎼🥁🎺🎸🎹🕺🕺🕺💃💃💃📯🎈❤️ #PKAY2211 #PKAYLIQUIDLOVE #PKAYPERFECTION
♦️🏆 LOVEWORLD PRESIDENTIAL AWARDS 2020♦️🏆 🛑 TOP 10 TEENS CHURCHES 9TH POSITION - CHRIST EMBASSY PETER ODILI TEENS CHURCH! Hearty Congratulations!!!! 🕺 💃 🕺 💃 🕺 💃 #LoveworldAwards2020 #IPPC2020 #IPPC #CEPHZONE3
#IPPC2020 #ceogombo1 Behold the righteousness of God clothed with flesh, immortal beings creating a new order.
Happy Birthday Brother Mathias Womuzumbu 🎉🎉🎉🎉🎉 Thank you for all you do for the Gospel. Glorious things are spoke of you. You will continue to heap grace upon grace in Jesus Name. We love you so dearly and celebrate you 🎉🎉🎉 #EWCAZ3 #Uganda
Happy Perfect Birthday Pastor Sir, I join the host of Heaven to celebrate you, Thank you for your exemplary life and your passion for the gospel. And thank you for being you, I love you Specially Pastor Sir.💝💝💝💝💝💝💝💝🎂🎂🎂🎂🎂🎂🎂🎂🎂💞💞💞💞💞🍻🍻🍻🍻🍰🍰🍰
⭐A Refreshing Thought For You Today⭐ Sunday, 22 November 2020 When you made Jesus Lord of your life, you were translated into the Kingdom of God's dear Son. You're not subject to the darkness of this world. DOWNLOAD THE NEW RHAPSODY APP 3.0 NOW: bit.ly/2NUfDY
Happy birthday Claire darling !you are a clear bright shining light. You are a city set on a hill. Christ is your life ! You fulfill destiny and purpose oh immortal one.I love you dearly ..thank you for always helping,cooking and taking Care of me. Enjoy your 9th birthday !
🎼 🎉🎶 Happy birthday to our Highly Esteemed Regional Pastor, Pastor Kay Adesina. We celebrate you today Sir and thank you so much for loving us and your liquid love🍰🎂🎉❤️We love you so much Sir.🎶🎼🎉 #PKAY2211 #PKAYLIQUIDLOVE #PKAYPERFECTION