Spread Faith: DHCONFESSIONS 22ND JUNE 2021 🗣️🗣🗣️💯 on KingsChat Web
DHCONFESSIONS 22ND JUNE 2021 🗣️🗣🗣️💯 Listen to our #dhconfession daily podcast @ www.enterthehealingschool.org The Word of God, which is the source of your life, is living and active in you today! You'll experience the transforming power of the Word in your health, finances, family, and everything that concerns you. Your life is beautified with the glory of God's presence and you live and freely enjoy this life in its fullness. Follow our Superuser page @spreadfaith for inspiring contents, testimonies, and impact reports from around the world. Thank you and God bless you! #dhconfessions #healingstreams #healingtothenations #healingstreams #hspc #affirmationtrain #iSpreadFaith #livehealingserviceswithpastorchris #SpreadFaithCampaign #Prayingnow #worddrive #Yourloveworld #wordfest #PrayingNow #YourLoveworld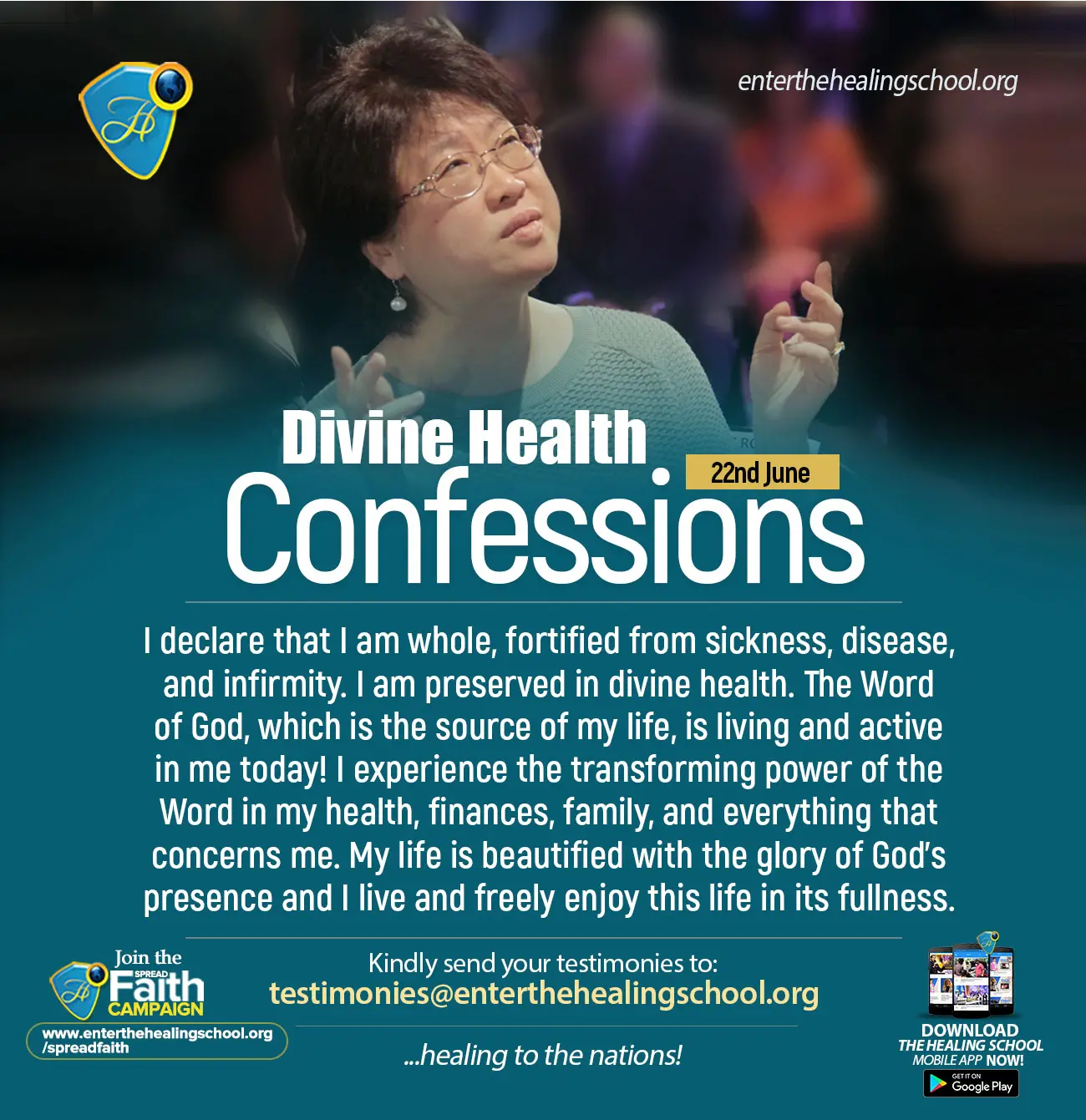 Join me to celebrate our Commander, chief officier, trail blazer, way maker, pacesetter, ... pastor Ndi The fruit of the spirit made flesh #happybirthdaypastorndi #anepitomeofgrace #ewcaz4 #cebonaberigroup
HEALTH CONFESSIONS 22ND JUNE 2021 I declare that I am whole, fortified from sickness, disease, and infirmity. I am preserved in divine health. The Word of God, which is the source of my life, is living and active in me today! I experience the transforming power of the Word in my health, finances, family, and everything that concerns me. My life is beautified with the glory of God's presence and I live and freely enjoy this life in its fullness. Visit: https://enterthehealingschool.org/imagazine/UKZ2  to download the Healing School Magazine June Edition.  Let us Spread Faith with the healing to the Nations magazine to those in our world by sending them the above link.  Thank you and God bless you.... #dhconfessions  #healingstreams  #healingtothenations #ukzone2 #ouryearofpreparation Kindly follow our superuser page @ukzone2 for ministry updates
happy birthday sister Joy your the best in all u do and there's no doubt how great u are, God will magnify you and make u the best amongst your circles in Jesus name amen.
TODAY'S ONE YEAR BIBLE READING SCRIPTURES!!! Study to show yourself approved unto God. Take out time to read and study the scriptures for today, you will be enlightened, be blessed and  proud of yourself that you studied the bible in one year. #STUDYMYBIBLBEINONEYEAR #BIBLEPARTNERSHIP #UKZONE2MEDIA #UKZONE2 #OURYEAROFPREPARATION Kindly follow our superuser page @ukzone2 for ministry updates
HAPPY BIRTHDAY Highly Esteemed Pastor Ime... We join the entire hosts of heaven to celebrate you today and ALWAYS!!!
Happy Birthday dearest Gov Chukwudi Amuzie, Thank you for your consistent passion and dedication to the furtherance of the Gospel through The Haven Nation. We love you dearly #THZE3 #TheHavenZoneE3 #TheHavenNation
Check out my inspiring post on Yookos!
IT'S  17 DAYS TO GO!!💃💃💃 HEALING STREAMS LIVE HEALING SERVICES WITH OUR MAN OF GOD, PASTOR CHRIS!!  Register here now: 👇 healingstreams.tv/zone/UKZ2 This is our unique opportunity to evangelise our world and take healing to the sick. This might be the last opportunity to reach the whole world. We must take action now as an Army of God. WHAT IS YOUR ROLE???🧖‍♂️ 1. REGISTER : Register yourself and everyone in your sphere of contact using this link: healingstreams.tv/zone/UKZ2 2. PRAY FOR THE PROGRAM:  Prayerfully prepare for the program by picking a prayer slot @ www.healingstreams.tv/prayer  3. PUBLICIZE: Publicize the program online and onsite. Spread this good news everywhere!  4. GIVE FOR THE PROGRAM: We want to reach 6 billion people through this program.Give like you've never given before. 5. HEALING CENTERS: to set up and host a virtual healing centre. Dont miss this opportunity!   #healingtothenations  #livehealingserviceswithpastorchris  #healingstreams  #healingstreamstv Kindly follow our superuser page @ukzone2 for ministry updates