Healing Streams TV: IT'S 1 DAY TO HEALING on KingsChat Web
IT'S 1 DAY TO HEALING STREAMS TESTIMONIES LIVE! 🌍💯 Glory! We are set for another explosive episode of Healing Streams Testimonies Live!💃💃💃 Get ready to experience an unending stream of the miraculous as we celebrate testimonies from the March Healing Streams Live Healing Services with Pastor Chris this Friday, Saturday and Sunday by 4pm (GMT+1) Airing on Healing Streams TV (www.healingstreams.tv), the Healing School mobile app and all Loveworld Networks. Tell your family, friends and loved ones. On Healing Streams Testimonies Live, anything is possible! #livehealingserviceswithPastorChris #healingstreams #healingstreamstv #healingtothenations #HSLHSTESTIMONIES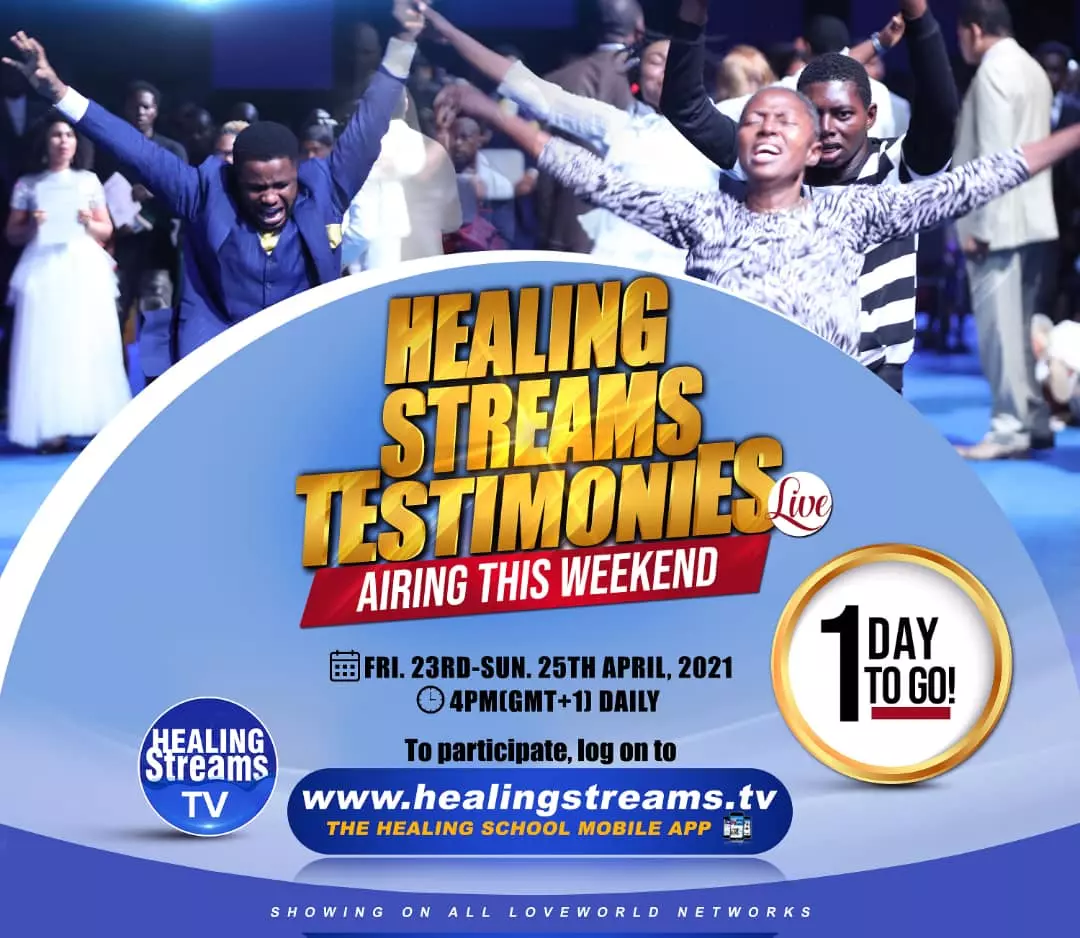 #ReminderAlert 7 DAYS OF CONFESSIONS ( DAY 5) Confession Time @ 9:00am It's few minutes to go! Prepare to cause changes. #7DaysofConfessions #CEPHZONE3
Beloved, you might not really have the time for soul winning. Relax! You can do it even better with your money. Have you given for the LOVEWORLD MENA NETWORKS? How about The May Global Day of Prayer? To mention but a few. Jesus is counting on you!
"Jesus replied, "What is impossible with man is possible with God." Luke 18:27 (NIV)
We have just few days to the anticipated communion service with our man of God. Glory am excited and ready for this! #gcs #globalcommunionservice
Wow..it's world 🌎🌎 book day. Are you ready. #worldsno1author
🥳🎉✍️ CELEBRATING The World's Number 1 🏆 Author And World 🌎 Changer. 🥳🎉✍️ #worldno1author #worldchanger #worldbookday2021 #blwsazonec
Therefore we do not lose heart. Though outwardly we are wasting away, yet inwardly we are being renewed day by day.
It's world 🌎 book day. #worldsno1author