EWC Africa VZ4: Bienaimés, c'est le Jour N°2 on KingsChat Web
Bienaimés, c'est le Jour N°2 de notre Programme Zonal de Prière et de Jeûne. Je suis certain que vous avez passé un merveilleux moment durant Your Loveworld Specials hier avec notre Homme de Dieu. Assurez-vous de ne pas manquer l'épisode d'aujourd'hui. Nous prierons à 9H et 18H pendant 10 minutes à chaque fois comme suit. 1. PRIERE POUR NOTRE HOMME DE DIEU Gen 45:7 Eph 3:16 Priez pour que son message, ses enseignements et ses déclarations prophétiques continuent d'aligner l'église sur le calendrier, les plans et le but de Dieu. Déclarez qu'il est chaque jour fortifié par le Saint-Esprit pour faire plus pour le corps du Christ. Déclarez que des ressources abondantes sont continuellement à sa disposition pour la propagation et l'expansion de l'Évangile dans le monde entier. 2. PRIÈRE POUR L'ÉGLISE Ésa 49:8 (AMP) Jer 1:10 (AMP) Priez pour que l'Église de Jésus-Christ soit plus efficace que jamais et que chaque tentative de supprimer l'Évangile a échoué. Déclarez que des hommes de caractère noble et droit qui favoriseront la juste cause de Dieu sont suscités pour conduire les Hommes dans la justice. Déclarez un changement complet et un renversement des lois odieuses et strictes déjà promulguées comme directives pour contrôler l'Eglise. Que Dieu vous bénisse Beloved, it's Day 2 of our Zonal Praying and Fasting program. I'm sure you had a wonderful time in Your Loveworld Specials yesterday with our Man of God. Make sure you don't miss today's episode. We will pray at 9am and 6pm for 10 minutes each as follows. 1. PRAYER FOR OUR MAN OF GOD Gen 45:7 Eph 3:16 Pray that his message, teachings and prophetic utterances will continue to align the church with God's timing, plans and purpose. Declare that he is daily strengthened by the Holy Spirit to do more for the body of Christ. Declare that abundant resources are continually available to him for the spread and expansion of the gospel all around the world. 2. PRAYER FOR THE CHURCH Isa 49:8(AMP) Jer 1:10(AMP) Pray that the Church of Jesus Christ is more effective than ever and every attempt to suppress the gospel has failed. Declare that men of noble and upright character who will favor God's righteous cause are being raised to lead men in righteousness. Declare a complete change and reversal to obnoxious and stringent laws already enacted as guidelines to control the church. God bless you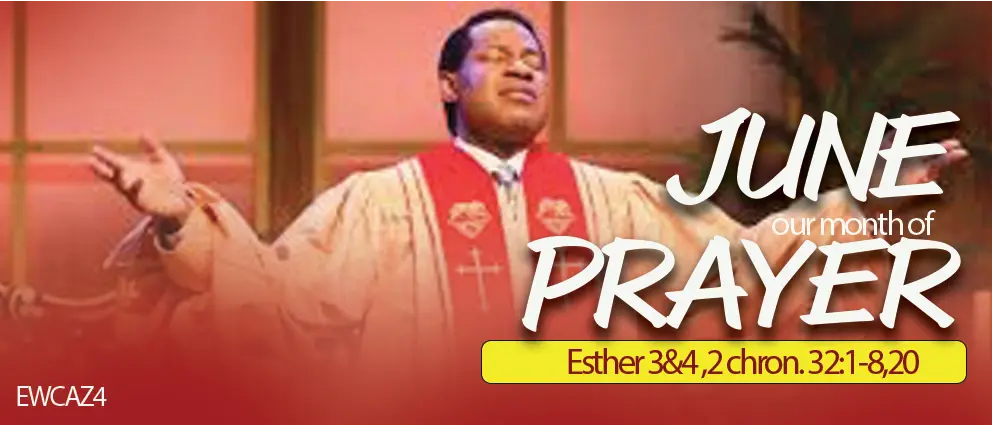 I DECLARE "MONEY COMES TO ME OF FREE COURSE AND UNHINDERED" #Sayit100TimesDaily #CampusMinistryRocks #Blwzonei
Thank you so much Esteemed Bro. Lyndon and Sis. Priscilla Matikiti, for your inspiring commitment towards reaching our goal of illuminating 6 billion hearts with the truth of God's word. I salute you. God bless you both and multiply your seed sown. Amen. #EMAS #UKZONE2.
#CEKENSINGTON #CESAZone2 #Hospital/ClinicMinistry #yearofpreparation
RHAPSODY OF REALITIES TUESDAY 8 AS WHITE AS SNOW Come now, and let us reason together, saith the LORD: though your sins be as scarlet, they shall be as white as snow; though they be red like crimson, they shall be as wool (Isaiah 1:18). Pastor Chris Says ━━━━━━━━━━ The Lord Jesus was divine and without sin; yet, He became the sin-sacrifice, offered up for the sin of the world. He took our place of sin on the Cross, so that we might take His place of righteousness (2 Corinthians 5:21). As a result of what Jesus did, we're declared holy and without blame before the Father. We can boldly stand in the presence of God without guilt, inferiority or condemnation. The truth is that God holds nothing against you. To Him, you're as perfect as Jesus is, because your righteousness is the righteousness of Jesus Christ. Picture it this way: An amazing prince beckons on you to attend his banquet. Whereas you're wearing rags—dirty and smelly and wouldn't want to come close to him or his guests because of your filthy looks—with a warm smile, he signals that you come in and flings open the banquet door. Noticing your reluctance, he entreats further that you come in so he could introduce you to the others in the hall. But with a look of dejection, you refuse the invitation. Finally, the prince says, "I know how you feel; I'll not make you ashamed. Can you trust me?" Then, you trust his word, and go in. However, you still can't imagine yourself mingling with such clean and flawless people. Knowing your thoughts, the prince says, "Now that you've believed, look at yourself again!" Then you did and suddenly, you were as regal and immaculate as the prince and everyone else in the room. This is akin to your righteousness in Christ Jesus. The Bible says, "Therefore being justified by faith, we have peace with God through our Lord Jesus Christ" (Romans 5:1). Glory to God! No wonder He says in 1 Corinthians 6:11 that you're washed, sanctified, and justified in the Name of the Lord Jesus, and by the Spirit of our God. Now He's made you His partner in bringing others into this amazing life of righteousness, to experience the same peace and glory you have in Him. Hallelujah! Don't keep it to yourself. PRAYER Dear Father, thank you for your righteousness in me, which produces in me the ability to live right and fulfil your will always. I produce fruits of righteousness, do the works of righteousness, and manifest your goodness to the world, in Jesus' Name. Amen. PRAYER OF SALVATION We trust you have been blessed by this message. We invite you to make Jesus Christ the Lord of your life by praying thus: "O Lord God, I believe with all my heart in Jesus Christ, Son of the living God. I believe He died for me and God raised Him from the dead. I believe He's alive today. I confess with my mouth that Jesus Christ is the Lord of my life from this day. Through Him and in His Name, I have eternal life; I'm born again. Thank you Lord, for saving my soul! I'm now a child of God. Hallelujah!" If you prayed the prayer above, Congratulations! You are now a child of God! To receive more information on how you can grow as a Christian, please kindly indicate at the comment section. God bless you!! FURTHER STUDY 1 Corinthians 6:11; 1 Corinthians 1:30 AMPC; Colossians 1:21-22 1 YEAR BIBLE READING PLAN: John 21:1-25 & 1 Chronicles 26-29 2 YEAR BIBLE READING PLAN: Mark 15:33-47 & Deuteronomy 6 Today's Audio https://t.me/Rhapsodyaudio EXCERPT FROM: Rhapsody of Realities Daily Devotional
♦️ Welcome to Day 31 of WordFest 3 (Prepare with the Gospel) ✅ DAY 31 - YOUR LOVEWORLD SPECIALS SEASON 3 PHASE 5 DAY 1 Kindly use the link below to participate in today's study: https://pastorchrisdigitallibrary.org/wordfest3/ceaccrazone Create your avatar upon completion of today's study. Remember to get others involved as well. God bless you! #CeAccraGhanaZone #WordFest3 #PCDLTV
God is the oil in our Lamp It's never runs dry. So I'm the oil in my wife's lamp I never run dry. Grateful heart.
https://bit.ly/CEOP-Yookos "No matter your accomplishments in life, they will all be a waste without Salvation" - PASTOR CHRIS - CONTINUES: YOUR LOVEWORLD SPECIALS Don't miss today's Episode of YOUR LOVEWORLD SPECIALS season 3, Phase 5, with Pastor Chris. It starts at 7:00PM (GMT+1). Join the man of God, Pastor Chris Oyakhilome DSc DD, as he helps millions and billions across the globe ascertaining the times and seasons we are in. Participate and invite others with this link 👉 http://bit.ly/Your-Loveworld-with-PastorChris YOUR LOVEWORLD SPECIALS with Pastor Chris Season 3, Phase 5, will be transmitted in several Languages. Champion the SPONSORSHIP of the daily live broadcasts in any of the language translations: French, Swahili, Hausa, Italian, German, Spanish, Xhosa, Hindi, Yoruba, Portuguese, Marathi, Gujarati, Greek, Romania, Slovak, Malawian Chichewa and many more! Partner with us 👉 https://bit.ly/CEOP_SponsorALanguage SHARE your testimony with us today! 👉 https://bit.ly/Testify-Prayer-Request DOWNLOAD CeFlix mobile App to watch the program in different languages 👇👇👇 https://bit.ly/download-ceflix-tv-android https://bit.ly/download-ceflix-tv-ios JOIN our Yookos Community 👇 https://bit.ly/CEOP-Yookos #RhapsodyofRealities #Confessions #Prayer #God'sWord #Preaching #KeepSayingIt #DailyConfession #SaveALife #YourLoveWorld #YourLoveWorldSpecials #SoulWinning #ChristEmbassyOnline #PastorChris #June2021 #Tuesday
STILL CELEBRATING DEAREST BROTHER SAM💃💃💃💃 HAPPY BIRTHDAY ESTEEMED BROTHER SAM AKINSINA THANK YOU SO MUCH FOR YOUR COMMITMENT AND PARTNERSHIP WITH CELVZ ROR. WE LOVE YOU #CELVZ #RhapsodyThanksYou #1MillionOutreachesFiesta #YearOfPreparationWithROR