CE BAYELSA NATION: Happy Birthday Esteemed Brother John on KingsChat Web
Happy Birthday Esteemed Brother John Usiholo (Church Coordinator CE Biogbolo 2, Cornerstone group of churches). 🎂🎂 Thank you for your work in Ministry and for your commitment to the Gospel. The Lord increase you on every side, enlarge your coast and cause more grace to abound towards you. ❤️❤️We love you dearly #TLB #CEBAYELSA #thelandofgrace #NSSZONE1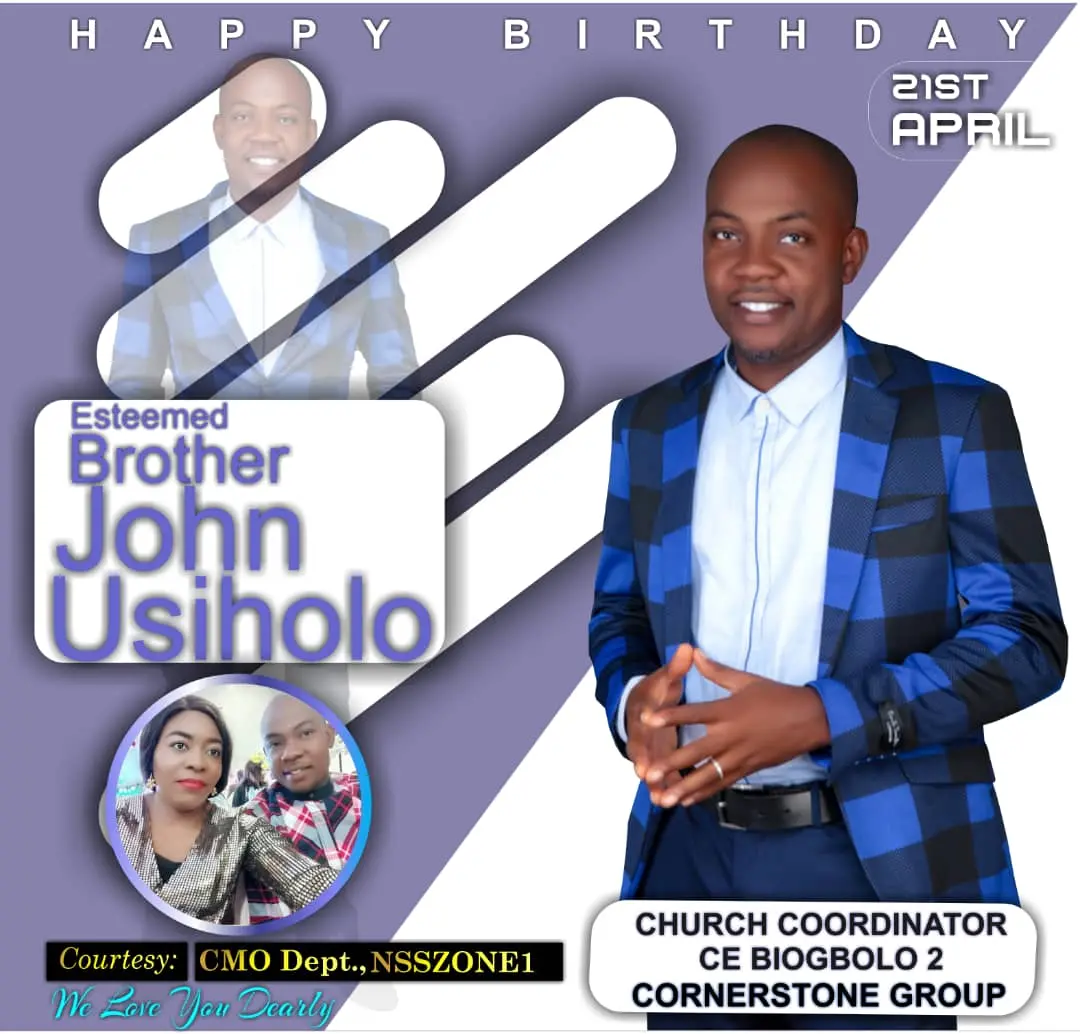 Grace James
commented:
Happy Birthday Esteemed Dr John. I celebrate you specially today Congratulations on your new level Sir
BRO. KEMELA BORO THOMPSON
commented:
You: Man of God, Happy birthday to you. Wishing you many more glorious years ahead in Jesus mighty name Amen. Congratulations on your birthday. Enjoy your self
Happy Birthday Esteemed Brother John Usiholo (Church Coordinator CE Biogbolo 2, Cornerstone group of churches). 🎂🎂 Thank you for your work in Ministry and for your commitment to the Gospel. The Lord increase you on every side, enlarge your coast and cause more grace to abound towards you. ❤️❤️We love you dearly #TLB #CEBAYELSA #CEUGHELLI #CESAPELE #NSSZONE1
CELEBRATING A SHINING LIGHT, OUR ESTEEMED PASTOR CHIOMA UME Thank you for taking a bold stand for the Bible Mandate always. We greatly appreciate your Partnership commitment to keeping the Bible in its place as the No 1 Book in the world. Happy Birthday! We Love you Dearly!
Celebrating the worlds number 1 best author and World changer Reverend Chris Oyakhilome DSc. DD. Thank you so much for giving my life a meaning and a great change. #cesazone2 #cesouthgroup #cebenoni #worldsnumber1author #worldsgreatestauthor #imaworldchanger #PastorChris
LIVE TV 3.0🤯🤯🤯!!! Meet the new and improved LIVE TV APP With an ALL-ROUND improved user experienceI UPDATE NOW! Watch live streaming of LoveWorld USA, Loveworld UK, LoveWorld SAT, LoveWorld XP, Hello Loveworld and LoveWorld India. Get-The-Latest-Version NOW!!! DOWNLOAD LiveTv app👇 http://bit.ly/livetvmobileapp http://bit.ly/livetvios ●#LiveTV
CELEBRATING A PARTNERSHIP CHAMPION !!! HAPPY BIRTHDAY DEAR ESTEEMED PASTOR TITILAYO EFE-MUKORO THANK YOU FOR CHANGING LIVES THROUGH YOUR GIVING, WE CELEBRATE YOU #celagoszone2 #partnershipdepartment
Celebrating the World's Number one Best Author Rev.Dr Chris Oyakhilome Dsc DD. 💥💥💥🥳🥳🥳🥳💯💯💯👏👏👏👏🙌 Create your own avatar now using the link https://loveworldbooks.com/worldbookday-avatar/ #cesazone2 #worldbookday #worldsbestauthor #worldsgreatestauthor #worldsnumber1author #imaworldchanger
Celebrating the World's Number one Best Author Rev.Dr Chris Oyakhilome Dsc DD. 💥💥💥🥳🥳🥳🥳💯💯💯👏👏👏👏🙌 Create your own avatar now using the link https://loveworldbooks.com/worldbookday-avatar/ #cesazone2 #worldbookday #worldsbestauthor #worldsgreatestauthor #worldsnumber1author #imaworldchanger