Christ Embassy Umuahia: To our father, our teacher, on KingsChat Web
To our father, our teacher, our mentor, our life coach, the one who's light shined through to our lives, the light of the world. To The President of the Loveworld Nation, His Excellency Rev. Dr. Chris Oyakhilome DSC. DD. Thank you Pastor for saying YES. Thank you for changing lives all around the world with the Gospel of our lord Jesus Christ, for changing our lives, equipping us with this beautiful gospel, making us lights. Because of you Pastor, we are the Best; the Best of the Best. With this Pastor, we say a very HAPPY BIRTHDAY TO YOU. AND WE LOVE YOU SO DEARLY. #ceumuahia #sevz1 #offer7 #dec7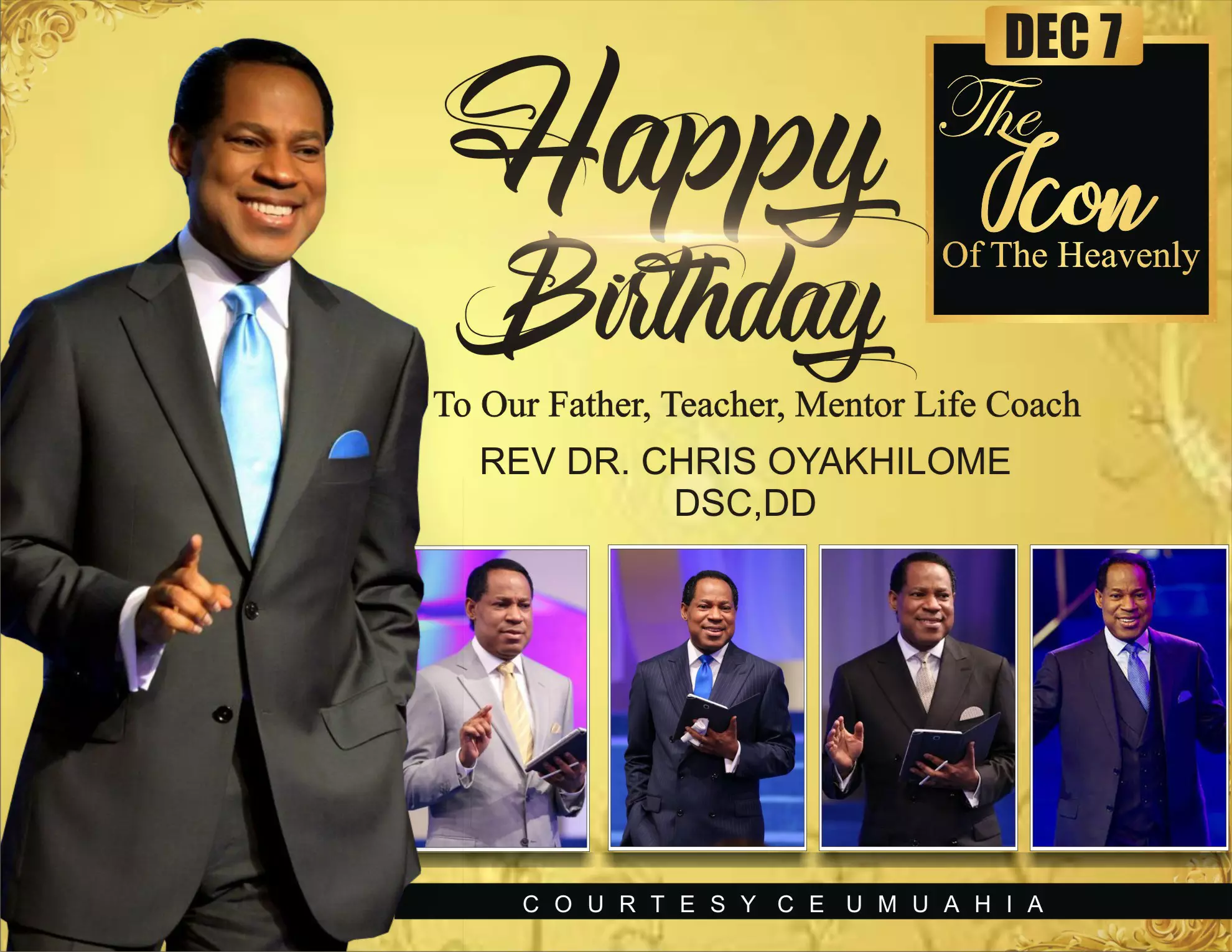 Happy birthday Pastor Sir. Thank you for your immense love for the gospel that propels you to network the whole world for Christ. God bless you with more Grace. You're a gift to us at this time. I love you. #Dec 7
Unbeatable steps! Its 2:00am (GMT +1) and my 14 months old, HRH Victor-Wealth takes on the 10 in 1 Dance challenge. https://web.kingsch.at/posts/5c09dbf1360ea2002fa0be16 Click to watch, like and share. Thank you! #Dec7 #dancechallenge0712  #CEILESHA #NSWVZ2
Happy birthday to my Father, Rev Dr Chris Oyakhilome D.Sc D.D. Pastor, you are just amazing, you are a wonder to the world. Yysnk you sir for showing to me through your life that if I stick to the word, I will always come back with a testimony. I love you deeply sir.
Thank u sir for showing me the liquid love of the Father,D Lord Jesus.Your love for me&mine propels me to continually set my gaze on the Master.He is love personified.Sir,you show the liquid love of Christ in your words,deeds& lifestyle.Thank you sir for saying yes. Love you sir
Happy birthday Pastor Chris. Thank you Sir for teaching us God's word. Thank you for bearing us up with the word of God and causing us to win in life. I join the hosts of heaven to celebrate you today. Happy birthday Sir #CEBexley #Offer7
Happy birthday Pastor Sir #CEBexley #Offer7
AN ICON. ZOE AT WORK. REFECTING THROUGH ME. HAPPY BIRTHDAY PASTOR SIR. I LOVE YOU SIR. #CEPHZONE2 #OFFER7
Loveworld International Day of Service: Serving the Community in the Honour of our Highly Esteemed Man of God, Rev. (Dr.) Chris Oyakhilome.