CELVZ: DAY 2 - ANOTHER DIMENSION on KingsChat Web
DAY 2 - ANOTHER DIMENSION OF GRACE & GLORY Congratulations to our Esteemed Leaders for a very inspiring and impactful Day 1 of our transformational ZONAL CONVENTION with our Highly Esteemed Zonal Director. Glory!!! It's time to bring along ALL of our members to drink from this unending stream of knowledge, wisdom and understanding. More Grace Is Assured By The Word Of God, For It Is He Who Is At Work In Us Both To Will & To DO. Glory to God #CELVZ #ZONALCONVENTION #WeWillBeThere www.celvz.org/zonalconvention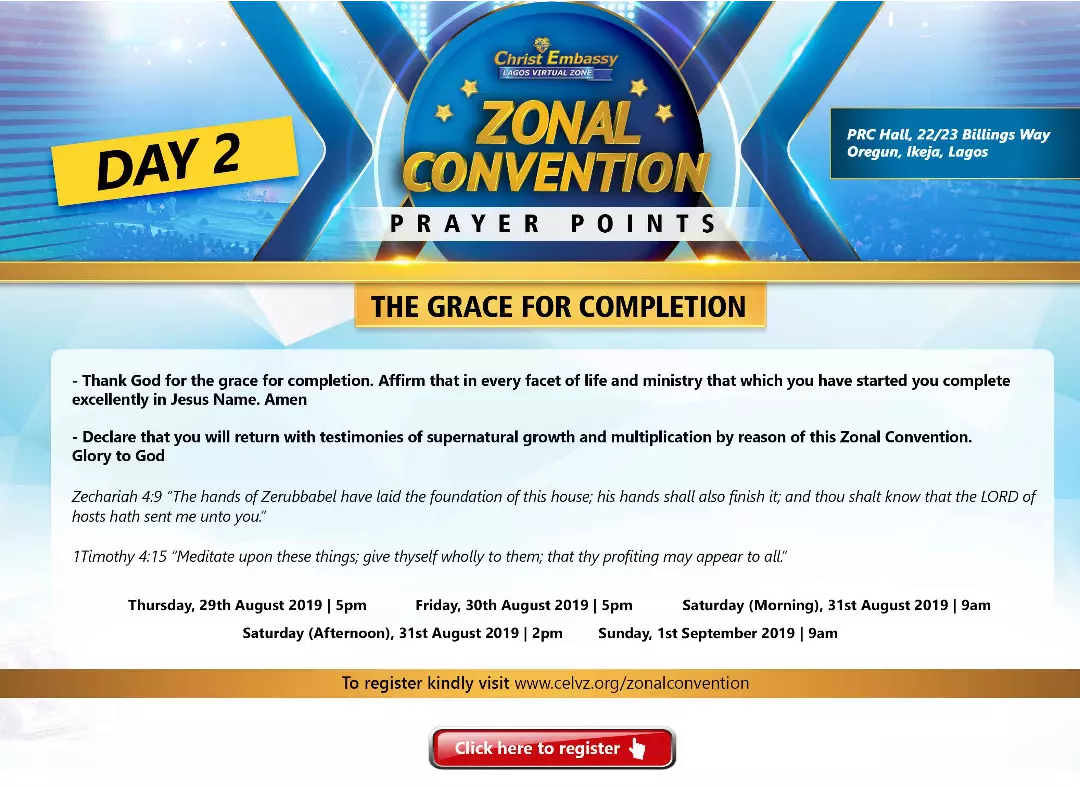 olanrewaju oyetunji
commented:
🎼📖↗✅🔑💰🏆🌏🌎🌍🔌🔦💡🎀🌹🏅💷💵💶💲I'd like to first of all recognise and thank the Highly Esteemed zonal director of celvz, the highly esteemed church pastors and the Esteemed leaders, thank you brothers and sisters also. I've had the blessed opportunity since 2018, to observe so much love, faith and the demonstration of the ministry's vision through the leadership of the zone. I love and appreciate you all for your loud participation in PastorChris Sir's inspiring thoughts and ideas, that you sirs and mas, face financially. The Lord bless you for your enthusiasm. Prosperity is yours! AMEN.
How beautiful are the feet of the that preach the gospel of peace and bring glad tidings of good things #StreetMegaCellOutreach #MonthofBeauty #cemaiduguri #nnwz2
#ProgramAlert: Christ Embassy Dansoman Last Stop presents, "Total Experience" Date: Saturday 31st August 2019 Venue: Ebenezer Down, LivingStone. Time: 5:30pm Praise God forevermore!! #CeAccraGhanaZone #CEDansomanLastStop
RELATE IN LOVE [Excerpt of Today's Rhapsody of Realities] Our theme verse says, "Be tolerant with one another…." Be humble to accommodate and tolerate your brothers and sisters in Christ. The Bible says no one should "...think of himself more highly than he ought to think..." (Romans 12:3). God expects you to think highly of yourself, but you're not to exalt yourself above others. If you found yourself exhibiting traits of resentment and intolerance, consciously re-culture yourself with the Word. Be sure to only give vent to the love of God in your life. CONFESSION With all humility, gentleness, and patience, I relate with others graciously, lavishly expressing God's love to my world. I'm accommodative and kind towards others, giving allowance for their shortcomings and imperfections, because the love of God is shed abroad in my heart by the Holy Ghost.
Still celebrating my exceptional Zonal Pastor. Happy Birthday Sir #POOA29 #LuminaryPOOA29 #cemaiduguri #nnwz2
In the demonstration of Spirit of God and in power. We are ready! #SuperSunday #PSZ #MosesBliss #MonthofBeauty #cemaiduguri #nnwz2
God is love.A prostitute got saved and came to church but she felt stigmatised because people at church knew her profile,so she gave God a condition and she said if God doesn't do it,she will leave church and go back to prostitution.The condition she gave God is in the next post.
Supomu Dunkwa for christ..There is a harvest of Souls
Happy Birthday Pastor Ma. I celebrate you now and always. Thank u for always inspiring us and being such a great helper of the war. I love you dearly