Sis Angela: You taught me what it on KingsChat Web
You taught me what it means to be a christian I am in my marriage today because you taught me what it is to be a wife and a mother to my children The passion I ve for soul winning is from the impact of the message you preached. I celebrate u my mother Happy birthday ma I love u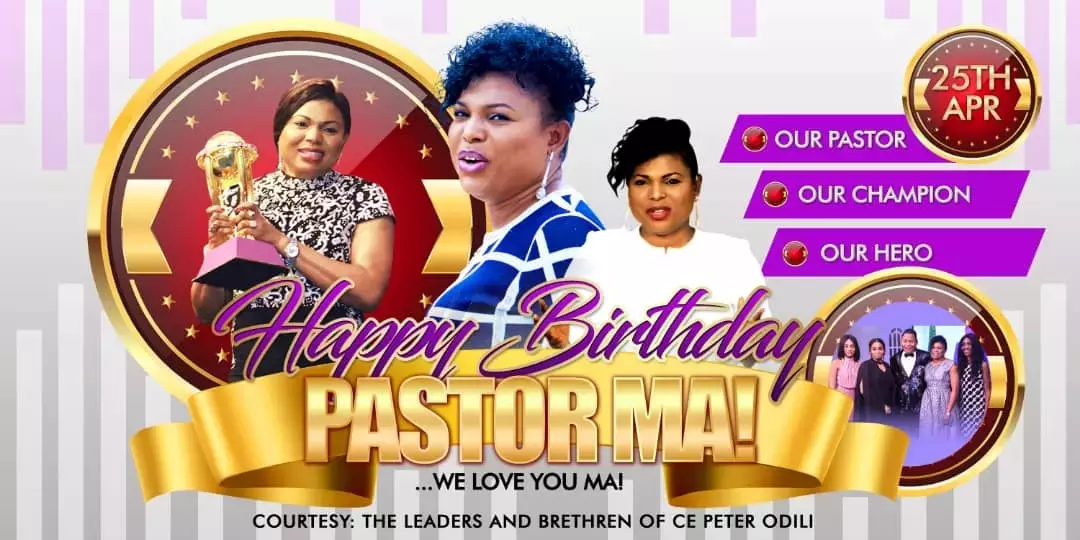 Celebrating a serial winner, a flawless Pastor, and a super Mum. Happy birthday Ma!
You: Happy birthday to the Best pastor Boss and Mum in the world You are the perfect Definition of Love . Thank you mum for all the countless opportunities you have given to me A million words wont be enough to say Thank you ma Happy birthday Mum❤ You mean the world to me❤
A billion thank to our Most Glorious Mum Expression of Love and life always 💜💜💖💖 #ceamadikalagbor #cc3 #cephzone3
You: Ales gute zum gebustag meine mutter! Ich liebe dich! Gott schutze dich !
A billion thank to our Most Glorious Mum First Born...😘😘😘 #ceamadikalagbor #cc3 #cephzone3
Happy Birthday Mum, thank you ma for teaching us God's word in a unique and extraordinary way. We love and appreciate you dearly ma. #celebratePastorJoy #Championforlife #P425
Happy birthday Pastor Ma!!! Thank you for the beautiful opportunities you've given me in ministry. I love you so much Ma . Issa celebration !!!!!🍾🍾🍾🕺🏽🕺🏽🕺🏽 #PJ425 #PJA425 #CelebratingPastorJoy #ICelebratePastorJoy #UneChampionneenSerié #CEPHZONE3
Happy birthday pastor ma. Thank you ma for raising me well. I love you. #PJ425 #PJA425 #CelebratingPastorJoy #ICelebratePastorJoy #UneChampionneenSerié #CEPHZONE3
Pastor Ma I celebrate you today. Thank you Ma for being a beacon of light to millions around the world. Knowing you alone is Joy Unspeakable. Thank you Ma for all your love, correction, patience, smiles and opportunity to serve in Ministry. #joyofsalvation #pjoy425 #iloveyouma