LoveWorld SAT: WE GIVE THANKS FOR OUR on KingsChat Web
WE GIVE THANKS FOR OUR FATHER AND MAN OF GOD, PASTOR CHRIS OYAKHILOME DSC.DD 🌟😘🌟😘🌟😘🌟 We are honoured and overjoyed as we salute God's blessing and emblem of His unlimited love. We celebrate our man of God and prophet of our time. We celebrate a light of lights that has blazed history with testimonies of impact of God's Word that have fortified futures and destinies through the daring dispensation of God's righteousness. Sir we thank the Lord for the blessing we have in you. We are built in courage and we are built with strength. We are established and founded on Words that have set us up as extraordinary lights in our world. We thank you Sir and love you dearly. #offer7 #loveworldnetworks #loveworldsat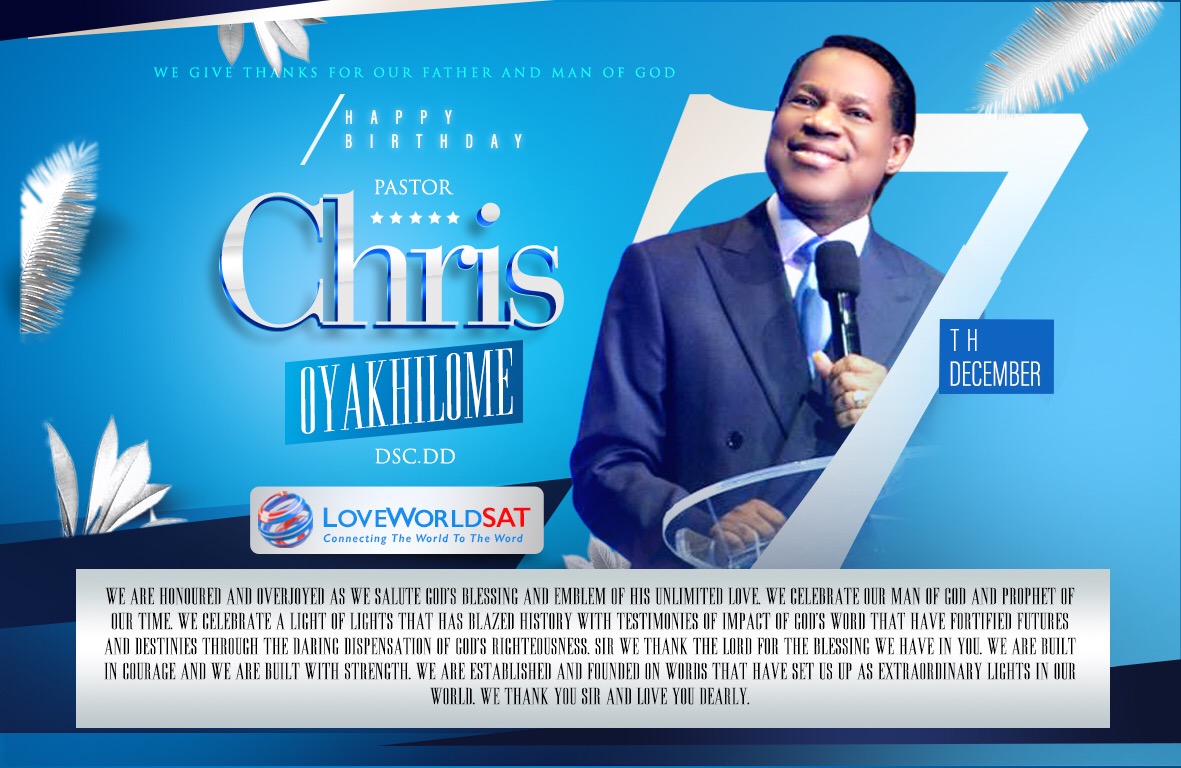 Lynn Ngwenya
commented:
GLORRRRRRRRRRYYYYYYYY!!! GLORRRRRRRRRRYYYYYYYY!!! GLORRRRRRRRRRYYYYYYYY!!! Quintessential!!!!!!!.Wow! Wow!! Wow!!!.It's such a JOY💃💃💃💃💃💃💃;to say HaPpy HapPy birthday Pastor Sir!!!.We thank God for you. The template of Jesus Christ Himself,born of God, unequivocally and really called of God after the order of Christ.A quintessential Father par excellence of great significance and relevance. A manifestation, description, definition and expression of the embodiment of all wisdom and knowledge whose standards are cut from the same cloth with Jesus as you are clothed in His glory, victory, essence and presence in ALL preeminence.A necessary emissary of immeasurable, invaluable,valuable even unquantifiable, unquestionable and unique standing with the Lord Himself after the order of the credibility,clarity and sanctity of the Holy Trinity.We take a bow.Thank you for teaching, preaching and representing God's Kingdom with rigour wearing the badge of honour in upholding divinity at work and rescuing the majority of humanity from the clutches of mediocrity.Thank you for being a great hero, hallmark of faith and a visionary leader and teacher who is also a missionary in the mission fields across different time zones and zip codes. Thank you for teaching us life principles that turbocharge our fellowship with the Holy Spirit such that we understand in a practical and vital way;His role, and importance in our Christianity for without Him there is no Christianity to speak of, in the first place. Thank you for being the one who thinks biblically,engages globally and lives principally. Thank you for teaching us that a book is not finished with one page and that it's important for us to renew our minds, so that our mindsets are not clustered with weakest links that outperform Christ's wisdom.Thank you for teaching us not to play Church but to serve God from our hearts.Additionally,thank you for teaching us how to hit the ball out of the park and that life is an adventure as one has to be an explorer.Thank you for your standards that teach us to be better and greater in what matters,so that, after all is said and done,we make it into heaven.Thank you for who you are and how you represent and present God; for this, we are truly joyful, grateful and thankful.Thank you for taking the time and for being the Shepherd that God called you to be and for feeding us; the sheep, with organic, real deal meals that prevent us from falling by the wayside.We would not have it any other way. Thank you for sticking to the Holy Spirit's script and for caring about lost souls in ways that are genuine and after the Father's heart.Thank you for showing us what it means to be a Man of God in truth by not paying lip service to God's call, not many are able and capable of doing this. HaPpy HapPy birthday Pastor Sir. #Offer7 # PastorChrisBirthday #myspecialblessingfromGod #december7
Joyeux anniversaire Pasteur Christ
Happy Glorious Birthday Dad. I love you so much.
SIYABONGA MFUNDISI WETHU NGOKUSILETHELA I HEALING SCHOOL UMHLABA WONKE JIKELELE UTHIXO AKUBUSISE. THANK YOU SO MUCH TO OUR DEAR MAN OF GOD FOR BRINGING HEALING SCHOOL TO THE NATIONS.MAY GOD BLESS YOU #Dec7 #celebratingGodsGift #healingtothenations #HealingSchoolAmbassadors
SIYABONGA MFUNDISI WETHU NGOKUSILETHELA I HEALING SCHOOL UMHLABA WONKE JIKELELE UTHIXO AKUBUSISE. THANK YOU SO MUCH TO OUR DEAR MAN OF GOD FOR BRINGING HEALING SCHOOL TO THE NATIONS.MAY GOD BLESS YOU #Dec7 #celebratingGodsGift #healingtothenations #HealingSchoolAmbassadors
SIYABONGA MFUNDISI WETHU NGOKUSILETHELA I HEALING SCHOOL UMHLABA WONKE JIKELELE UTHIXO AKUBUSISE. THANK YOU SO MUCH TO OUR DEAR MAN OF GOD FOR BRINGING HEALING SCHOOL TO THE NATIONS.MAY GOD BLESS YOU #Dec7 #celebratingGodsGift #healingtothenations #HealingSchoolAmbassadors
SIYABONGA MFUNDISI WETHU NGOKUSILETHELA I HEALING SCHOOL UMHLABA WONKE JIKELELE UTHIXO AKUBUSISE. THANK YOU SO MUCH TO OUR DEAR MAN OF GOD FOR BRINGING HEALING SCHOOL TO THE NATIONS.MAY GOD BLESS YOU #Dec7 #celebratingGodsGift #healingtothenations #HealingSchoolAmbassadors
Happy Birthday Pastor Sir. Thank You Pastor Sir For Giving My Life A Meaning. I Love You Very Dearly Sir. #cesazone2 #cecarletonville #Dec7