East Africa VZ 3: CELEBRATING OUR ESTEEMED DEACONESS DR. on KingsChat Web
CELEBRATING OUR ESTEEMED DEACONESS DR. JULIET BABIRYE. 🎊🎊🎊🎊🎉🎉🎉🎉🎉🎁🎁🕺🕺💃💃 Happy Birthday Esteemed Deaconess Dr. Juliet. Thank you so much for all you do for the spread of the gospel and for the millions of lives you have impacted through your partnership. Thank you for your passion for the VMC and all you do in the zone. Thank you for being a great helper of the work. God bless you abundantly. We love you so much and we appreciate you. #ewcaz3 #Uganda #VmcUganda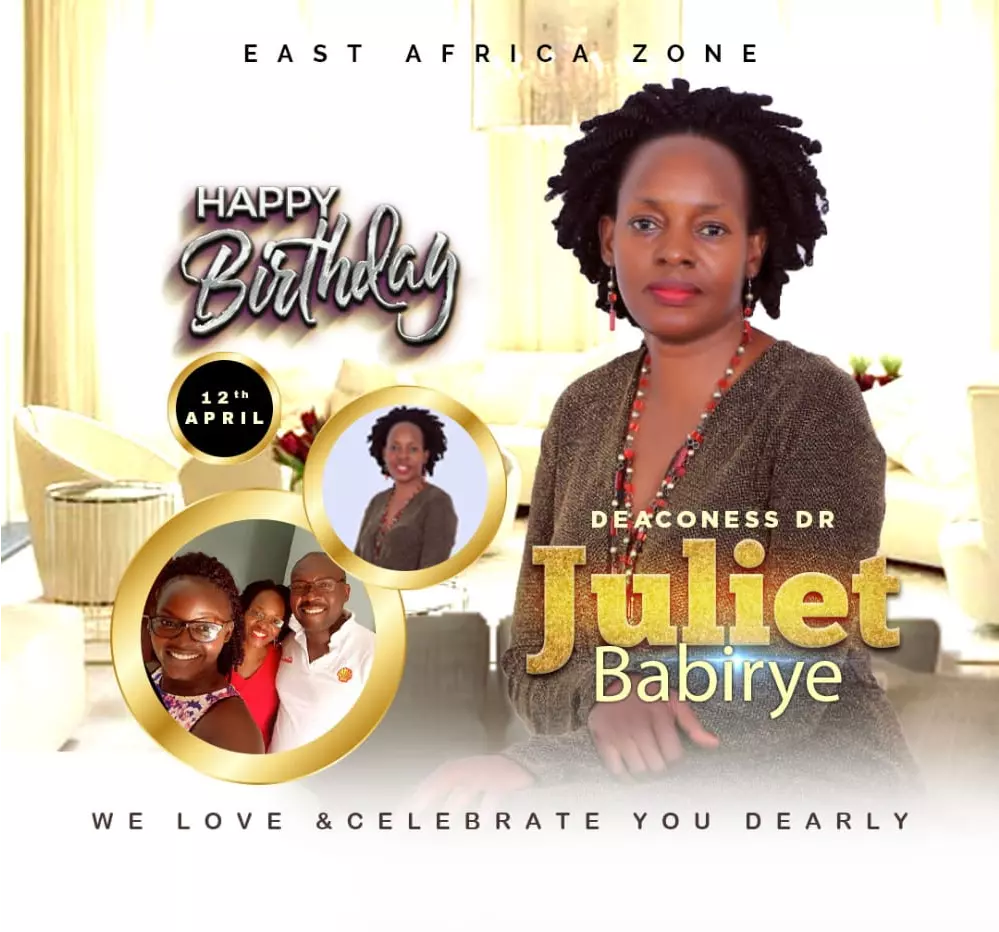 Happy birthday ma'am I love you much❤️
Happy birthday to Two Amazing Pastors- Pastor Tomisin and Pastor Dimeji ,full of the Spirit and extremely intelligent .
CE CALGARY GROUP SUNDAY SERVICE HIGHLIGHTS! Our esteemed Group Pastor expands on the message of this month! We're adhering to the truth of God's word and nothing else! Believing in what God has said concerning us! Glory to God! #cecalgarygroup #cecalgaryne #cecanada
I have got something to shout about...it's my Zonal Pastor's birthday 🎂🎉🎷🎷🎷🎺💃💃💃💃. Join me celebrate Our Esteemed loving and caring Pastor...,🇳🇬🇬🇧🇨🇽🇩🇪🇯🇲🇸🇯🇺🇸.... Come everyone join the Zone1 celebrate train...
HAPPENING TODAY! - YOUR LOVEWORLD SPECIALS SEASON 3, PHASE 3 WITH PASTOR CHRIS Join the man of God, Pastor Chris for another refreshing time of increasing knowledge at Your Loveworld Specials season 3, phase 3 starting today till Friday, 16th April 2021 TIME ⌚: 7pm GMT+1 Tune in to watch on the InnerCity Mission website ➡ https://icm.ngo/prayer You can watch it on the: LIVETV Mobile App 📲 Also showing on all LOVEWORLD NETWORK #YourLoveworld
#MYDAILYPROCLAMATION - APRIL 12TH 🗣I live a life of glory, power, and influence, displaying the virtues, perfections, excellence and wisdom of Christ. I exercise carefulness, persistence and determination in ensuring excellence in all that I do, exuding commitment and perseverance in transforming my vision into reality. I'm effective and productive, transforming challenges to opportunities as I soar in greatness. Hallelujah! #CELZ4
Happy Birthday my Zonal Pastor, Pastor Tomisin Fashina PhD. You are a demonstration of liquid love. Your love is tangible. #PDT1204 #HBDPastorT #CEBotswanagroup #Cesazone3
Word at Work with the Highly Esteemed Pastor Freedom-Wealth Eriya; Zonal Pastor SA Zone 1, at Christ Embassy Rustenburg is 6 days to go. #wordatwork #cerustenburg #sazone1
MCW Staff Community Celebrates Esteemed Brother Davidson Kuba, Thank you for your love towards the master's work. Thank you for all you do in the Staff Community and for our Ministry Centre. God bless you richly. We love and appreciate you.. HAPPY BIRTHDAY!