✨✨SHINING WITH RHAPSODY LANGUAGES✨✨ THANK YOU ✨Dcns Naiye Kgetse✨for shining with ONE MILLION RHAPSODY OUTREACHES IN 3001 LANGUAGES through your sponsorship of TWO LANGUAGE OUTREACHES, making it possible for more and more people to receive the message of the gospel in the Language of their hearts. JOIN US IN PREPARING THE NATIONS WITH 3001 RHAPSODY LANGUAGES, IN REACHING 6 BILLION PEOPLE IN THE LANGUAGE OF THEIR HEART. https://lingual. tniglobal.org #shinigwithlanguages #TNI #rhapsodylanguages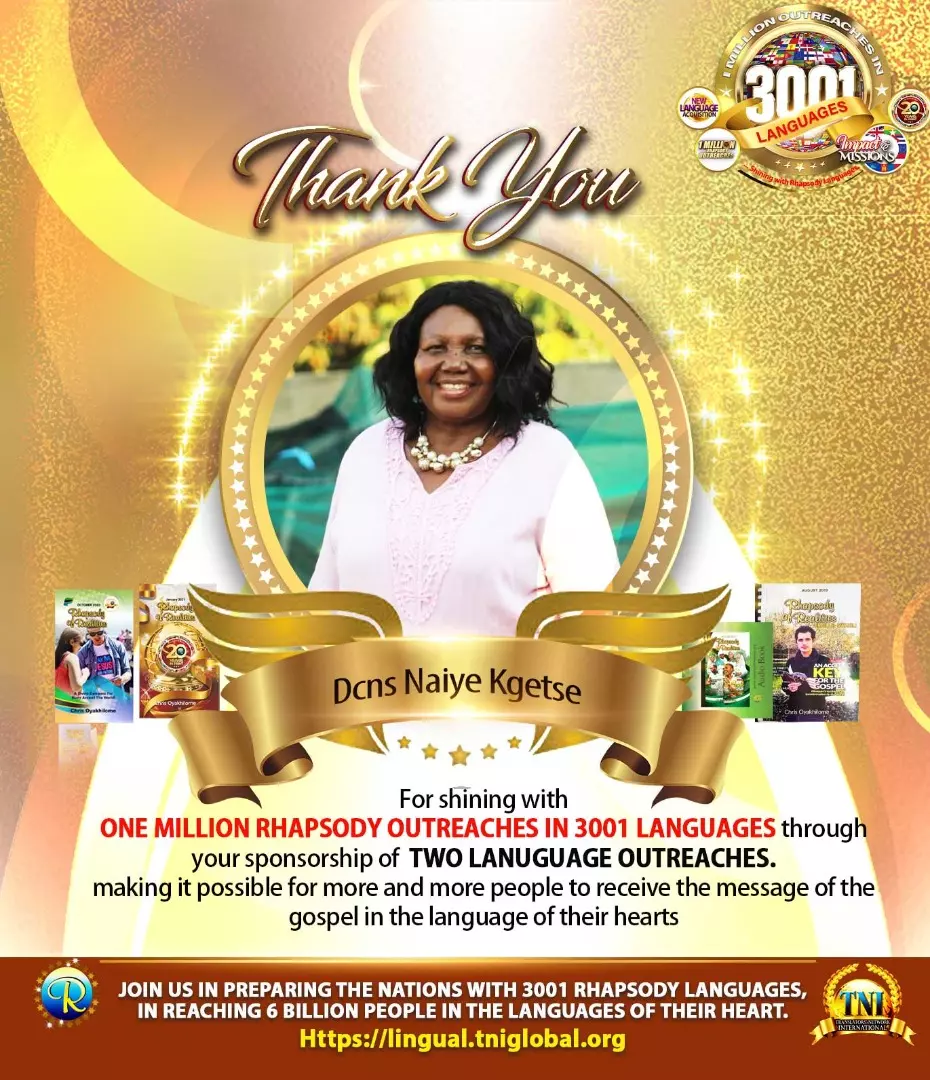 Joy Mabena
commented:
Wow so inspiring Dcn. Congratulations
wisani
commented:
Congratulations Esteemed Deaconess Ma👏👏👏
Have you streamed our album today❓ ONE ACCORD Album by @theukband 📍Available to stream on Spotify, Amazon Music, YouTube Music, Tidal, Deezer 👉🏻 Watch out for our Brand New Album coming to you very soon❗️ #TheUKBand #LMAMUK #OneAccord #LoveworldSingersUK #ProvocationsofWorship
📷#Highlights SUNDAY SERVICE WITH THE HIGHLY ESTEEMED ZONAL DIRECTOR. ✍️ When are full of faith and the Holy Ghost, you become bold to preach the gospel. ✍️ Be in the company of those who follow Christ. ✍️ The more you listen to God's word, the more you will walk in understanding of His Word. *********** Glorrry! Kindly share your experience and testimonies with us in the comment section below 👇 #SundayservicewithPastorJoy #CELIMITLESSCHURCH
Happy birthday Dearest Lolo. 🥰🥰🥰🥰🥰🥰🥰🥰🥰🥰🥰🥰. Laurel is 8 yipeeeeeeeeeeee. What a beautiful and gracious young lady you are turning out to be. I love you!!!
Today was indeed colorful at the children's church today! Celebrating our children and teachers at the Children's Church Open Day!🎉 #loveworldchildrensministry #childrenschurchrocks #celimitlesschildrenschurch #cephzone3
HBD Esteemed Pastor Claire.Thank you so much for all you in Ministry and for the inspiration you've been all these year..God Bless you.
Have you streamed our album today❓ ONE ACCORD Album by @theukband 📍Available to stream on Spotify, Amazon Music, YouTube Music, Tidal, Deezer 👉🏻 Watch out for our Brand New Album coming to you very soon❗️ #TheUKBand #LMAMUK #OneAccord #LoveworldSingersUK #ProvocationsofWorship
#loveworldchildrensministry #childrenschurchrocks #celimitlesschildrenschurch #cephzone3
Happening now!!! #BLWZONEH #FITNESSFORDUTY #CAMPUSMINISTRYWORKS
#photoHighlights Christ Embassy Bauchi Super Sunday with Esteemed Pastor Esiri Oruma. #cebauchi #supersunday #cenez1