PDaniels: Dear Almighty Father, I thank on KingsChat Web
Dear Almighty Father, I thank You with joy, for I'm in Christ, and therefore, endued with an extraordinary amplitude of comprehension, superior mental, as well as supernatural sagacity to excel in all that I do: in my job, business, academics, finances, ministry...Amen!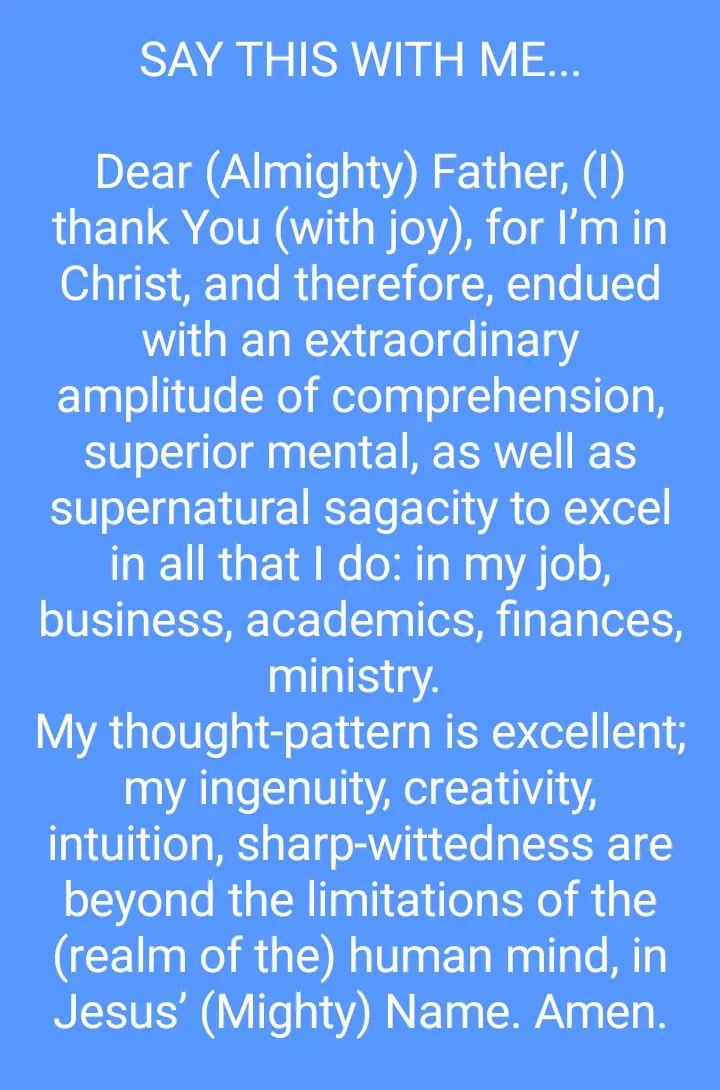 Yep! COUNT UP TO 27TH AUG 💃💃💃💃 #TLBGOLDENJUBILEE #TLB2708 #LALUMIEREESTCINQUANTE #GOLDENLUMINARY #CEBAYELSA
Happy wedding anniversary to the best Father and mother one can ever have. You are simply the best. I love you my Pastors.
Amazing!!! Grace!!! COUNT UP TO 27TH AUG 💃💃💃💃 #TLBGOLDENJUBILEE #TLB2708 #LALUMIEREESTCINQUANTE #GOLDENLUMINARY #CEBAYELSA
Loud it! Love is such a beautiful thing COUNT UP TO 27TH AUG 💃💃💃💃 #TLBGOLDENJUBILEE #TLB2708 #LALUMIEREESTCINQUANTE #GOLDENLUMINARY #CEBAYELSA
COUNT UP TO 27TH AUG 💃💃💃💃 #TLBGOLDENJUBILEE #TLB2708 #LALUMIEREESTCINQUANTE #GOLDENLUMINARY #CEBAYELSA
*TGIF!* 💃🏼🕺🏻 *Blessed be God for a Week of Beauty.!!* *.. Check out what we got for you today:* *>Peppered Snails & Complimentary Salad√* *>Richily Garnished Whole Croaker Fish√* *>Seafood Okro√* > *Life Chicken Stew with Snow Rice !* *Only few slots left* #KINGSFOOD