Claudia Lopez: So excited for this program...without on KingsChat Web
So excited for this program...without a doubt will be a wonderful time of prayer. You can register here: http://www.globalyouthleadersforum.org/globaldayofprayer/ #Peru #GYLF #GLOBALDAYOFPRAYER #IAMREADYCHALLENGE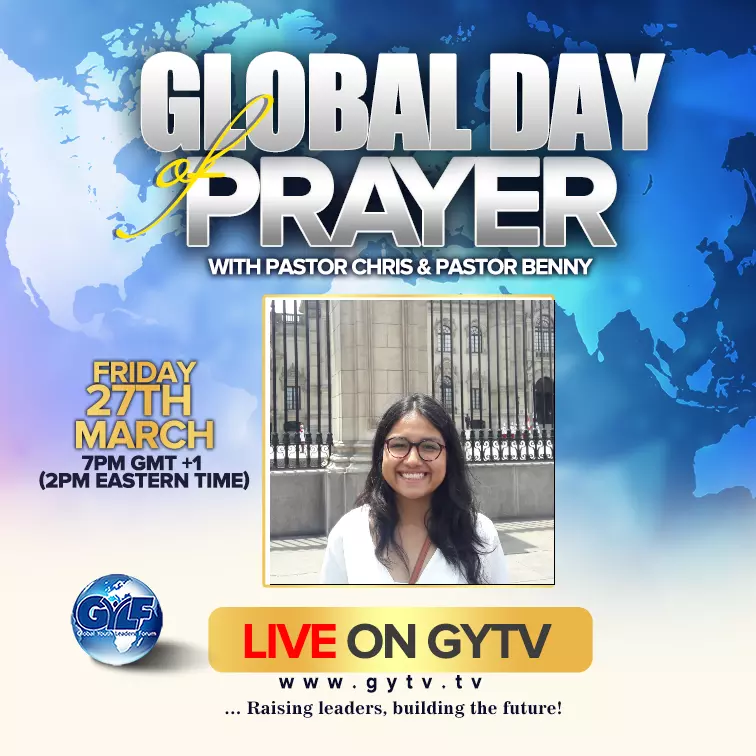 📢📢IT'S ONE DAY TO GO!!!!!!📢📢 Global Day of Prayer with Pastor Chris and Pastor Benny!!! Are you ready??? #GlobalDayOfPrayer #IstandInTheGapWithPastorChris #ITakeMyPrayerStandWithPastorChris #FALA #FALF #IMPACTAFRICA
All set to pray. We will make power available to cause the desired changes in the world by tomorrow 27the march by 7pm prompt.
📢📢IT'S ONE DAY TO GO!!!!!!📢📢 Global Day of Prayer with Pastor Chris and Pastor Benny!!! Are you ready??? #GlobalDayOfPrayer #IstandInTheGapWithPastorChris #ITakeMyPrayerStandWithPastorChris #FALA #FALF #IMPACTAFRICA
It's almost time😃😃😃🥰🥰🥰🥰 #PastorNkaRocks #31/03/Eternal #SuperMom #GroupB2 #BLWSAZoneA
Europe is Ready! Stay tuned @ https://tniglobal.org for live streaming of the Global Day of Prayer!
South Sudan is Very Ready!!! #EWCAZ3 #SouthSudan #9pm
📢📢IT'S ONE DAY TO GO!!!!!!📢📢 Global Day of Prayer with Pastor Chris and Pastor Benny!!! Are you ready???? #GlobalDayOfPrayer #IstandInTheGapWithPastorChris #ITakeMyPrayerStandWithPastorChris #FALA #FALF #IMPACTAFRICA