LoveWorld SAT: QUOTE OF THE DAY : on KingsChat Web
QUOTE OF THE DAY : PASTOR CHRIS OYAKHILOME DSC.DD 💡🌍🌟🌍💡 "Jesus brought us into a kingdom of life. He said in John 14:6, "…I am the way, the truth, and the life…." In His benevolence, He didn't just make us partakers of His life, but also the dispensers of that life: we bring others into this life through the Gospel! We live, exude and distribute the God-life, because we have it to the full (John 10:10). For us, sickness, failure, and all other forms of negativities have no place in us because we're comrades of the God-kind." _ www.loveworldsat.org/live-tv _ #loveworldsat #loveworldnetworks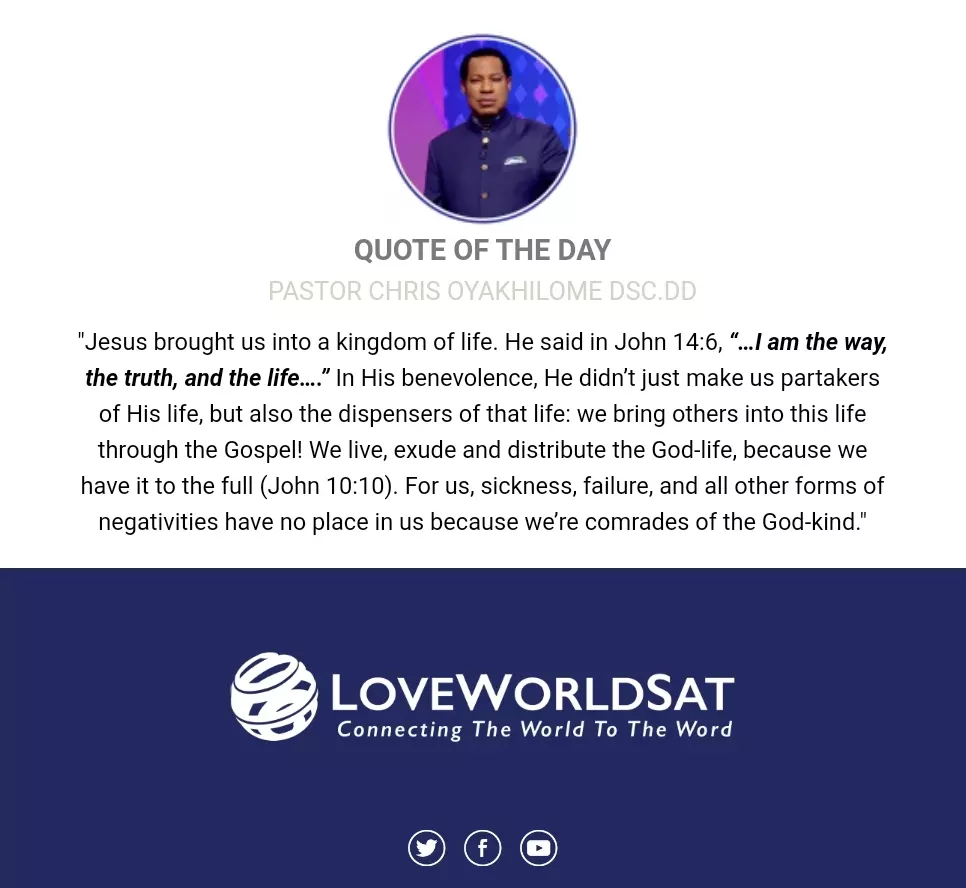 #PictureHighlights 📸📸📸Pictures from the Good Friday - A Day of Bliss Cell Outreach held over the Weekend: Shinning Star Senior Cell, CE Isheri, Mainland Group 1. #CELZ5 #Cellministry #SoulTracker #GoodFridayADayofBliss #EasterCelebration2021 #2021YearofPreparation #HeisRisen #Easter
Birthday loading...Celebrating God's General of our day #PTA14 #UKZONE2 #LIFEISEASY
CELEBRATING A RHAPSODY BIBLE GLOBAL ACE PARTNER, OUR ESTEEMED PASTOR IKENNA CHIEMEKA Thank you for taking a bold stand for the Bible Mandate always. We greatly appreciate your outstanding Partnership commitment to keeping the Bible in its place as the No 1 Book in the world. Happy Birthday! We Love you Dearly!
#EasterSpecialwithPastorEmma Ministering on "3 CARDINAL GIFTS OF GOD" the esteemed Pastor Emma Osoka #CEOWERRI(2) espounded on "The Person of The Holy Spirit" NUGGETS ®The Holy Spirit has a mind of his own, Romans 8:27 ®He has a will. 1 Corinthians 12:11 ®He has intelligence John 16:13, God is always concern about your source of information Revelation 2:7  ®You can grieve and wound the emotions of the Holy Spirit, Isaiah 63:10 ®We have the seal of the Holy Ghost on us Ephesians 4:30 ®The Holy Spirit can be resisted, Acts 7:51; encourage the work of the holy Spirit in your life. ®The Holy Spirit can be quenched 1 Thessalonians 5:17 #ThankyouPastorChris
Am so ready! #ADayWithTheBoss #WeHaveABossLikeNoOther #NMT #3AEvents #OCOS
LIVE NOW: FULL DISCLOSURE📌📊 Are teacher assessed grades accurate? Join our hosts Christian Kitoko and Stacey Edison Odiase for a captivating discussion on the effect of the plandemic in UK schools. 🇬🇧🌍 Kindly leave us a comment containing your thoughts on the news today's programme 🙌 #LoveworldUK #SpreadingLoveChangingtheWorld #Loveworld News 🧑🏾💻: Watch Loveworld UK on 📲: LIVETV Mobile App 💻: www.loveworlduk.org/watch-live 📱: Loveworld UK 3.0 Mobile App To Partner/Contact us Call: +442075115830 Email: sponsors@loveworlduk.org; info@loveworlduk
Amazing performance by the youth church Generational talents here at #cebristol 🙏🏾🙏🏾 He is risen #eastersupersunday #cebristol #UKR2Z4
Happy Birthday Esteemed Pastor Sir. I love you sir!
Easter Super Sunday @ The International Worship Center (IWC) with the Esteemed Pastor Wale Adenuga. The Effectual fervent prayer of the righteous man makes tremendous power available.... #CEUYO #IWC #SSZ2