Nkem Chesa Uko: I celebrate FAITH.LOVE.GREATNESS . I on KingsChat Web
I celebrate FAITH.LOVE.GREATNESS . I celebrate PASTOR CHIKA ALEX. PASTOR. U brought me up in ministry& as one of ur CELL LEADERS then in CE Umuahia. I learnt by observing U the things I do today... I got a rub off of the grace of pioneering churches from U.. Happy Birthday Sir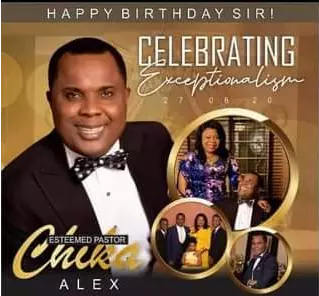 🎼🎧🎤📻🎙🔊 Yep! The amazing and award winning vocalist is ALL-SET-4-WEE with a foretaste!!!🟠🟧🟢🟩👇 https://ceflix.org/videos/watch/1850553 🥁🎛🎚🎸🎷🎬 GET up and close with Eniola THIS Sunday 30th for a time-out on CeFlix. SHOWING live from 7:00pm (GMT+1). #TellAFriend 🎞📽📹📷🎥📀 DOWNLOAD CeFlix mobile app NOW!!! 👇👇👇👇 https://bit.ly/download-ceflix-tv-android https://bit.ly/download-ceflix-tv-ios #Letthispostgoviral #CEFLIXTV #Gospel #ThursdayMotivation #YourLoveworld #stillpraying #prayingnow #pclprayathon2020 #iamapriestinoffice
📢📢📢📢📢📢📢📢📢📢📢📢📢📢📢📢📢📢📢📢📢📢 IT'S THE ISM-KINGSCHAT-CEFLIX SOCIAL MEDIA CONFERENCE!!! INSPIRING EXPECTATIONS FROM AROUND THE WORLD! Pastor MV Thomas of Faith City Church, India, shares his expectations for the highly anticipated ISM-KingsChat-Ceflix Social Media Online Conference. Watch this! 📌Date: Thursday 27th – Friday 28th August, 2020 📌Time: 12PM (GMT+1) #ISM #PastorChris #happeningnow #Loveworld #ISMKCCFC2020 #impactinglivesimpactministries
Rhapsody of realities hindi🙏🙏🙏 glory to God hallelujah🙌🙌 praise god
Celebrating the Esteemed Pastor Obi Umeasiegbu (Zonal Pastor CE NSSZone 1 & The Host of Auxano Pulpit Program on LoveWorldPlus) Happy Birthday Sir!      Thank you for making every minute on LoveWorldPlus count
Will you brethren be? there is no other place.
if this paw paw can survive and still bear fruits in hostal condition, how much more you; filled with the Spirit of God.
Are ready for this.? Hey as for me, I am ready.
Happening live in CE EDO NORTH & EDO CENTRAL ZONE.... 👉👉THE PCDL USERS AND SUBSCRIBERS CONFERENCE with Pastor Zunny Abu Don't miss out! #PCDLConference #happeningthisaugust #MonthofRecovery #Perfection2020 #pcdl #eneczone #seregion
Happy Birthday to my one and only, Babe, wonderful husband, father to our kids, I love you so much, umntu wam!!!