Pastor Lanre: Still celebrating my Dad of on KingsChat Web
Still celebrating my Dad of inestimable value!A Father fights for his children,Advances their progress,Teaches them the good and right way, is a Hero for them and others, an Example to follow, and a Role model of what to be.You are all these and more to me Dad, and I love you so!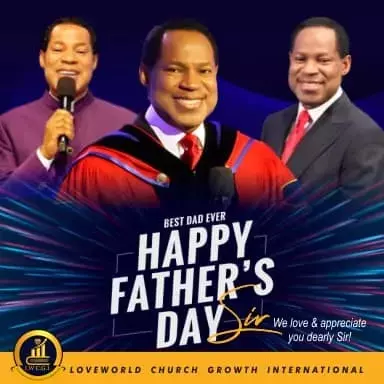 #ICLC2021Highlights #wearetheLights #weareLights #thewinningZone #empoweredtoLead #weareatWar #ICLC2021 #ICLCwithPastorChris #monthofPrayer #2021yearofPreparation #CEIjorabadia #CEApapagroup #CELZ2
Happy Father's Day Rev Sir, you are a man of Great character and valour. Thank you for helping us build and grow our faith in the word. You are a mighty man of the spirit shaking nations for God.
🎤🎤🎼 We are light 💫💫💫💥 We light up the whole world Illuminating and innovating We are for signs and for seasons We are Empowered to lead We are the light of the World 💃💃🕺🕺 #ICLC2021 #CEASABA #NSEZ2
HAPPY FATHER'S DAY TO ALL!!! HAVE A BLESSED AND GLORIOUS....🤩🤩🤩😇😇😇
A special one for my Father. Happy Father's Day Sir! I love you Sir.
Happy Father's Day Daddy.. I love you so much sir
#ICLC2021Highlights #wearetheLights #weareLights #thewinningZone #empoweredtoLead #weareatWar #ICLC2021 #ICLCwithPastorChris #monthofPrayer #2021yearofPreparation #CEIjorabadia #CEApapagroup #CELZ2