CE Port Harcourt Zone 2: GET READY FOR RHAPATHON WITH on KingsChat Web
GET READY FOR RHAPATHON WITH PASTOR CHRIS GET YOUR AVATAR NOW!!! The Global Rhapathon with Pastor Chris is around the corner! DATE: 20th -24th January 2020. TIME: 10 am & 5 pm (GMT+1) daily. Visit any of the links below to Get your avatar now: RhapsodyWebsite: www.rhapsodyofrealities.org  Rhapsody App: bit.ly/getrhapsodyapp  #myrhapsodystory #rhapsodyofrealities #Rhapathon #Cephzone2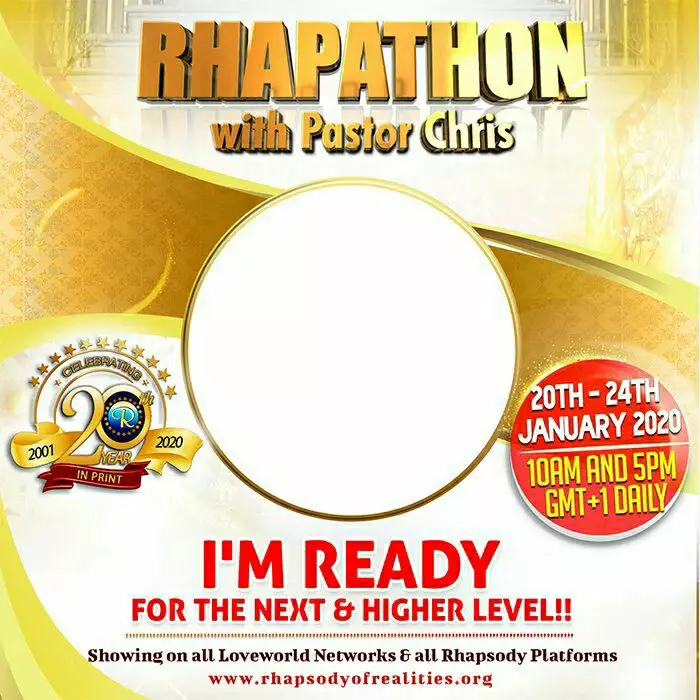 Pst Fred Enofe
commented:
NGH PLATFORM INVESTMENT:https://wa.me/+2348100156193: THE PLATFORM IS HELPING INVESTORS TO EARN! We help increase whatever you("invest") and give you twice your income within 45MINS .MESSAGE ME NOW FOR MORE ENQUIRY: ₦10,000--₦20,000 ₦50,000--₦100,000 ₦150,000--₦300,000 etc.
WE ARE LIVE! CE MIDWEST ZONE is up live at the ongoing one Year PastorChrisLive Pray-A-Thon Reloaded. Join the live stream now with our Highly Esteemed Pastor Mary Owase Click on the link below to participate: www.pastorchrislive.org  As you Pray, kindly share on the comment feed these hashtags: #prayingnow #prayathon2020 #pclprayathon2020 #cemidwestzone Watch this space for live updates! God bless you.
Perfect service with Pastor Chris, our Man of God ,🙏
📺 Monday Motivation 📺 "See it from the inside first, before you start." _Pastor Chris Start your week on a high note👌💯 with Social TV, as you watch this insightful excerpt of Pastor Chris teaching. #lwsatsocialtv #loveworldsat #loveworldnetworks
Prayer at 12noon and 10pm (Local/GMT) - Mon Jan 13 In today's Rhapsody, we're admonished to exercise control over our minds and consciously set our thinking on spiritual things. Learn more as you study the article, and share with others too. Download the Rhapsody app for so much more. Psalms 141:2 says, "Let my prayer be set forth before thee as incense..." At 12noon, 10pm and any additional 15min of choice today, we'll pray fervidly in tongues of the spirit, interceding for the sick, especially among the body of Christ; the depressed, hurting and destitute the world over. That God's mercy and grace be extended to them for a sudden and lasting change in their unique conditions. Our Global Pray-A-Thon has entered its 2nd week, and we're making tremendous progress in the realm of the spirit. The live stream for the month of January ends by 12noon GMT today, but prayers continue at Zonal/Cell or group level. Be sure to follow the 'Pray-A-Thon 2020' superuser for updates on prayer sessions as they unfold, with each zone taking up a full day of prayer. Contact your church office for information on when your group would be praying. Watch this video highlights below on this past week of prayers. God bless you.
https://wa.me/2348026945450?text=Hello!%20I'm%20Interested INV-EST & GET DO-UBLE IN 2'HOUR ONLY INTERESTED PERSONS MESSAGE ME NOW FOR REGIS-TRATION ₦10,000-₦20,000 ₦20,000-₦40,000 ₦50,000-₦100,000 ₦100,000-₦200,000 DON'T MESSAGE IF YOU ARE NOT INTERESTED CALL ME :+2348146555365
https://wa.me/2348026945450?text=Hello!%20I'm%20Interested INV-EST & GET DO-UBLE IN 2'HOUR ONLY INTERESTED PERSONS MESSAGE ME NOW FOR REGIS-TRATION ₦10,000-₦20,000 ₦20,000-₦40,000 ₦50,000-₦100,000 ₦100,000-₦200,000 DON'T MESSAGE IF YOU ARE NOT INTERESTED CALL ME :+2348146555365