Rhapsody of Realities: 🎊 GDOP 2020: Rhapsody of on KingsChat Web
🎊 GDOP 2020: Rhapsody of Realities Congratulates CE UK ZONE 3 REGION 2 for proudly sponsoring the Global Day of Prayer with Pastor Chris!!😍 🤗💃💃💃 THANK YOU for proudly sponsoring 50 MILLION PEOPLE TO PARTICIPATE in the program! GOD BLESS YOU!! 🙏🤗😍 👉 SPONSOR TODAY through your zone or online on rhapsodyofrealities.org/give/gdop PARTICIPATE IN THE REBROADCAST ON: 👉 Rhapsody Prayer Network: prayer.rhapsodyofrealities.org 👉 Rhapsody App: bit.ly/getrhapsodyapp Spread the news! 👍 #gdop #globaldayofprayer #globaldayofprayerwithpastorchris prayer.rhapsodyofrealities.org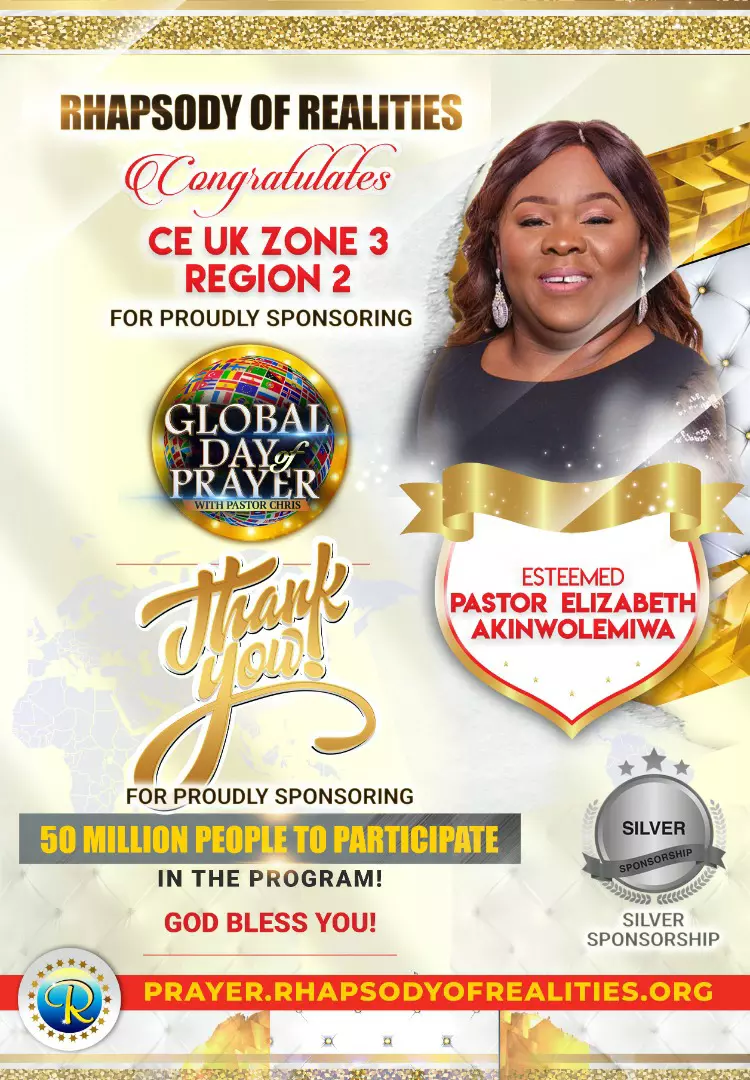 Bro Andrew Iwaegbe
commented:
Congratulations to the highly esteemed Zonal Pastor Obi Chiemeka for his exemplenary leadership.
IPPC IN YOUR CITY OSOGBO VIEWING CENTER DAY 2 EVENING SESSION. SPECIAL PRAISE AND WORSHIP BY CE ILESHA GROUP CHOIR #IPPCSWZ2 #SWZ2 #SWREG
ZONAL AWARDS - LOVEWORLD UK TOP 15 PARTNERING CHURCHES 🏆🥳🏆🥳🏆🥳🏆🥳🏆 A BIG CONGRATULATIONS TO THESE CHURCHES WHO DISTINGUISHED THEMSELVES. Thank you for causing the voice of our man God, Pastor Chris reach billions in 2020. We celebrate you!!! #WEZ4AWARDS #IPPC2020 #WEZ4 #CEGERMANY
#photospeaks Highlights on #Day1 IPPC IN YOUR CITY 2020, SOUTH EAST ZONE 2💃💃 The opening ceremony Kick started the 3 Day program. ️#IPPCinyourCity2020 #IPPC2020 #sez2
We are here again with the global day of service. Am glad to be part of this . #BEinService #LoveworldDayofService #CellministryLagosZone3
Our 2nd contestant, all the way from the from the Northern-Southern-Eastern-Western region of Nigeria.Is this possible??🤔🤔🤔 Moving forward.This leader has taken over his region with the gospel despite the oppositions. Guess who this Hero is??? ✍🏼✍🏼#Thequest#Heroes#immortals#
I finish the year 2020 strong.
https://www.kingsch.at/p/dlFuZzR
Ippc2020 #cebamendagroup #cebafoussam
IPPC IN YOUR CITY OSOGBO VIEWING CENTER DAY 2 EVENING SESSION. A SPECIAL PRAYER SEGMENT LED BY THE GROUP PASTOR OF IFE GROUP, THE ESTEEM PASTOR ADEWALE ADEBOLA, INDEED WE WILL NEVER BE THE SAME AGAIN. WE ARE GOD'S BEST FOR THUS LAST TIMES AND WE ARE TAKING OUR PLACE IN GOD'S ROYAL ENDTIME ARMY. #IPPCSWZ2 #SWZ2 #SWREG