ANNOUNCING OUR OVERALL TOP PERFORMING CAMPUS MINISTRY AWARD IN THE FIRST QUARTER OF 2021! 🎉🎉🎉 Celebrating our overall top 3 campus zones that were outstanding in the sponsorship/distribution of the highest quantity of the books at various ministry programs, church outreaches and campaigns in the first quarter of 2021. These campus zones made it possible for the rapid spread of books by our man of God around our LoveWorld Campuses and beyond. 🏅🏅In 3RD POSITION, let's applaud Pastor Henry Akasili, Loveworld Campus Ministry Zone C 🏅🏅🏅In 2nd position, let's applaud Pastor Shirley Ennin Loveworld Campus Ministry Ghana Zone A 🏆🏆🏆And the winner… Top 3 overall top performing Campus Ministry Zones in the 1st quarter of 2021, please let's celebrate with a resounding ovation, PASTOR THEOPHILUS OWASE LOVEWORLD CAMPUS MINISTRY ZONE A!! #LWPMBOOKSAWARDS #LWPM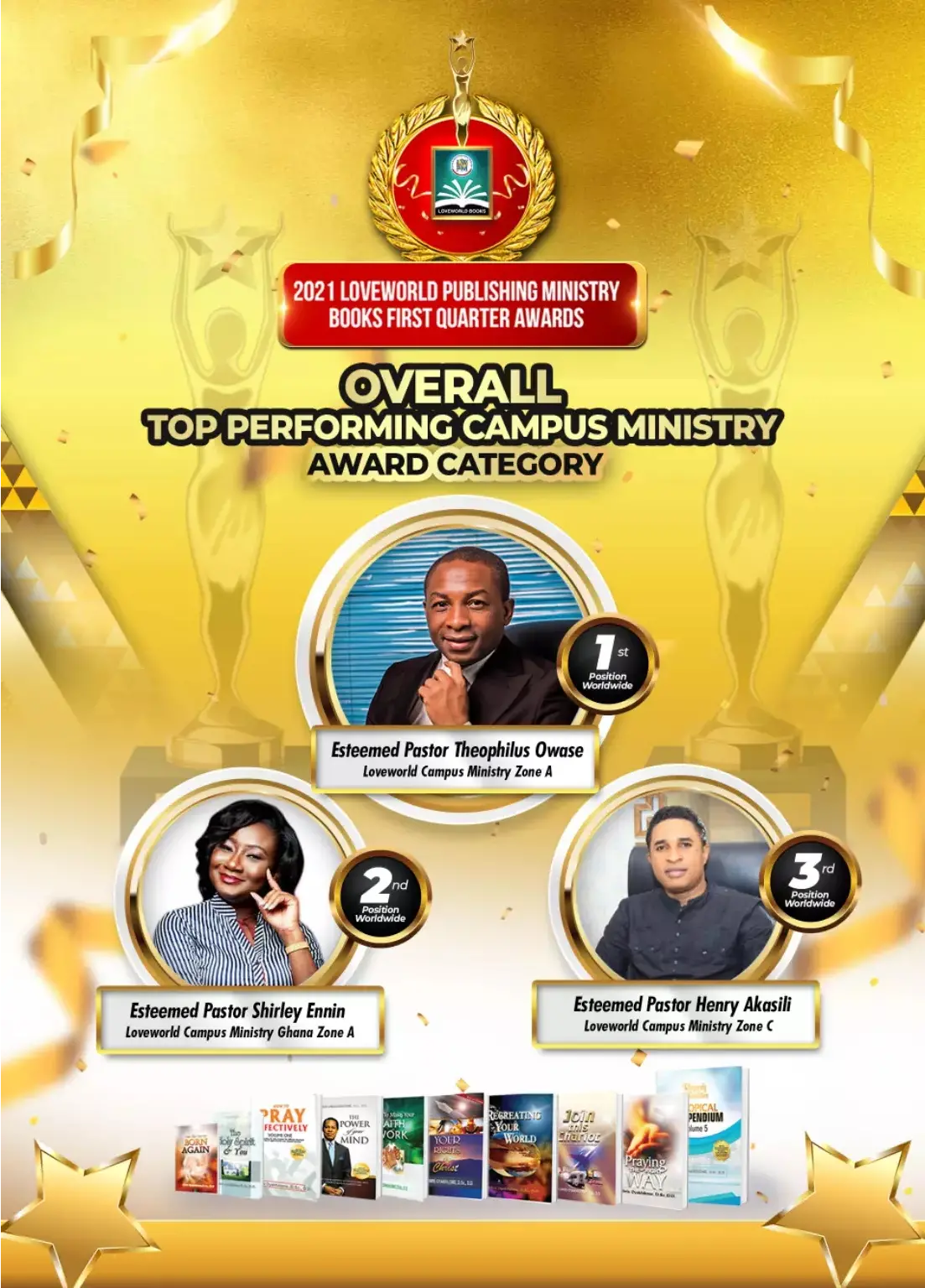 Troy
commented:
Earn better and quite your office stressful job, With the minimum investment of $300 you can get profits of about $3,000+ with my fast and trusted platform ... $300 to get $3,000 weekly. $400 to get $4,000 weekly. $500 to get $5,000 weekly. $600 to get $6,000 weekly. $800 to get $8,000 weekly. $900 to get $9,000 weekly. $1000 to get $10,000 weekly. Whatsap me on +17575206719 for more info
God is excited about us, he is not counting our sins against us because we believe in Jesus Christ. Hence we do not perish. EXPOSE ON TRUTH _DAY 8 ( CULTURED BY THE WORD) #exposeontruth #Sez2
Happy Birthday Beautiful Laurel! Grow in Grace and God's wisdom. Aunty, Michelle & Great love you very much
Happy Birthday dearest Tee...I love you!! Thank You for your commitment to God and to the Ministry. It's a glorious year for you and glorious things are spoken of you. You are progressing like an edifice full of the Holy Ghost. Enjoy your new year in Perfection and Praise.
Picture Highlights 💃🏾💃🏾🕺🏼💃🏾🥰🥰🥳🥳🥳🥳 Strategic Partners Meeting with the Highly Esteemed Pastor Amaechi Udeaku #CEJOS #CEGOMBE #CEMINNA #1STQPF #NCZ1
Happy Birthday Sister Toyin. You are such a sweet person with a beautiful Spirit. I celebrate and rejoice with you in this new Year. God's favour and blessings are yours now and always. I love you
Picture Highlights 💃🏾💃🏾🕺🏼💃🏾🥰🥰🥳🥳🥳🥳 Strategic Partners Meeting with the Highly Esteemed Pastor Amaechi Udeaku #CEJOS #CEGOMBE #CEMINNA #1STQPF #NCZ1
Tuchel: Down to me to earn new Chelsea contract Thomas Tuchel has admitted his personal expectations are driving his pursuit of an extended tenure in charge at Chelsea. https://www.skysports.com/football/news/12040/12278837/thomas-tuchel-chelsea-head-coach-feels-part-of-the-family-as-he-aims-to-prove-he-deserves-long-reign