ℹ INSIGHT with Pastor Uyi March 29, 2021 𝗛𝗜𝗦 𝗙𝗔𝗜𝗧𝗛 𝗜𝗡𝗦𝗣𝗜𝗥𝗘𝗗 𝗠𝗘 Part II   At the healing line, it wasn't long before I noticed the man standing right in front of us: He was a bit fair in complexion with a putrid stench that oozed out from his body, which was full of sores from the crown of his head to the soles of his feet – and I am not exaggerating. His feet were wrapped in soft cotton to allow him to wear slippers. And all his sores had pus visibly coming out of them.   It was such a sight that I thought to myself, "What was he doing on the healing line?"   The Christ Embassy healing line is a testimony line where those who have been healed come up to testify of their healing. It is not a line for those intending to be healed. Hence, my questioning stance.   As a young Christian then, it took all my faith to keep standing behind him. I kept reassuring myself that the life of God was in me and I could not be infected. Also, my excitement for my sister's healing was a welcomed distraction. Yet, I couldn't bring myself to continue looking at him.   Then this man got up the stage, with joy and excitement to meet Pastor Chris, declaring that he was healed. I recall that Pastor spoke with him on the stage as he narrated to Pastor how he found himself in that situation. I remember he said he worked in a bank but had to resign. Pastor, beaming with smiles, asked him "how do you know you are healed?"   And right there on that healing line I screamed in my heart, "Very Good Question, please ask him." For all the physical conditions I described were all the eyes could still see. Full of joy and almost jumping, he reassured Pastor that he knew he was healed. Pastor laid his hands on him JUST AS HE WAS, and for a moment I thought to myself, "This Man of God must be fully persuaded about his beliefs. He laid his hands on him like that?" Minutes passed, and it was my sister's turn to go up the stage. As usual, Pastor had a dialogue with her, ministered to her, and she caved under the anointing. My friend and I were so ecstatic. The atmosphere was just righteous and everything had fallen in their right places. As we received my sister from off the stage with jubilation, her first words were "Your Pastor is so handsome" and immediately I screamed inside thinking, "is that what you should be focusing on?" Outwardly though, I smiled and tried to get her to focus on the ministration she had just received. Two years later, I had completed my National Youth Service Corps program and relocated to Abuja, Nigeria. Being new in Abuja and living with a friend of mine, we had some friends come visit. We were outside his apartment enjoying friendly conversation when one of our visitors pulled out a Publication. It was a LoveWorld magazine – one of the earliest 'Healing School-like' magazine and right on the cover page, I saw him. The exact same man that stood in front of us at the Night of Bliss healing line. Only this time, he looked radiant, healthy, and handsome with visible fresh baby skin all over his body. I grabbed the magazine from them and in that instant was filled with the Holy Ghost. Running into the house, I spoke in tongues profusely for almost half an hour, giving praises to God and worshipping intensely.   When I finally calmed down and rejoined my friends, their facial expressions demanded an explanation. It was then I started from the beginning to tell them the story of the man on the healing line and how his faith inspired me. #KINGINGᴡɪᴛʜPᴀsᴛᴏʀUʏɪ 𝗙𝗢𝗟𝗟𝗢𝗪 𝗧𝗛𝗜𝗦 𝗦𝗨𝗣𝗘𝗥𝗨𝗦𝗘𝗥 𝗔𝗖𝗖𝗢𝗨𝗡𝗧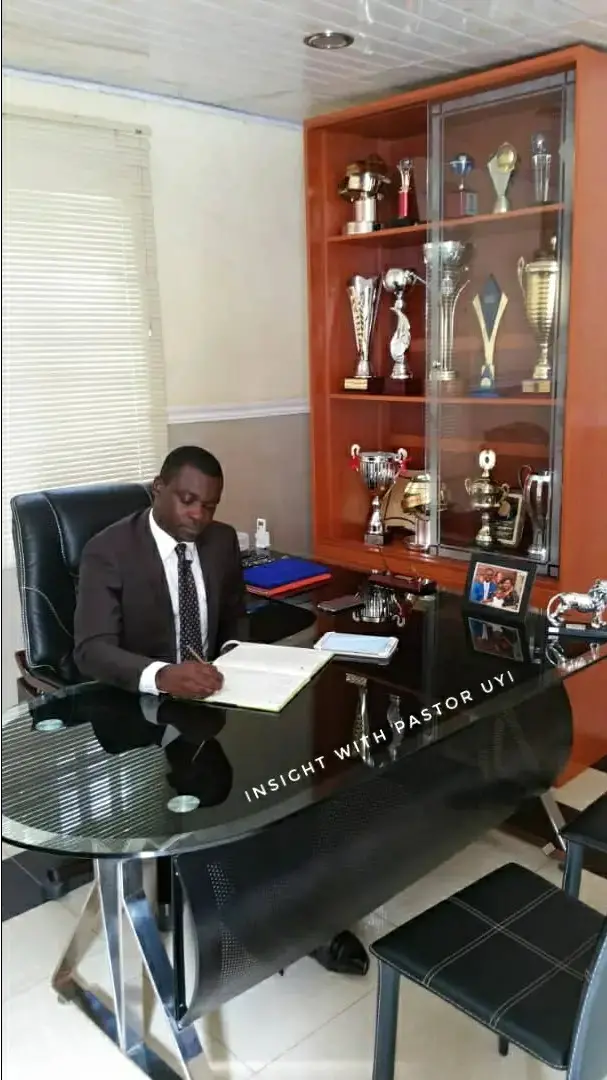 Happy Birthday Highly Esteemed Pastor Ma. Thank you for your commitment & dedication in the house of the Lord.Thank you for joining forces with our Man of God to advance and expand the kingdom of God on earth. I love you dearly Ma. #CeTver #cecrussia #EER @pchidi @pst_nce
CEi Ile-ife Osun state SWZ2 Foundation school graduation ceremony.
HAPPY BITTHDAY DEARLY BELOVED & ESTEEMED BROTHER MICHAEL EZEADICHIE ~ A STRATEGIC RHAPSODY PARTNER Thank You For All That You Do For Us In CELVZ. We Love You Specially! #CELVZ #RhapsodyThanksYou
⚠️THE GLOBAL DAY OF PRAYER WITH PASTOR CHRIS REBROADCAST - 1am SA Time ⚠️‼️ How many prayer sessions did you take part in? Here is another glorious opportunity to participate in the Global Day Of Prayer With Pastor Chris. Tune in from 12am GMT+1 (1am SA) on LoveworldSAT.💫🌎✨🌍 _ www.loveworldsat.org/live-tv #globaldayofprayer #loveworldsat #loveworldnetworks
Happy birthday my darling . #ceer #ceukraine #cekiev #pastorchrislive
Ever glowing and ever inspiring Pastor ma. Happy Birthday ma .We Honour you Specially ma from Ce Sunyani (The Country of Grace) #GloryGraceExcellencePLL #PLL2803 #Plisalawal #CeAccraGhanaZone #CeSunyani
More exploits from the prayer outreach
Birthday Dance to the Highly Esteemed Pastor Lisa Ma. The Rhapsody Administrator Pastor Yemi Ayankoya, CE Raleigh #CEUSAREGION2 #Ceraleigh #PLL2803
Happy Birthday dear Esteemed Ma. We celebrate you. Thank you for your love and care for my brother and his children. You are loved and deeply appreciated ma. Enjoy your beautiful day. We love you lots and lots
Dear Father, through the preaching and teaching of the Gospel of righteousness, your Kingdom is established in the earth and in the hearts of men.