CE Lagos Zone 2: 🥁🥁🥁HAPPENING TODAY!!!🥁🥁🥁 LZ2 INTERNATIONAL on KingsChat Web
🥁🥁🥁HAPPENING TODAY!!!🥁🥁🥁 LZ2 INTERNATIONAL MISSIONS FEST!!! Log on to www.celz2.org by 2pm to participate. It's going to be life transforming. Don't Miss It!!!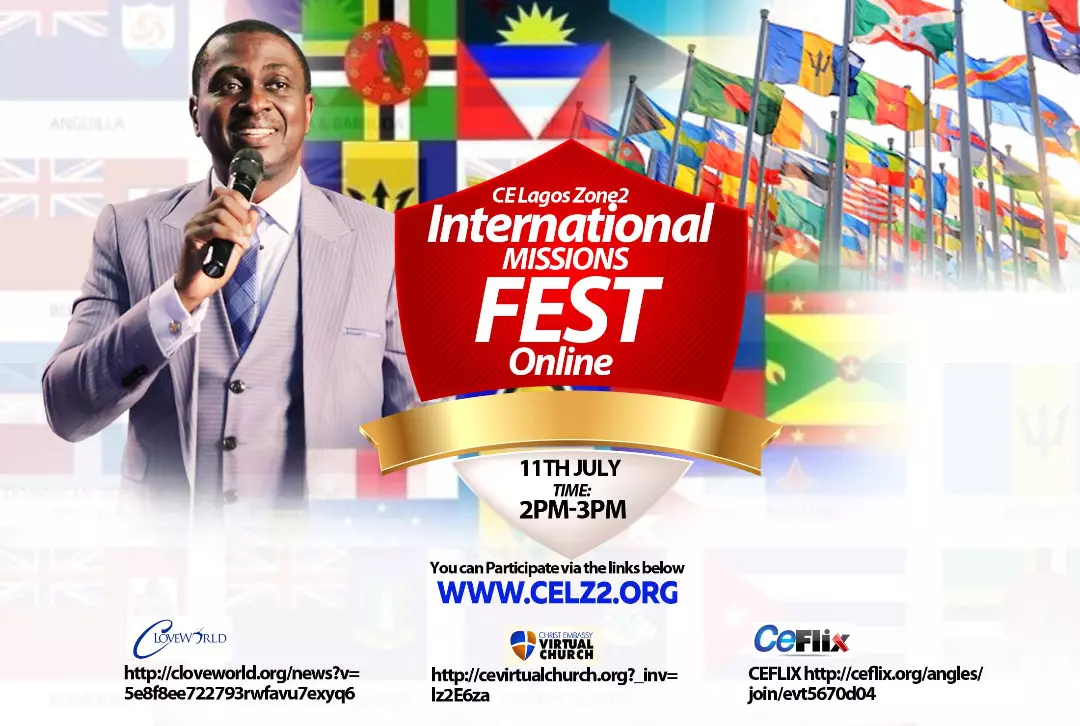 God wants us to be Fruitful and Productive. Learn more in this timely message: 7 Virtues For Persistent Productivity. It's available on physical Formats - ACD, VCD & DVD, for play in Cars, Laptops, etc. #sponsor #distribute #monthofproductivity #theyearofperfection
Loveworld Extra... You can't seat down for this one!
Happy Birthday Dearest Sister Ivy. You have the light of life in your spirit. God's Spirit causes you to walk in his perfect will and his glory. You're blessed beyond measure. Enjoy your special day and Year of Perfection. God bless you mightily.
Happy super birthday to my dearest Pastor.
Finally!!! It's here! Your one stop city for all of ELI-J🕺And It comes with a gift😌 details on pic. #singbetterthaneli-j Hurry!!! www.eli-j.com Is now Open!🍧🍰🍸🎶
HBD Pst Sir, What a day to celebrate a faithful, diligent father, mentor, coach, a gospel luminary of our time, an indefatigable leader of faith & perfect example of follower of our MOG as he follow Christ. I love you huge Sir and salute your courage Congratulations Pst sir
Our teenagers are ready for Thanksgiving!!! #IGiveThanks #midyearthanksgiving, #CELZ5Thanksgiving #CELZ5. #celz5teensministry #DanceChallenge