LoveWorld Radio: THE SEARCH IS ON! Who on KingsChat Web
THE SEARCH IS ON! Who will emerge the Zone of the year? Meet our Dazzling Stars thus far : 2015 – Pastor Lanre Alabi (CE Lagos Zone 1) 2016 – Pastor Vale Odu-Thomas (CE Lagos Zone 2) 2017 – Pastor Femi Otenigbagbe (CE Lagos Zone 3) 2018 – Pastor Moses Olayemi (CE Benin Zone 1) 2019 – IT JUST COULD BE YOOOOOUUUUU!!! IPPC 2019---- A Celebration of Lights...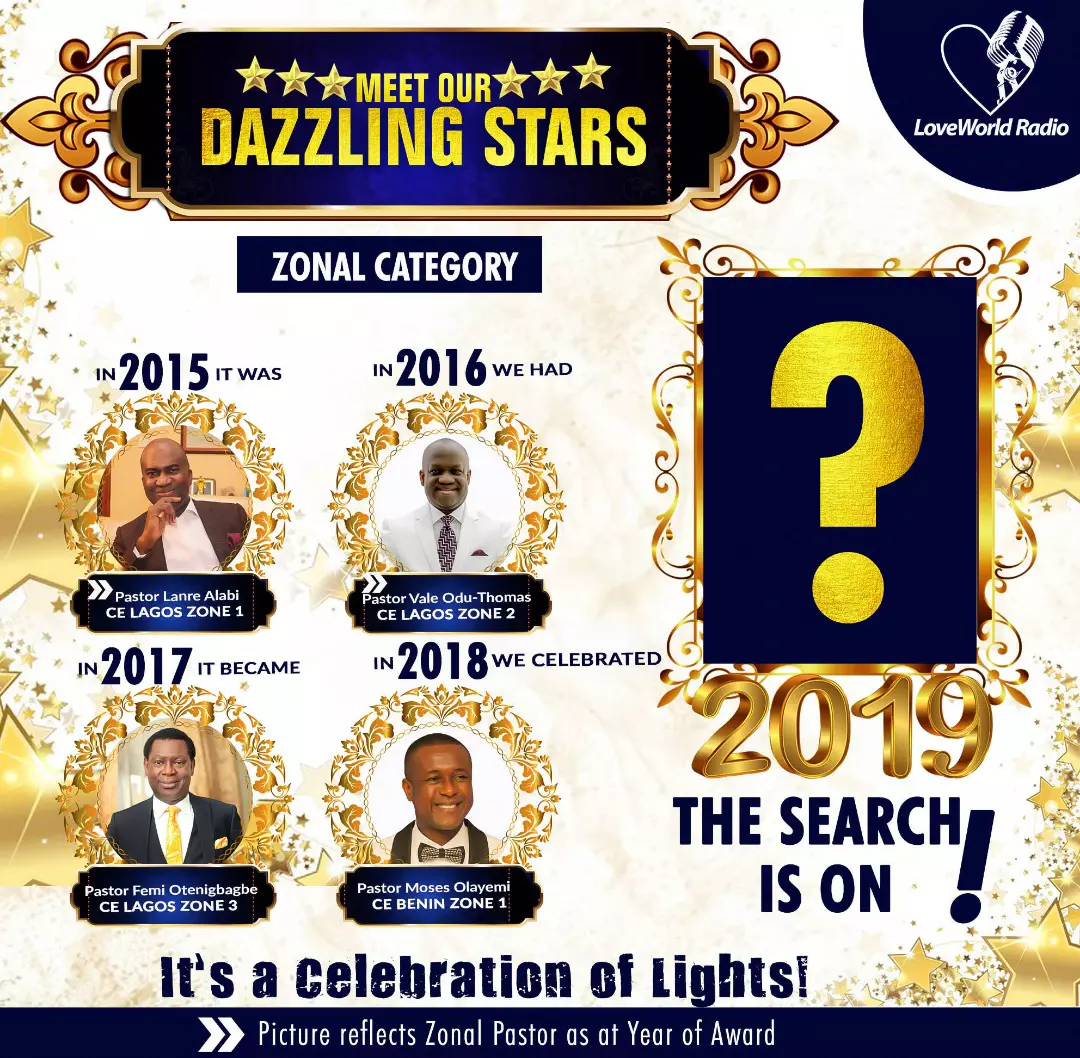 Men's World is a talk show of a group of men who get together to talk man issues and lifestyle, family issues, current events and personal stories. Its a reality show and each man on set has their own unique character that viewers will be able to relate to always. The program features an open discussion with notable men weighing in on several thought provoking and sometimes controversial- topics. Watch "Men's World" every Sunday 8:30 pm (GMT+2) on LoveWorldSAT. _ www.loveworldsat.org/live-tv _ #loveworldsat #mensworld
A doctor with a difference! HBD Dr Ken Uba. I love you man of God. Your selflessness is so inspiring. With one phone call, u're right before our eyes.Gods response to u shall continually be swift Your household is blessed in Jesus name. I celebrate you.🧡 #cc2 #cebayelsa
I AM GLAD! I BELONG TO JESUS!!! #AffirmationsForKids
HAPPY BIRTHDAY TO OUR HIGHLY ESTEEMED GROUP PASTOR! PASTOR KOREDE PETER'S.
SOULTRACKER 3.0 IS LIVE!!!!💃💃💃 Your favourite soul-winning and soul development tool is here; RICHER AND FASTER! 👍 How To Use SoulTracker Version 3.0 1. Click here 👉 www.christembassysoultracker.org  2. Input your Email and Password, then click SIGN IN 3. Check your email for a verification link (check your spam if you don't find it in your inbox). Click the link. 4. Once you click the link in No.3 above, your account will be verified and you will be redirected back to the site to login finally. Please note that this verification is a one-time process 5. Once you login, start adding your souls and be on your way to becoming the Top Soul Winner for 2019/2020 Cell Ministry Year #CELZ4